Bacon Onion Jam
I am here with the recipe you never knew you needed – Bacon Onion Jam.  Once you have this stuff on a burger you will never go back to life before.  It's salty, it's sweet, it adds the perfect caramelized onion texture and it's heaven!  This recipe makes enough either for a bigger crowd, or so you can store the leftovers in a jar in the fridge.  The best part about bacon onion jam is that it isn't only good on burgers.  We had added it to pasta, on pizza, a sandwich, chicken salad… honestly it is a good addition to just about anything.  If you are wondering what onion jam is, let me explain!
What is Onion Jam?
Onion jam is basically just onions mixed with some flavor and sugar of some kind (maple syrup here) to help break them down and make them super duper soft.  It doesn't really break down as much as a fruit jam would, but just enough to make them so perfectly tender and seasoned!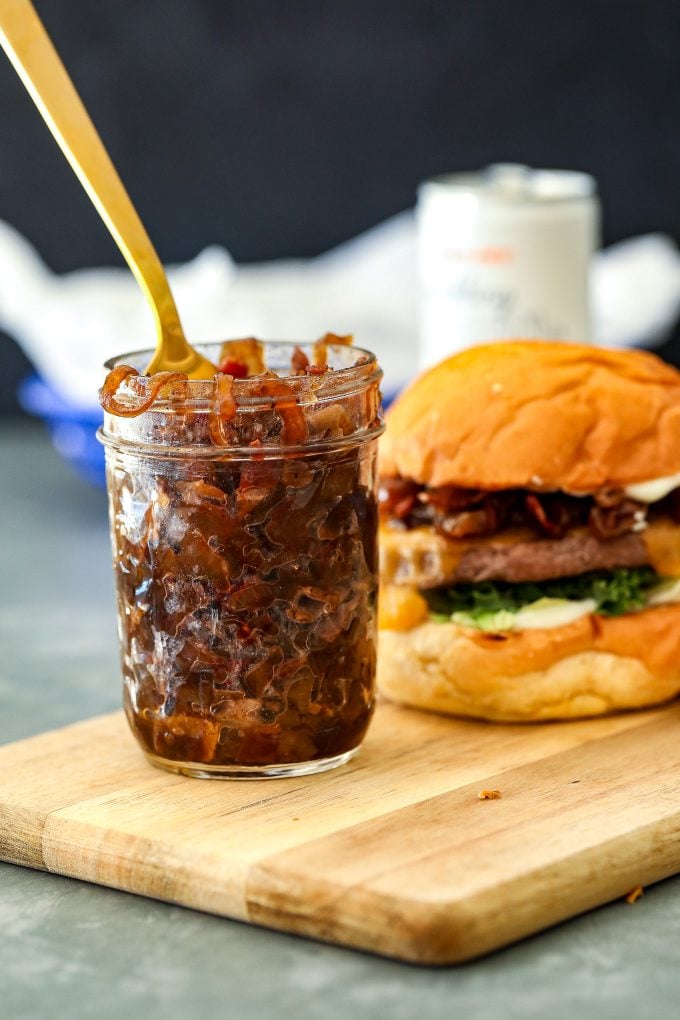 Doesn't that look insanely good?  The addition of bacon, balsamic vinegar and maple syrup to the onions adds the perfect combination of flavors, then a little chicken stock adds even more flavor and helps break the onions down even more.
We are pretty obsessed with all thing onion, so here are a few other recipes to try:
Caramelized Onion & Bacon Compote on Sweet Potato Crostini
Caramelized Onion & Kale Twice Baked Sweet Potatoes
Pear, Blue Cheese & Caramelized Onion Pizza
Pin the image below to save this Bacon Onion Jam recipe for later!
Print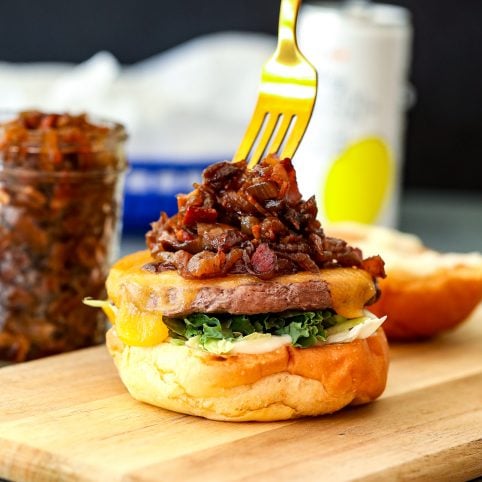 Bacon Onion Jam
---
8 slices of bacon
3 sweet onions, sliced
3 tbsp balsamic vinegar
3 tbsp maple syrup
3 tbsp chicken stock
Salt and pepper to taste
---
Instructions
Place a large skillet over medium heat and let the pan preheat.
Cook bacon (in 2 batches) until crispy and set aside, leaving the bacon grease in the pan.
Add onions to the pan and cook for 10 minutes, stirring occasionally.
Add in balsamic vinegar, maple syrup and chicken stock then reduce heat to low and cook for another 30-35 minutes, stirring occasionally. 
Season with salt and pepper and add bacon back, cook for another 10 minutes until super soft!
Store leftovers in an airtight container in the fridge to add to any and everything.
We are participant in the Amazon Services LLC Associates Program, an affiliate advertising program designed to provide a means for us to earn fees by linking to Amazon.com and affiliated sites.