Pear, Blue Cheese & Caramelized Onion Pizza
Do you ever want to impress people with food but find it just too tiring and stressful?  Well fear not!  This pizza is so simple and delish that you will want to make it every night.  The key to making easy pizza is PRE-MADE DOUGH.  I am sure there are many great pizza dough recipes out there, but I am not ready to tackle that quite yet.  I get my dough from trader joes.  They have a wonderful whole wheat dough that makes you feel like pizza can be healthy!
I started by melting some butter and olive oil together.  ( You do this so the butter doesn't burn, and the mix of the two gives great flavor.)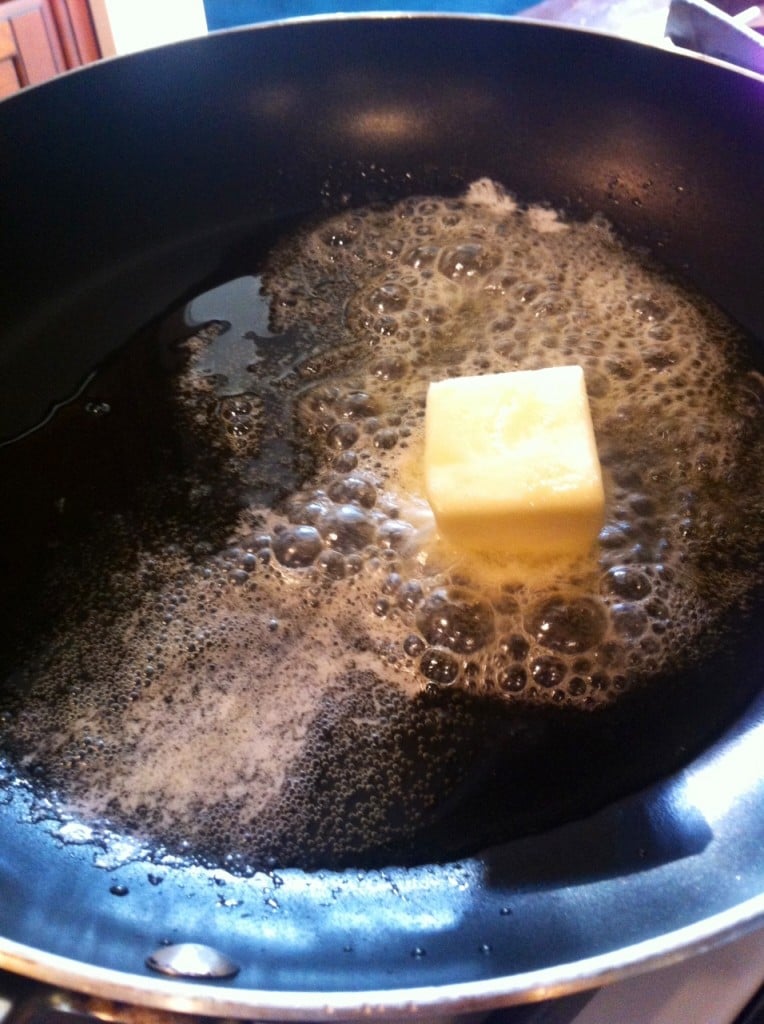 Then add onions and a little sugar to caramelize those bad boys.
Once those are translucent and soft,  add some balsamic and cook a bit longer.
For cooking this pizza you can either use a pizza stone or a cookie sheet.  I attempted to use a pizza stone but transfering the pizza to the stone was pretty difficult.  Preheat your oven to 450 degrees, and assemble your pizza.  First roll out the dough into desired shape and thickness, then pour the onion mixture on top.
Then slice pears and place on top.
Then sprinkle on the blue cheese…
Then the mozzarella…
Then I added some pancetta…
And of course… a little more cheese…
Then toss it in the oven and watch it turn into deliciousness in about 15 minutes…
Then all you have to do is enjoy!
Print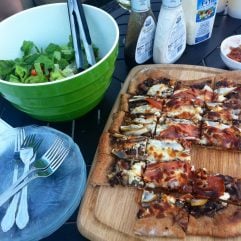 Pear, Blue Cheese & Caramelized Onion Pizza
---
Pre-made Pizza Dough
1 large Onion; Peeled, cut in half lengthwise and thinly sliced
1/2 stick Butter
1 Tbsp Extra Virgin Olive Oil
1 Tbsp Sugar
1 Large Pear, cored and sliced in half lengthwise
2 Tbsp. Balsamic Vinegar
1 cup Shredded Mozzarella Cheese
2 oz Bleu Cheese, crumbled
Pancetta (optional)
Salt & Freshly Ground Black Pepper, to taste
---
Instructions
In a large saute pan, melt the butter and add the olive oil so the butter doesn't burn. When the oil and butter mixture is hot, add the onions and sprinkle with the sugar. Saute the onion until they begin to brown. Stir in 2 tablespoons of the Balsamic vinegar and continue sauteing until the onions are caramelized. Slice each half pear in half and slice the resulting quarters lengthwise into thin slices. Place a pizza stone on the middle shelf of the oven and preheat to 450 degrees.
Roll out your dough with plenty of flour, and place on a cookie sheet, if you are not using the pizza stone. Evenly spread the onion mixture on top of the dough. Then place the pear slices over the onion mixture. Sprinkle the blue cheese over the pears, followed by the mozzarella. Then if you want you can add some pancetta or any meat you may desire, and top with a bit more mozzarella. Place in the oven and cook for 10-15 minutes, keeping an eye on it after 10 for desired crispiness. Enjoy with a salad and a glass of wine!
We are participant in the Amazon Services LLC Associates Program, an affiliate advertising program designed to provide a means for us to earn fees by linking to Amazon.com and affiliated sites.