Apple Cake with Salted Caramel Glaze
It's apple season baby!  I love apple and apple spice things more than pumpkin… yes I said it!! I do love pumpkin but apple just wins if there was ever a competition.  Luckily we don't have to choose and we get to eat all the things.  Best part about apple is that is goes really well with caramel.  Any excuse to make caramel is just fine by me!  I made a coconut sugar caramel but then because I really wanted a glaze on here I added some organic powdered sugar to the mix too and it was perfect.  Like SO SO good you will want to glaze everything with this stuff.  I gave Ruth a piece of the cake yesterday to be an official taste tester and she devoured it in about 5 seconds.
Ruthie is becoming such an awesome little eater and just loves food. Not all food and veggies are still tough, but she loves tuna and plain greek yogurt so i'll take it! She also with eat almost anything that is dipped in a delicious sauce like ranch or bbq sauce.  And she doesn't even have to know that the ranch and bbq sauce we buy is usually paleo!
Honestly I ate a spoonful of this glaze and I don't feel bad about it!
If you love this recipe, here are a few other similar ones:
Apple Cinnamon Sweet Potat-"Oats"
Date Caramel & Peanut Butter Chocolates
Pin the image below to save this Apple Cake with Salted Caramel Glaze recipe for later!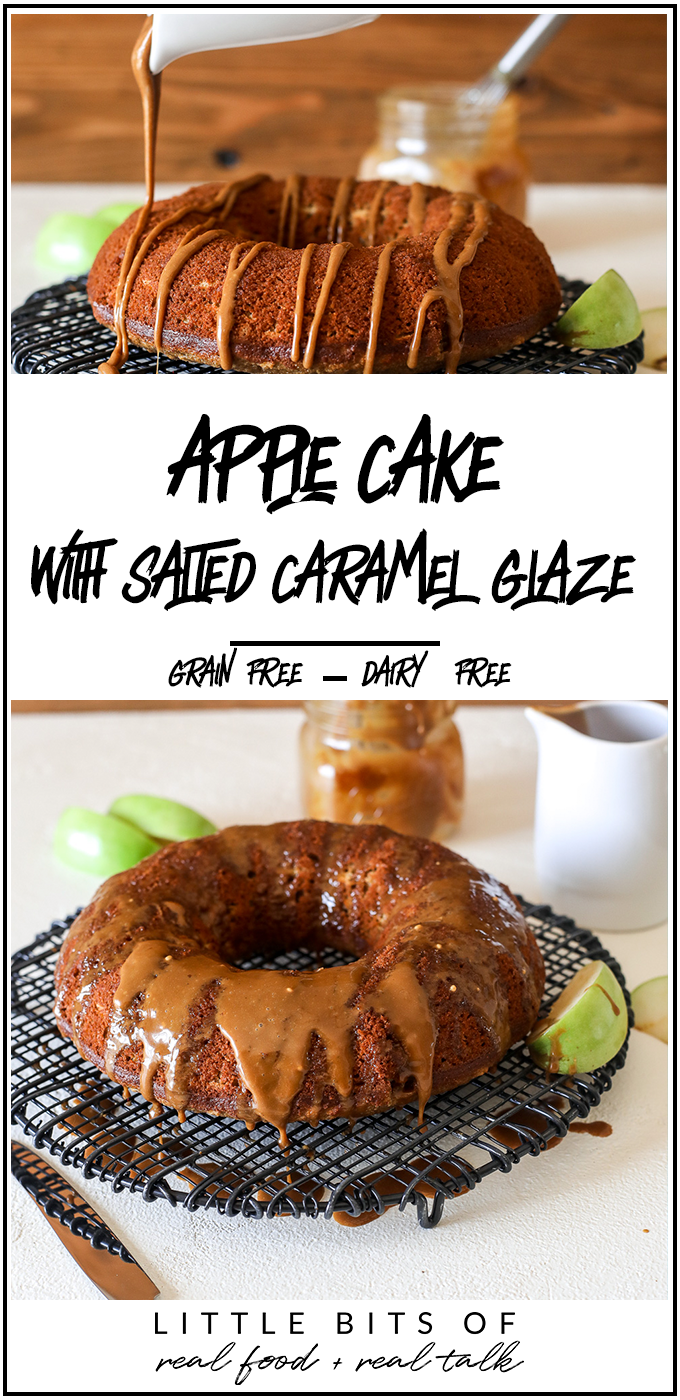 Print
Apple Cake with Salted Caramel Glaze
---
Cake:
2 cups almond flour
½ cup arrowroot powder
½ tsp baking soda
½ tsp baking powder
¼ tsp salt
2 tsp cinnamon
½ tsp nutmeg
½ tsp allspice
¼ tsp cardamom
½ cup coconut sugar
¼ cup unsweetened dairy-free milk
⅓ cup applesauce
4 eggs
2 teaspoons vanilla extract
½ cup shredded apple
Salted Caramel Glaze
½ cup coconut sugar
5 tbsp coconut cream (the thick white part in a can of coconut milk)
½ tsp vanilla
½ tsp salt
½ cup organic powdered sugar 
1 tsp – 1 tbsp water
---
Instructions
Preheat oven to 350 degrees and grease a bundt pan with some oil. 
In a bowl combine all of the cake ingredients and stir to combine.  Pour into the bundt pan then bake for 25 minutes. 
Let the cake cool for at least 15 minutes before flipping it out of the pan.
While the cake is baking make the glaze.
In a small saucepan combine ½ cup coconut sugar and 5 tablespoons of coconut cream and place over medium high heat, stirring constantly.  Bring it to a boil then reduce the heat to a simmer and cook for another 2 minutes while still stirring constantly.
Transfer to a glass jar or bowl and stir in ½ tsp vanilla and ½ tsp salt, then place in the fridge to cool for about an hour.
Once caramel is cool, remove, add in the powdered sugar and 1 tsp water and stir to combine.  If the glaze is too thick add one more tsp at a time until it has thinned slightly. Pour the glaze over the cooled cake.
This can be kept on the counter for up to 2 days then should be stored in the fridge.
We are participant in the Amazon Services LLC Associates Program, an affiliate advertising program designed to provide a means for us to earn fees by linking to Amazon.com and affiliated sites.