Traveling to Hawaii with a Toddler
We went to Hawaii for 7 days with our almost 15 month old little Ruthie and it was a blast!! I was so nervous about a big travel trip with her between the flight and the time change, but it actually wasn't bad.  I want to break down everything for this trip from what we brought on the plane to where we stayed and what we ate!
The Flight:
I was so nervous for this part because the flight there was 5 hours and 40 minutes and it was her first time on a flight! And I was rightfully scared because it was pretty exhausting.  Ruth is just old enough to want to run around constantly but not old enough to be able to sit and focus on an activity or watch an iPad.  So it was a very very long almost 6 hours of walking around the plane, 30 seconds of activities and snacks at a time and trying to keep her from grabbing the people sitting behind us!  For activities and snacks, here is what we brought:
Some of this stuff was not for the plane but most of it was! We have our iPad and kid's headphones that were only used briefly when we played with an app called Peak-a-boo Barn.  She liked it a lot more on the ride back! We also brought 3 of her favorite books because that is her favorite thing right now.  Post its and colored dot stickers were highly suggest as well! Post its did't work very well but the colored circles were good because she liked to stick them on herself, us and anything else she could and thought it was pretty funny.  We also got window clings that were fun for a little bit on the window until we had to close the window cover!
As for snacks, I brought a lot and she ate almost all of them!  I put some little crackers in the pill box and she took time to go and get each one out so that was a good activity. I made sure to get bars and dried fruit that weren't too messy and she gobbled them all down!  We also got melatonin that I didn't use on the way there but did use on the way home! She slept for the first hour and 40 minutes of the ride back and it totally saved us.  I also got kids liquid elderberry for her to have throughout the trip to boost her immune system while traveling.
Where:
We were so lucky to be invited on this trip with friends of ours and it was at one of their mom's time share!  We stayed at the Marriott Vacation Club which is in Ko Olina on Oahu.  It was so incredibly beautiful and right on these little lagoons that were perfect for kids to play in.  There was a little walkway along the water that went down to the other resorts like the Disney Aulani and it was lovely to walk down in the morning!
As for the places we went on the days we left the hotel, here they are:
Waimea Bay (North Shore): We went to this beach and just played in the water!  Half of us jumped off the big rock there and I was not in that half… but Matt was!
Waimea Falls:  This is right across the street from Waimea Bay but we went on a different day!  You pay like 14 dollars to get in and is a little hike (paved and great for strollers) that leads you to a waterfall.  Usually you can get in the water at the base of the falls but that day we couldn't because it hadn't rained in a while and there was too much bacteria!  Glad to be safe then sorry though and we still go some cute pictures in front of it.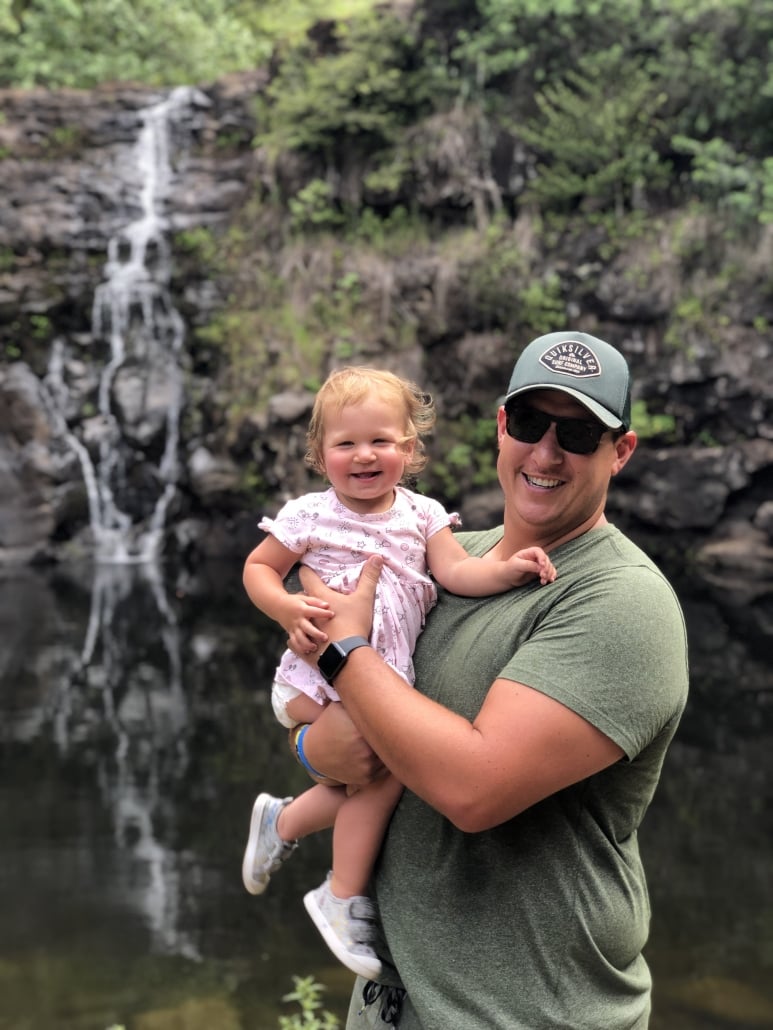 Haleiwa: This is a little town in north shore with shops and restaurants! A good place to stop in when heading to either of the places above.
Turtle Bay:  On our last day there we went to the public beach right off of the Turtle Bay Resort.  It was a nice little beach and Matt and our friend Saman brought snorkel stuff to snorkel a bit but Saman got stung by a jellyfish pretty early into the trip!
What we Ate:
For most of our meals we ate at our room! Since we were in a timeshare we had a full kitchen and with kiddos it was hard to eat out anyways.  We ordered instacart when we got there are stocked our fridge and pantry so we could eat most meals in.
Fia Fia Luau:  One night our hotel had a luau called a Fia Fia and it was awesome!  There was all kinds of yummy hawaiian food and we saw hula dancers, fire knife throwers and of course Matt got pulled up on stage to perform! 🙂
Shrimp Trucks: We had heard that Giovanni's Shrimp Truck was the best but when we got there the line was CRAZY long.  So I looked on yelp and one right down the street called Jenny's Shrimp had good reviews and no line so we tried it.  It was SO GOOD!! I can't image how Giovannis could have been better so I am so glad we didn't wait in the line.  There are tons of these shrimp trucks and I bet they are all good!
Konos: This is a chain there but we went to the one in North Shore and I was SO good. I got the kalua pork sliders on hawaiian rolls and they were so perfect.  Also we split a milkshake because they looked so good and it was totally worth the stomach ache I had after! 🙂
Monkeypod:  We went to the one at Ko Olina because it was right by our hotel!  It was really good food and the ambiance was nice but I can't properly review it because Matt and I were taking turns scarfing the food/ running after Ruth the whole time.  MOM LIFE!
Roys at Turtle Bay:  This restaurant was right on the beach at Turtle Bay so after the jellyfish incident we hoped in here for lunch and it was delish and the view was amazing. The kids meal was really yummy too and Ruth devoured the ice cream sandwich she got.
I was also super nervous for the 3 hour time change because she wakes up around 7 AM in California so that would be 4 AM in Hawaii!  Because she didn't nap on the plane ride there,  and only ended up napping on the 20 minutes car ride to the hotel, she was exhausted by 6 PM which was great.  We put her down around then the first night and the next morning she first made noise at 4:45 AM and laid in her pack n play till about 5:30 AM. That was great! I was up anyways because that is 8:30 our time so we go the day started.  Each day she slept a little longer and by the last couple days she was sleeping until 6:30 which is pretty standard so I was happy.
All in all the trip was amazing and the best part was watching Ruthie get to see and explore something new!  She said so many new words that week and she loved to say HAWAIIIIII!  Here are a few more pictures of our trip that I hope you enjoy!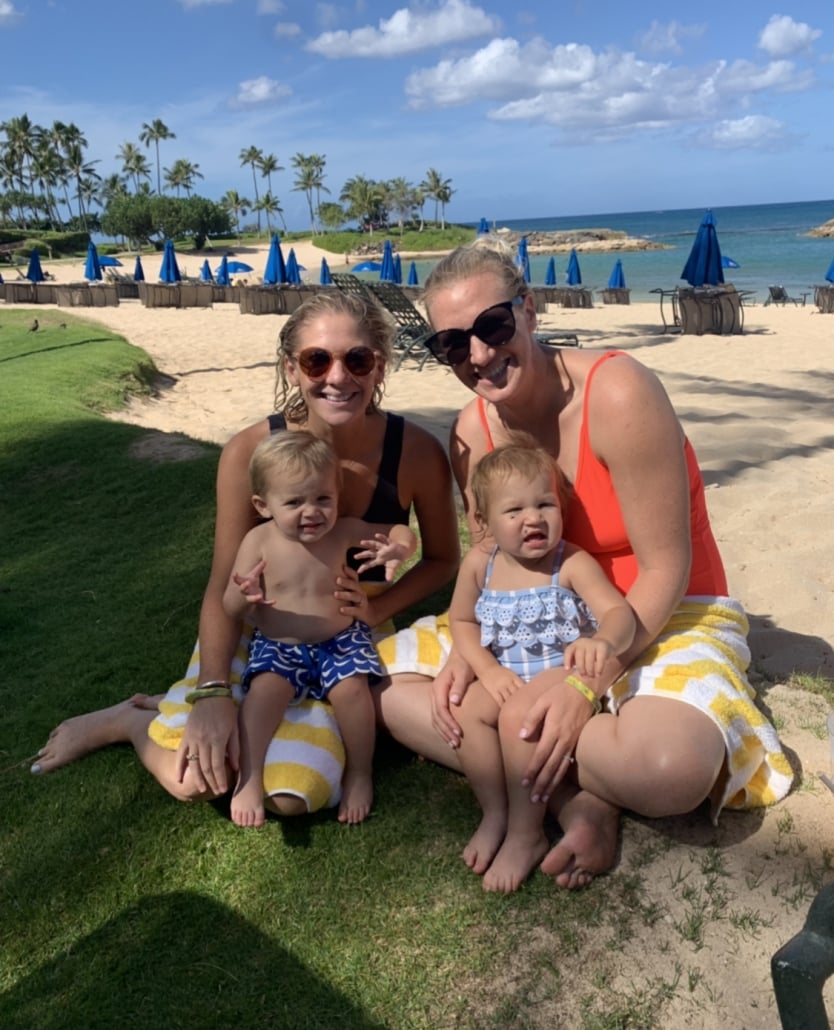 SANDY RUTHIE WINS! 🙂
We are participant in the Amazon Services LLC Associates Program, an affiliate advertising program designed to provide a means for us to earn fees by linking to Amazon.com and affiliated sites.