Sweet Sausage & Pumpkin Potstickers
 Okay people.  Time to share my new fitness routine with you!  I got this app called Seven.  It is a seven minute workout that challenges you to do it everyday for 7 months.  My one problem with working out is consistency.  Just telling myself to workout for 7 minutes a day seems pretty doable… so its on!!  Along with that I am trying not to make baked goods every other day.  I still have to get my pumpkin fix on so I am going a savory route.  Mixing pumpkin with this delish sweet italian turkey sausage and some sage made these potstickers so amaze. A perfect appetizer for any fall get together!
First get together your ingredients.
 Mix them up!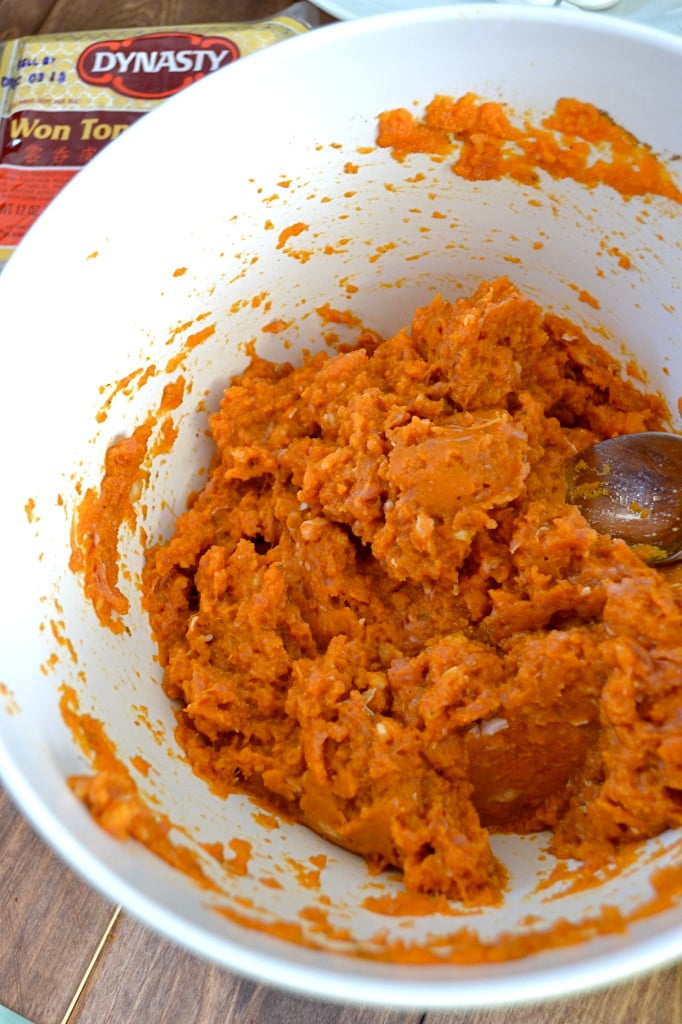 Take your wonton wrapper…
 Scoop some pumpkin mix in the wrapper…
 Fold over and brush with egg wash!
Fry then steam!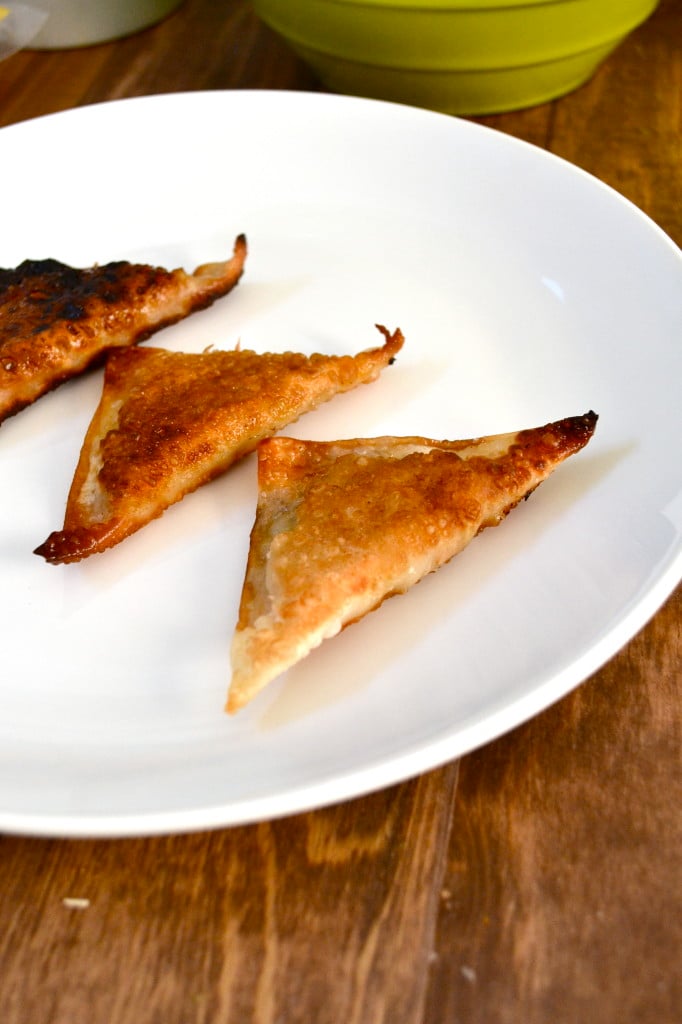 Enjoy! 🙂
Print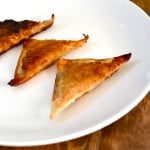 Sweet Sausage & Pumpkin Potstickers
---
1/2 pound of sweet italian turkey sausage (you can use any sausage)
2 cloves garlic, chopped
2 cups pumpkin puree
2 teaspoons ground sage
1/2 teaspoon pumpkin pie spice
1/2 teaspoon freshly ground pepper
1/4 teaspoon salt
wonton wrappers
egg wash (one egg mixed with 1 tablespoon water)
Vegetable Oil
---
Instructions
In a medium bowl mix all ingredients (except wrappers & egg wash).
Place one tablespoon of the mix into the center of a potsticker wrapper and brush the edges of the wrapper with the egg wash.
Fold the wrapper over to close it and press along the edges to seal it. if you used square wrappers, you will have triangle shaped potstickers, if you used round ones, you will have crescent moon shaped potstickers.
Place 2 tablespoons of oil in a pan over medium high heat.
Place 6-8 potstickers in the frying pan and let them fry for about 1 minute on each side, if they seem to be burning, turn the heat down. do not overcrowd the pan.
Pour about 2 tablespoons of water into the pan and cover it with a lid. shuffle the pan a little to help loosen the potstickers. cook another 2 minutes. This will steam the potstickers.
Repeat until all potstickers are cooked.
We are participant in the Amazon Services LLC Associates Program, an affiliate advertising program designed to provide a means for us to earn fees by linking to Amazon.com and affiliated sites.