Peanut Butter Cookie Cups
Memorial Day Weekend is in full swing and I feel pretty lucky to be an American.  I love America for many reasons.  I love that around this time of year, Budweiser cans turn into American flags.  Whoever had that idea was a genius and I thank you.  Besides delicious beer, Americans have been inventing cheat day treats that make mouths water from San Diego to Pennsylvania for decades.  A great American and Pennsylvanian named H.B. Reese invented a candy pairing that has a special place in most Americans hearts.
Peanut Butter and Chocolate.
I don't think it is necessary to go into great detail about how wonderful this pair is together, because if you don't love the two together, you should probably just scroll down to another post.  If your mouth is already watering at the thought of the two, then check it out.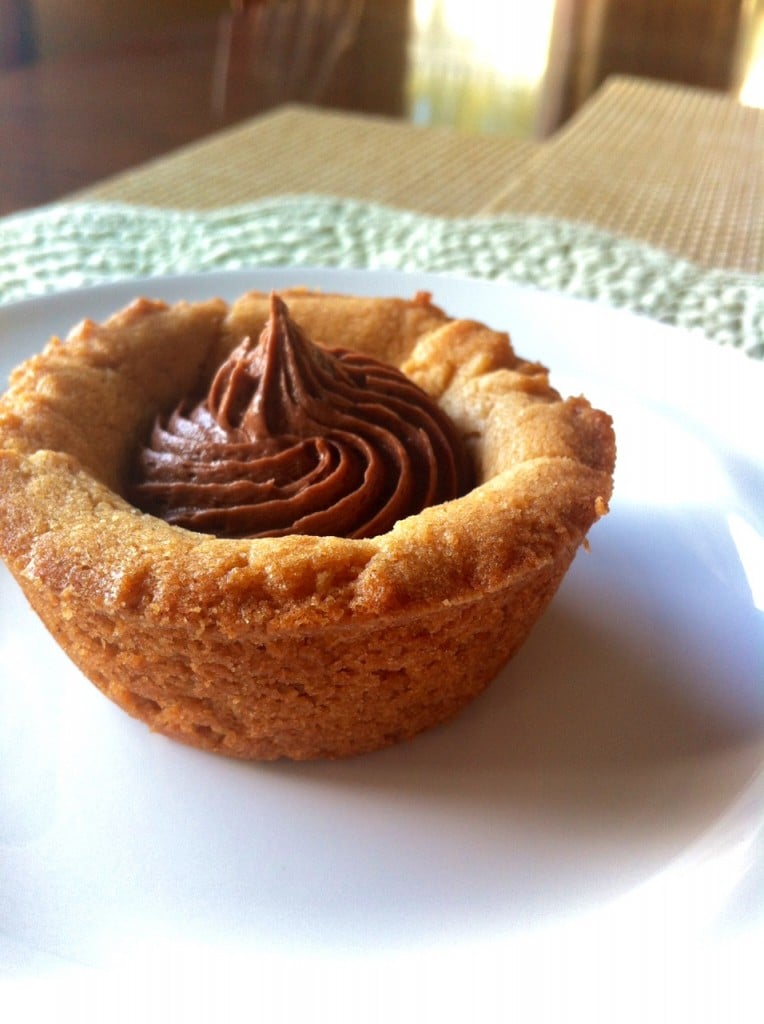 Just pour me a glass of milk and I am set.  These cookies were decadent, with a perfect mixture of sweet and salty.  They were crispy on the outside and chewy on the inside, and for the buttercream I used my go to recipe that never fails to amaze.
Butter, sugar, peanut butter, oh my!  The dough was pretty tasty as well… and so was the spoon I used to scoop out the peanut butter… come to think of it I am surprised this ended up making as many cookies as it did. Oh well, diet starts Monday right? Once these come out of the oven it is important to push down on the middle of the cookie in order to make a little cup shape for the buttercream to go in.  I used the bottom of an ice cream scooper.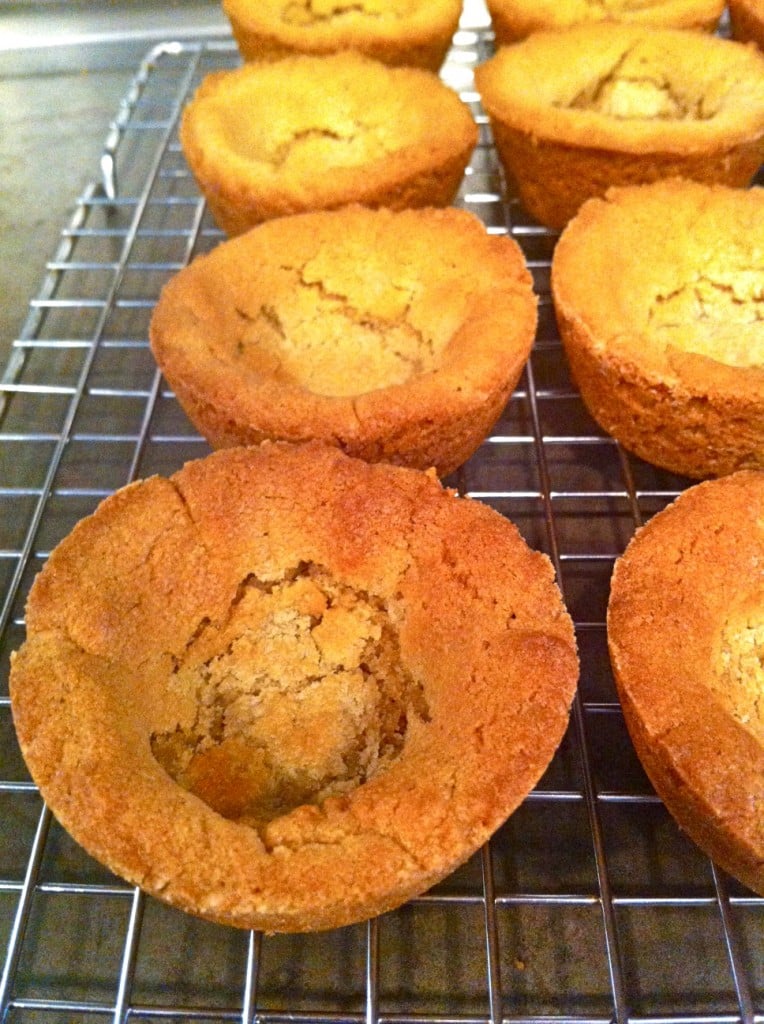 By the time you finish making the buttercream, the cookies have most likely cooled and you can start filling!  What a perfect way to celebrate our freedom. 🙂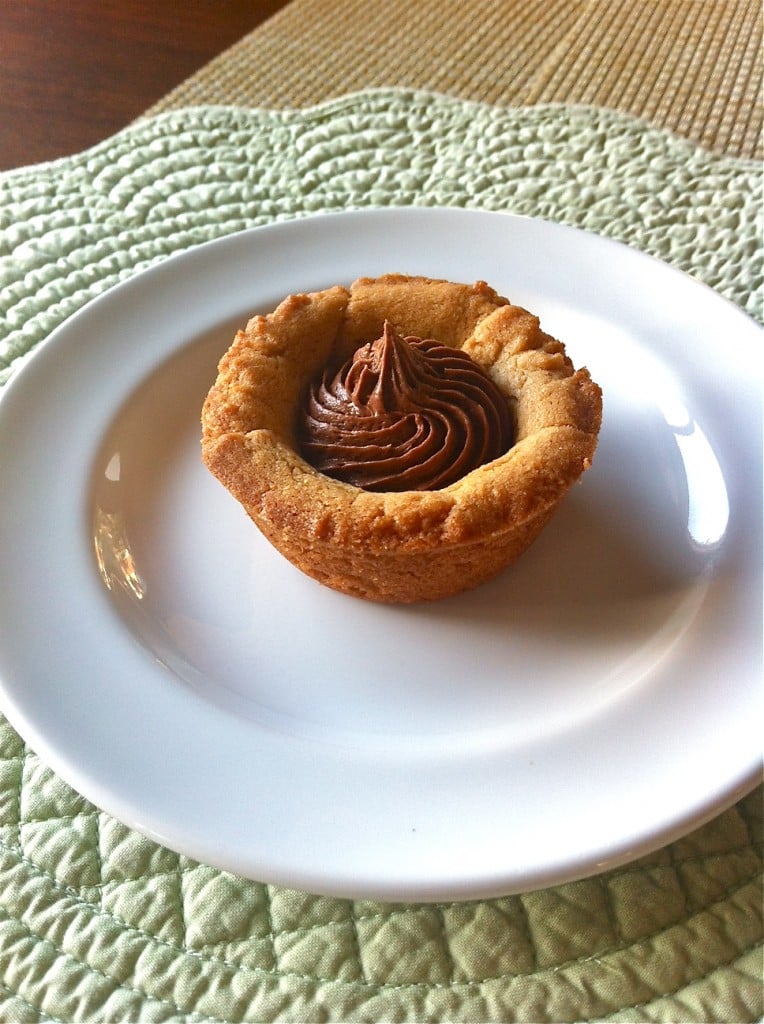 Cookie recipe adapted from http://smittenkitchen.com/2007/12/peanut-butter-cookies/
Print
Peanut Butter Cookie Cups
---
Cookie Ingredients:
1 1/4 cups flour
3/4 tsp. baking soda
1/2 tsp. baking powder
1/4 tsp. salt
1/2 cup (1 stick) unsalted butter, softened
1 cup peanut butter, creamy
1/2 cup granulated sugar
3/4 cup light brown sugar
1 large egg + 1 egg yolk
1 Tbls. milk
1 tsp. vanilla
Chocolate Buttercream Ingredients:
1/2 cup (1 stick) butter, softened
1/2 tsp. vanilla
2 1/2 cups powdered sugar
1/2 cup powdered cocoa
2–3 Tbsp. milk
2 Tbsp. corn syrup
---
Instructions
Preheat oven to 350 degrees. In a large bowl, combine the flour, the baking soda, the baking powder, and the salt. Set aside.
In a large bowl, beat the butter and the peanut butter together until fluffy. Add the sugars and beat until smooth. Add the egg and mix well. Add the milk and the vanilla extract. Add the flour mixture and beat thoroughly. Scoop dough into greased muffin tin and fill half way.
Bake for 12-14 minutes, or until lightly browned. Remove from the oven and press down the middle of the cookie with any round object in your kitchen, (I used the bottom of an ice cream scooper) or you can even use your thumb. Let cookies cool, then fill with chocolate buttercream.
Chocolate Buttercream:
Beat butter and vanilla at medium high speed for 30 seconds. Add powdered sugar and cocoa until combined, and slowly add in milk and corn syrup. Beat on high until you reach desired consistency. You may need to add more milk, or more powdered sugar depending on how thick you like your buttercream. Place in piping bag and fill cookies. Enjoy!
(Makes roughly 24 cookies)
We are participant in the Amazon Services LLC Associates Program, an affiliate advertising program designed to provide a means for us to earn fees by linking to Amazon.com and affiliated sites.