Peanut Butter Cookie Cashew Cheesecake Cups
Yep you read that right – Peanut Butter Cookie Cashew Cheesecake Cups.  These little cups are SO tasty and rich and perfect for any dessert craving!  I love that they are a freezer treat because that means you can keep them in there for awhile and always have them on hand.
Making cheesecake out of cashews might seem insane to you, but trust me, it's amazing.  The most important part is soaking your cashews for long enough and using a high powered blender to get them super smooth.  Making the peanut butter cookie part of this recipe is also insanely easy as it is only a few ingredients.  You bake them in the cups, then when they are still hot, press down the center to create a cup!  Once they cool, just pour the cheesecake filling into each and freeze.  A little chocolate on top just makes them that much better.  These are great to make for valentine's day and impressive someone special!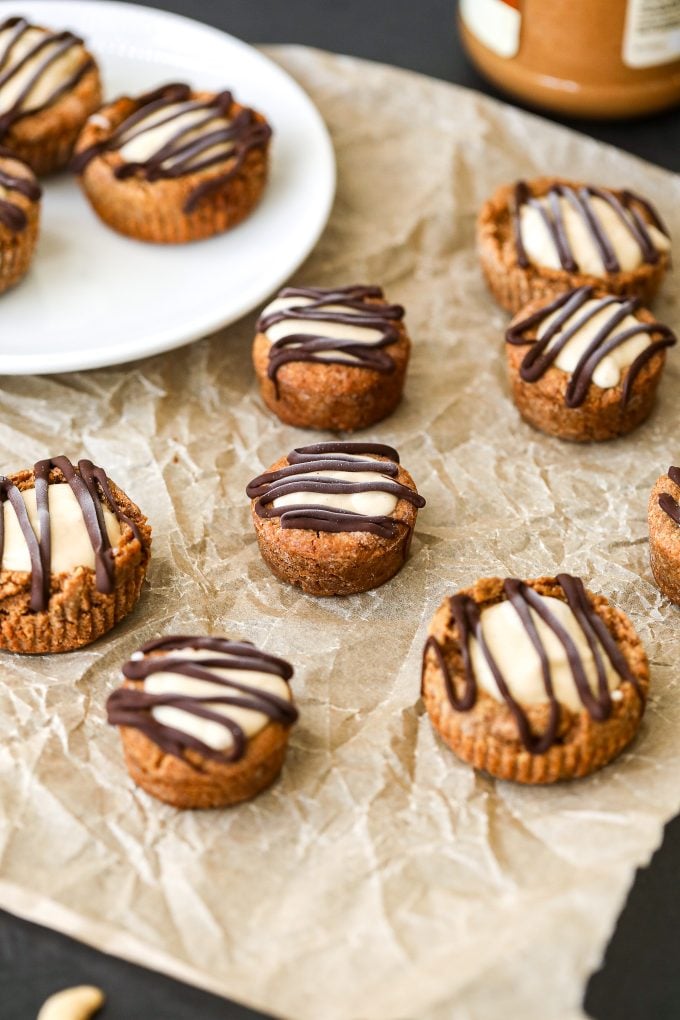 Ingredient List
Peanut Butter
Egg
Baking Soda
Raw cashews
Vanilla extract
Maple Syrup
Full fat coconut milk
sea salt
Coconut oil
lemon/ lime juice
Chocolate chips
We suggest you soak some extra cashews so we can make a few more treats, check these out:
Strawberry Lemonade Cashew Cheesecake Bites
Chocolate Chip Cookie Dough Cashew Cheesecake Bars
Chocolate Stuffed Cashew Butter Cookies
Pin the image below to save these Peanut Butter Cookie Cashew Cheesecake Cups for later!
Print
Peanut Butter Cookie Cashew Cheesecake Cups
---
1 cup peanut butter
1 egg
1 cup coconut sugar
1 teaspoon baking soda
1 1/2 cups raw cashews
1 tsp vanilla extract
1/3 cup maple syrup
1/4 cup full-fat coconut milk 
1/4 tsp sea salt
3 Tbsp melted coconut oil (refined for no coconut flavor), you can use light olive oil too
2 Tbsp lemon or lime juice
½ cup chocolate chips
---
Instructions
Start with soaking the raw cashews in a bowl covering them in water for 4-12 hrs.
Preheat oven to 350 degrees and line a muffin tin with paper liners.
In a medium bowl combine peanut butter, egg, coconut sugar and baking soda. 
Scoop about 2 tablespoons of cookie dough into each muffin liner and flatten slightly.
Bake for about 15 minutes or until lightly browned.
Remove from the oven, then use the bottom of a wooden spoon, or the bottom of a jar of spices to press down the middle of the cookie to make it into a cup.  Then let them cool.
Once the cashews are done soaking drain water and add to a high powered blender or food processor with remaining ingredients except chocolate chips.
Put cashew mixture in ziplock bag with cut off the tip.
Once cookies have cooled, squeeze cashew mixture into the cookie cups.
Put them in the freezer for 30 minutes, then melt chocolate chips in the microwave and drizzle the melted chocolate on top.  
Freeze for at least another hour to harden, then store in a ziplock bag in the freezer.
We are participant in the Amazon Services LLC Associates Program, an affiliate advertising program designed to provide a means for us to earn fees by linking to Amazon.com and affiliated sites.