Paleo Chili Cheese Dip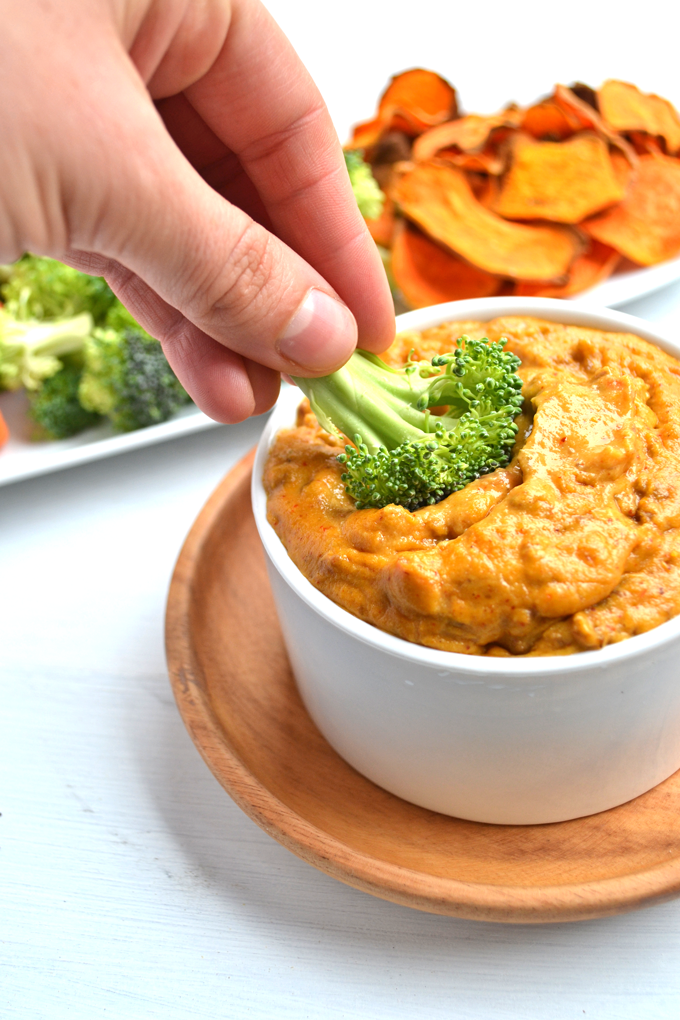 It's almost GAME DAY! Not that I really watch football… but it is also a HUGE food day!! And my day job is at an advertising agency so I love the excitement of our ad going live too. I don't know about you but I am a huge nacho cheese fan. The chips were really just a necessary way to get the cheese in my mouth… because apparently eating cheese with a spoon is frowned upon. Then I grew up and realized that those big cans of neon cheese consist of tons of ingredients, starting with: "Cheese Whey, Partially Hydrogenated Soybean Oil & Modified Food Starch" YUCK. So I stopped eating nacho cheese 🙁 BUT there is a beautiful thing in the nutrition world called nutritional yeast. Nutritional Yeast is a deactivated yeast in the form of a yellow powder substance. Vegans are all about this stuff because it has a cheesy/ nutty texture and when combined with cashews and liquid it becomes creamy and cheese like! The perfect thing when you are trying to cut out dairy.
……….
You don't believe me do you? Guess you will just have to try it out for yourself! Oh and since its game day I added in some ground beef, salsa and taco seasonings to get all chili cheesey up in herrrrr. HELLO PALEO CHILI CHEESE!
You can dip anything in this stuff. Broccoli, carrots or sweet potato chips!!
Perfectly scoopable.
Oh and I made another video!! See how quick this comes together?
Pin it!

Print
1½ cups cashews, soaked for at least an 1 hour, drained
1 orange bell pepper, roughly chopped
1 cup unsweetened dairy-free milk (I used light coconut)
2 teaspoons chili powder
¼ cup nutritional yeast
¼ cup minced onion
2 tablespoons taco seasoning (or DIY blend of 2 teaspoons chili powder, 1 teaspoon garlic powder, 1 ½ teaspoons cumin, ¼ teaspoon oregano, ¼ teaspoon smoked paprika)
½ pound ground beef
½ cup salsa
---
Instructions
Drain and rinse the soaked cashews. Place the cashews, orange bell pepper, milk, chili powder, and nutritional yeast in a high powered blender. Puree until thick and creamy, about 3-4 minutes.
In a large saucepan over medium high heat, add the minced onion & ground beef and cook until beef is browned. Add taco seasoning and fresh salsa and stir to combine.
Add in the cheese sauce and stir until combined and heated through. Season to taste with salt/pepper if needed. Serve with veggies or chips!
We are participant in the Amazon Services LLC Associates Program, an affiliate advertising program designed to provide a means for us to earn fees by linking to Amazon.com and affiliated sites.