Mini Maple Doughnut Muffins
Let's talk about doughnuts.  When you have a good one it can be somewhat life changing.  Growing up I was always the cake doughnut with sprinkles girl.  I still am sometimes because I mean come on… sprinkles!!  But my dad would always get a maple bar.  Now I have switched over myself and pretty  much only get maple any time I get a doughnut, with the exception of sprinkle.  And let's be real, I will usually just get both.  But when you can't get to a doughnut shop and you don't have a doughnut pan…. make doughnut muffins!!!  These are incredibly easy to make and are perfect for the breakfast table or even an afternoon snack.  I always keep maple extract on hand for this reason.  You can't use maple syrup because the extract is exactly what they use at doughnut shops.  It gives the icing the perfect flavor and color that brings me back to the good ol days of having bites of my dads big maple bar.  I also add a little cinnamon to the mix to make these extra fall like.  The batter is so quick and plain looking I didn't photograph it… but here they are fresh out of the oven!
MAPLEEEEEEEEEEE
GIFs are happening!
The drips are good.  We love the drips.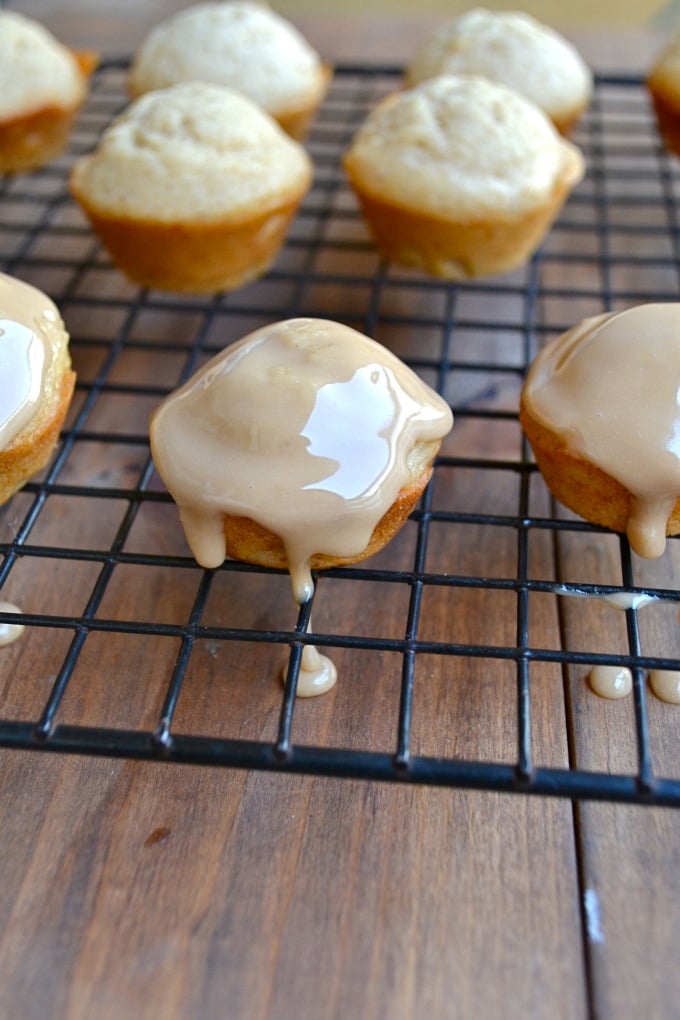 Thank you to maple extract for making this tasty treat possible in under 30 minutes. LOVE YOU!
Print
Mini Maple Doughnut Muffins
---
Muffins:
1/2 c granulated sugar
1/4 c unsalted butter, melted
1/4 tsp ground cinnamon
1/2 tsp vanilla extract
1/2 c milk
1 tsp baking powder
1 c all-purpose flour
Icing:
1 cup powdered sugar
1 tablespoon + 2 teaspoons water
1/2 teaspoon maple extract
---
Instructions
Preheat oven to 375 degrees. Spray cooking spray into mini muffin tins. In a medium bowl, combine melted butter and sugar. Then add the cinnamon, vanilla & milk.Once that is combined, add the flour and baking powder and stir until it is well incorporated. With a small scooper or spoon, scoop batter into tins and fill almost to the top. Bake for 15-17 minutes or until a toothpick can be inserted in the middle of one and comes out clean.
Once they are done, remove them from the pan and let cool on a cooling rack. In a separate small bowl, mix together icing ingredients until combined. Dip the top of the cooled muffins in the icing and let them set. Enjoy!!
We are participant in the Amazon Services LLC Associates Program, an affiliate advertising program designed to provide a means for us to earn fees by linking to Amazon.com and affiliated sites.