Let's Learn About Essential Oils
Okay guys it is officially time we talk more about essential oils.  After sharing with you about my past struggles with Hypothalamic Amenorrhea and stress I got such a huge response from many of you that have been in the same boat.  It's so common that I knew I had to share more about what got me through it all and ultimately made it possible for me to get pregnant!  The only problem I had with sharing about my essential oil use is that although I believe in them and love them, I really don't know much about them besides that.  So today is the first ever post in my Let's Learn series!  Today I have brought on my friend Brittany Anderson, a nurse practitioner, doula, health coach, Level 1 CrossFit coach, and pre and postnatal exercise specialist – along with an essential oil guru.  Brittany helped me figure out which oils would help me when I had HA and she has also helped me on the road to getting pregnant.  I knew she would be the perfect person to bring on for a little Q & A so we can all learn more about Essential Oils.  I wanted to ask the questions that you might want to know but didn't know how to ask.
For someone just starting off and not looking to cure anything in particular, what oils should I get?
What's so amazing about essential oils is that they don't "cure," but instead help support the body's innate capacity for healing. How cool is that?!
We can all benefit from oils because, let's be honest, we all deal with stress, digestive upset, trouble sleep, etc at some point in our lives. My number 1 recommendation for someone starting out is lavender because it's truly the "Swiss army knife" of oils. Lavender:
supports restful sleep calms irritated skin minimizes itchy/watery eyes from allergies calms anxious feelings.  I also love peppermint! It is amazing for opening the airways, minimizing head tension, and boosting energy!
Is there a significant difference between brands? What should I be looking out for on labels?
100% yes! This is something I didn't know when I first got started. I figured if it was on the shelf at the local health food store, it was safe. I was so sad to learn that this is not the case. There is no industry regulation so it's really important to know where your oils come from, and that they've been adequately tested. You also can't trust the labels because it's perfectly legal to label an oil as "100% pure, organic essential oil," even if the oil contains fillers!
This is one of the many reasons I choose to use dōTERRAs essential oils with my family, and recommend them to clients. Oils are 3rd party tested to insure they are free of pesticides, heavy metals, or any other contaminants. The company is also dedicated to sustainable farming and harvesting practices, and guarantees fair and On time wages to its dedicated network of farmers and growers. These are the highest quality essential oils in the market!
The good quality ones are so expensive… is there any use for the cheaper ones you can get at places like target?
Essential oils have become so popular they are EVERYWHERE! Walmart, Target… even CVS! Unfortunately the old adage is true: you get what you pay for. If you see a bottle of "lavender" at Walmart for $6 there's a good chance it doesn't actually contain lavender, or if it does, it's cut with a synthetic filler. These oils may smell ok, but they won't give you all the amazing benefits of a therapeutic grade oil.
Essential oil university is a great, unbiased source to learn more about all the phonies out there: https://essentialoils.org/
Here's the beauty of a quality oil: a little goes a long way AND you'll actually experience health benefits. 1 drop can literally service every cell in your body! They are so worth the investment.
Plus think of it this way: quality oils cost just pennies per drop, and just a drop or two can have a big impact!
What are the best oils for anxiety?
There are actually some great clinical studies which have shown lavender to be highly effective at minimizing anxious feelings! It's definitely one of my favorites, but i also love citrus oils, especially bergamot. Specific to doterra, Balance blend is amazing for this as well. It contains tree oils like spruce and frankincense, which are very grounding and soothing.
Are all oils okay to diffuse around pets?
This is a great question! In general yes, but some, like melaleuca (tea tree), can be an issue for cats. The good news about diffusing is that pets will usually leave the room if the scents don't agree with them.
How do you make your own products with essential oils? I want to make cleaning and beauty products but have no idea where to start.
Girl, this is actually how I got started with essential oils! I wanted to minimize my toxic load so i hopped on Pinterest and found all kinds of great recipes! Doterras blog is also full of DIY recipes HERE!
What kind of oils can you ingest? How can you tell which ones are safe to ingest?
I have to say, I would never recommend ingesting an oil unless it's from doterra. In fact if you look at the label of most oils it actually says "do not ingest. If ingested call poison control." Here's the thing though, if it's not safe to ingest an oil, why would you want to put it on your skin? Either way, it ends up in your bloodstream! Ingestion is a very potent way to use oils and it's important to exercise caution.
Certain oils like many tree oils aren't really meant for ingestion because they are more effective via other routes of use.
I personally take 2 drops of Copaiba oil under my tongue daily to support immune function and a healthy inflammatory response. I also love taking a drop of lemon in a tsp of honey when I've got a sore throat.
Are there any oils that work for acne spot treatment?
Oh yes! Melaleuca is the first that comes to mind because it helps kill the bacteria that causes acne. Frankincense is also great for calming the redness and inflammation that can go along with acne.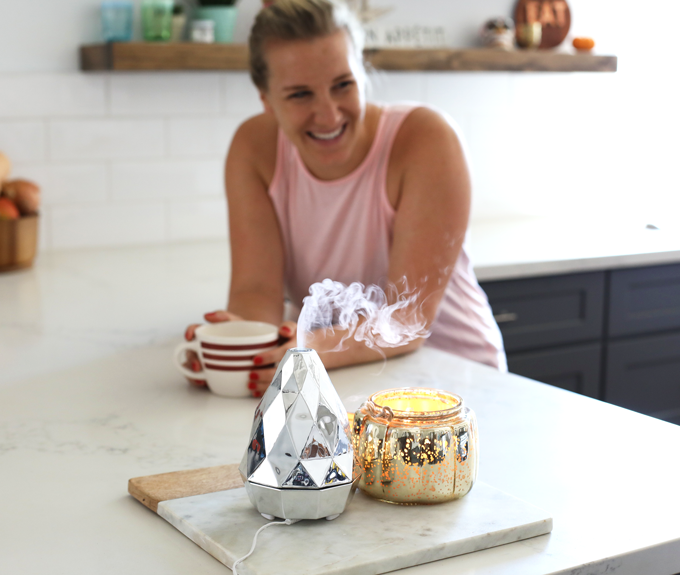 What oils can you use for headaches and migraines?
I think it's always important to figure out the underlying trigger for headaches and migraines. For example, do they occur around that time of the month? If so, it may be a hormonal imbalance that's the problem. In that case, there are oils that help support hormone balance! These include geranium, clary sage, cypress.
For relief of symptoms I recommend peppermint rubbed over the temples and down the neck and frankincense applied to the roof of the mouth. Doterra also has a great blend called PastTense which works beautifully for this.
Is there a certain place on the body that is best to wear the oils for maximum power?
It really depends on what you are wanting to address, but I recommend using oils intuitively: if you have a headache, use oils on you head; tummy troubles? Apply oils topically over the belly.
What oils work for colds and congestion?
There are so many that can minimize symptoms and support a healthy immune system!
Lemon helps break up mucus and is my go-to when my kiddos are congested.
DōTERRAs Onguard blend is wonderful for kicking a cold fast. It can be diffused, applied topically, or taken internally.
Oregano is a heavy hitter as well! It fabulous for kicking the crud, and i love adding it to bone broth. doTERRA's Breathe blend is AMAZING for opening airways and I love to diffuse it.
How long can you keep essential oils? Do they ever go bad?
A pure essential oil should technically not go bad, in fact oils like frankincense have been found in the tombs of the ancient Egyptians! Oils should be stored in dark bottles and kept away from direct light or heat.
Are there any oils that work for alertness and focus?
Absolutely! There are even studies to back this up! Lemon, rosemary, and peppermint are all fabulous for memory and focus. I personally love to combo of wild orange and peppermint for alertness, especially when I've been up attending a birth all night.
Do any essential oils help with allergies?
This is the reason I actually started using doTERRA specifically. My hubs is an allergy sufferer and his allergies trigger his asthma. The "allergy trio" is lemon, lavender, and peppermint. Lemon breaks up mucus, lavender helps calm the histamine response, and peppermint clears airways.
If there was one thing you would want people to know about essential oils, what would it be?
Essential oils are so empowering! As a healthcare provider I recognize that our healthcare system is designed for "sick care." Prevention is not our strong suit. I want to see people take their health and wellness into their own hands, so they aren't so reliant on our healthcare system. I love that these oils can be a part of that!
---
How great is that info!! Thanks to Brittany's advice on essential oils I was able to get my period back after having hypothalamic amenorrhea for 11 months, then less than a year later was able to regulate my period and get pregnant. Powerful stuff!  I have gotten lots of questions about which oils I used and these were my favorite:
This oil blend roller had so much to do with my healing! When I didn't have a period I would roll it over my ovaries and rub it in with my fingers every night for a few minutes.  It supports hormone balance
This blend I used to help with stress management! I mostly diffused it before bed to create a calm and peaceful time of the day to unwind.
This blend was another I loved to diffuse before bed! It is grounding and helped with stress management. I even brought the bottle around with me and would just open it and smell it throughout the day when I was feeling stressed!
As I don't want to overwhelm with too many options I'll just share those for now as these are the 3 I used in the first few months when I got my period back!
If you are interested in trying any of these doTerra products you just have to sign up for doTerra and you will get all of the wholesale pricing! Here are the instructions to sign up if you feel so inclined!
Click on Become a Member
Choose Wholesale Customer or Wellness Advocate
Fill out all your info
Choose your Enrollment Kit add to your cart and add any additional items to the A La Cart Section
Add your payment info and process your order!
---
Pin the image below to share this post on Essential Oils!
We are participant in the Amazon Services LLC Associates Program, an affiliate advertising program designed to provide a means for us to earn fees by linking to Amazon.com and affiliated sites.