Kitchen Remodel
Our kitchen remodel is done!  If you haven't followed along on instagram, I'll start off by telling you how this kitchen renovation got started and why.  We moved into our new forever home on March 5th of this year (2020) and then on March 17th, the drain pipe in our kitchen busted open.  Matt noticed water pouring out of the back of the house and we thought, well that doesn't look good! Oh the joys of home ownership.  First we called our home warranty to send a plumber and he was pretty useless and didn't want to open walls, so then we had another plumber come out who told us what was going on.  We called insurance and they had a water damage mitigation team come out only to find out that it had probably been going on for at least a few days if not since we moved in, because the cabinets were soaked along that wall, the drywall was as well and there was moisture under the floors about halfway into the kitchen.
That week was also the start of the covid quarantine so we were stuck at home with a half torn apart kitchen and huge dehumidifiers running everyday all day for a week. The process of mitigating the water then the asbestos in the walls, then getting quotes on repairing, etc, took about another 5-6 weeks to sort out which landed us at the end of April! Then once we got the checks for repair from insurance we decided instead of repairing we were going to renovate and make the kitchen exactly what we wanted.  We met with a few contractors, an architect to draw up plans and ensure we could take down a wall we wanted to and Gerent Park Design designed my dream vision of a kitchen!
We decided to go with Grason Construction because their bid was good and their timeline of 4-5 weeks was amazing! Another contractor said it would take 3 months!  Grason has all in house staff so the projects move quickly and smoothly, which was much needed after what we had been through.  The goal of this kitchen was for it to be as light and bright and bright as possible, good for entertaining and enough storage to fit all of my kitchen stuff, which is a lot.  Some classic kitchen rules like the triangle between the sink, stove and fridge were low on my priority list because of the layout and the wall of windows at the back of this house.  I didn't want to sacrifice any of that beautiful light!
As you can see in the before and after pictures, a lot changed!!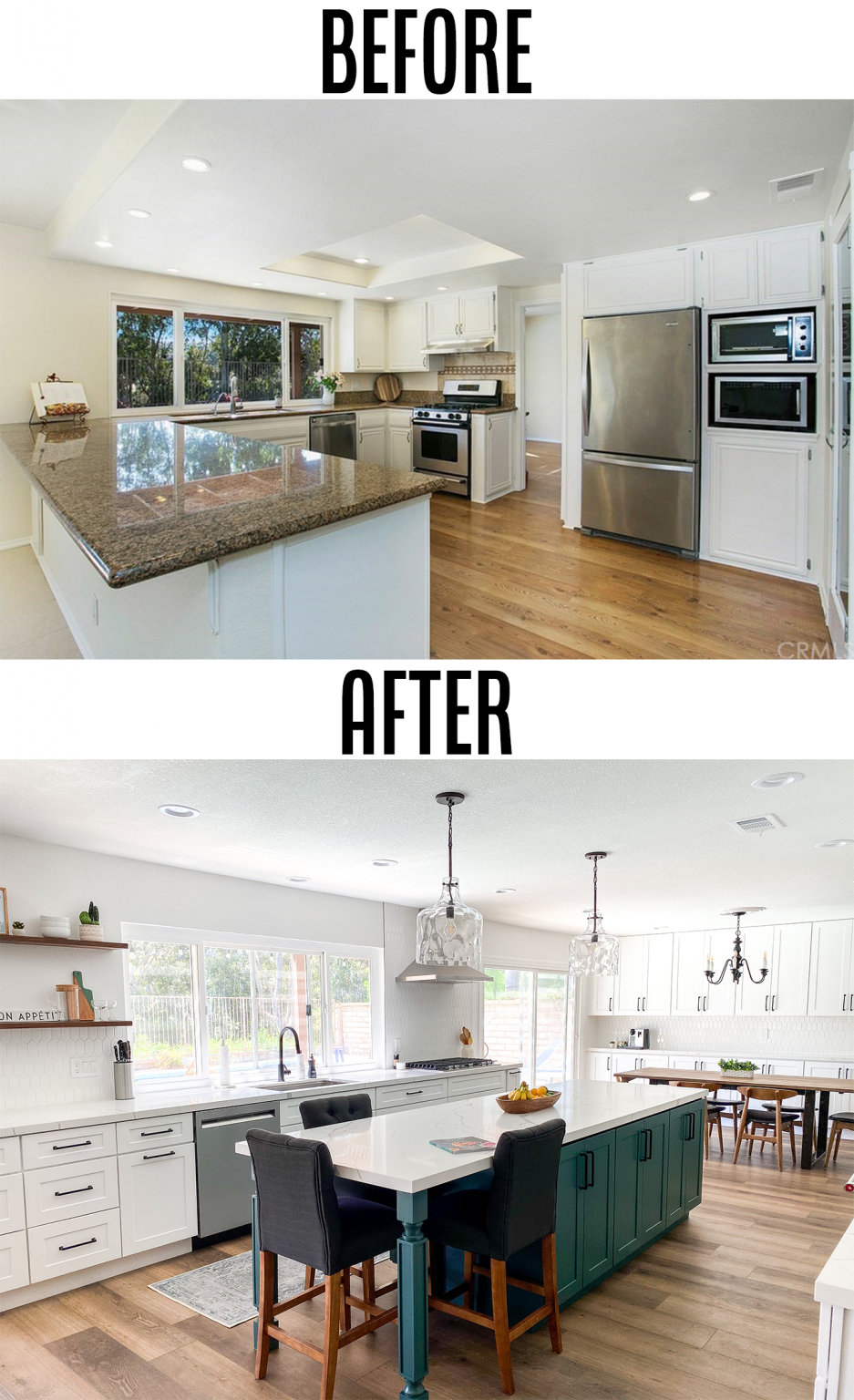 And a further back shot of our family room too, you can see how big the space is now!
Links to kitchen products:
Kitchen Aid 5 Burner Gas Cooktop
Kitchen Aid Double Wall Oven with Upper Convection
Kitchen Aid Counter Depth French Door Refrigerator
Kitchen Aid Dishwasher with Pro Wash Cycle
Flat Black Cabinet Pulls (6 5/16 inch)
Renova Picket Ceramic Tile Backsplash
Floating Wood Shelves  Mine are Antique Walnut (use code LITTLEBITS25 for 25% off!)
Calacatta Quartz was from The Yard in Anaheim
Kitchen Renovation Plans & Cost:
We had an architect come in to draw up plans and ensure we could knock down the wall we wanted to knock down.  I have gotten questions about dimensions and such so I thought looking at the plans could be helpful!
The one good thing about the kitchen leak was that it led to us getting the damage covered by insurance!  We cashed out for the cost of "as is" repairs and took that money to go towards the new kitchen. Thankfully that covered about half of the total cost which all together with the entire cost of: the contractor to demo, run electrical, raise the previous soffit, drywall, texture, paint, new recessed lighting, all cabinets, flooring, counters, backsplash, painting the island,  all brand new appliances (10k), cabinet pulls, pendant lights, sink, vent hood, floating shelves and basically anything else you see in these pictures was a total of about $52,000.  For reference we live in Orange County ,California!   Although it was a huge expense, I was pleased with the budget we were able to stick to and extra grateful it was done so quickly!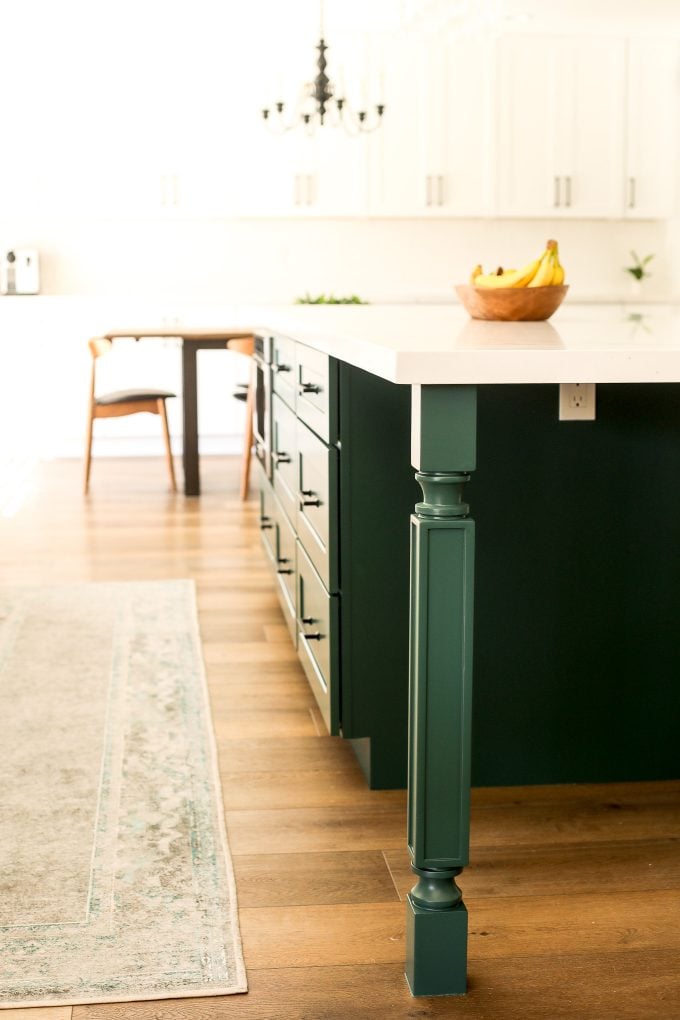 We are participant in the Amazon Services LLC Associates Program, an affiliate advertising program designed to provide a means for us to earn fees by linking to Amazon.com and affiliated sites.