Kale & Chicken Sausage Stuffed Delicata Squash
Oh Delicata Squash… how I love thee!! Last week on facebook I talked about how this recipe came about out of what I had laying around the house for dinner one night. I loved it so much that I had to recreate it for the blog! I used a few things that were pre-cooked so it took most of the work out of it and make it super simple to throw together. You know that frozen brown rice at Trader Joe's? The one you microwave for 3 minutes and its done? Yeah, love that stuff! And the chicken sausages at TJs have become our savior for busy weeknights when cooking meat seems daunting. The best part about their chicken sausage is that is has few ingredients and I can pronounce them all! See? > Skinless chicken meat, red and green peppers, water, seasoning (salt, spices, turbinado sugar). Those are the ingredients in the Sweet Italian Chicken Sausage I used in this recipe. Yes there is a little added sugar, but it comes out to 1 gram a link so i'll take it! I think my new weeknight bit is going to be stuffing any and all squash. My next conquest will be acorn squash, i'll let you know how that one goes! You can see step by step pics in the pinnable image at the bottom of the post to see how simple this dish is to throw together. Best part? Leftovers for lunch!!
First roast those squash halves!
Then stuff with the mixture….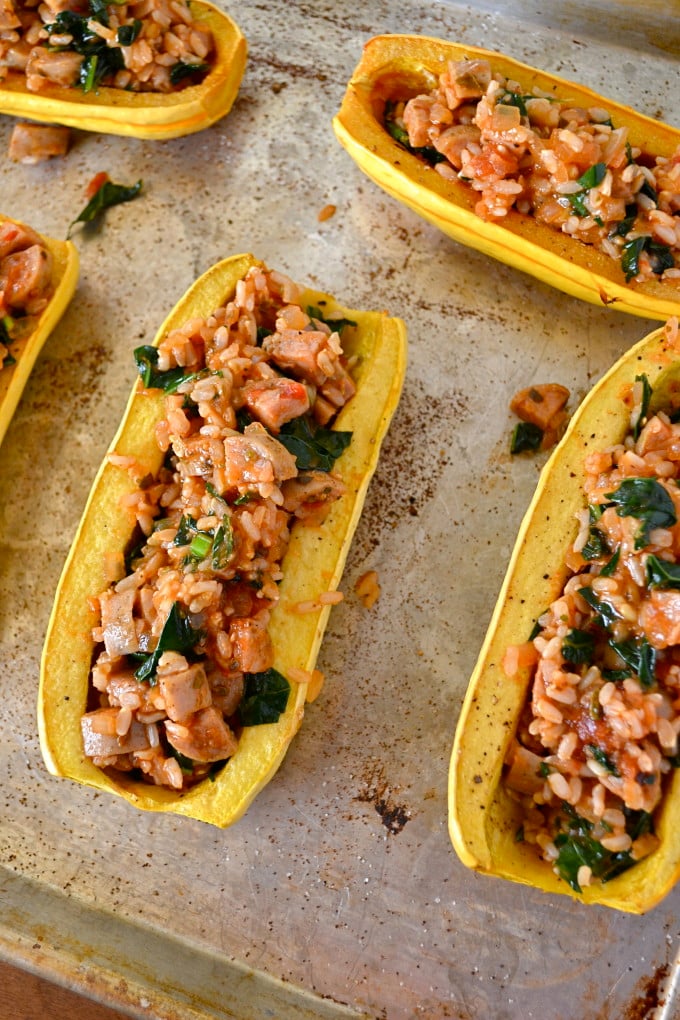 Top with parm and broil for a hot 2-3 minutes… and voila!
Pin it!!!!!!!!

Print
Kale & Chicken Sausage Stuffed Delicata Squash
---
2 large or 3 small delicata squash
1 tablespoon organic olive oil
1/2 cup choped onion
2 cups packed kale (ribs removed)
1/4 cup chicken broth
1 cup cooked brown rice
2–3 links italian chicken sausage (the already cooked kind), chopped into small pieces
1/2 cup organic marinara sauce
1/2 teaspoon salt
1/2 teaspoon pepper
1/2 teaspoon garlic powder
1 teaspoon dried oregano
1/4 cup grated parmesan (optional)
---
Instructions
Preheat oven to 400 degrees. Chop delicata squash length wise and scoop out seeds. Lay them skin side down on a cookie sheet and brush with a little olive oil. Sprinkle with salt and pepper and bake for 30 minutes. While squash is baking, add olive oil to a medium skillet on medium high heat. Then add chopped onion to the pan and cook until slightly browned (about 5 minutes). Add kale to the pan and cook for 30 seconds before adding the chicken broth. Cook for about 2 minutes or until kale begins to wilt. In a medium bowl combine onion and kale mixture with brown rice, chicken sausage, marinara sauce, salt, pepper, garlic powder & oregano. Stir until completely combined. Divide the mixture into each squash and top with parmesan. Switch the oven to broil and cook for 3 more minutes. Enjoy!
We are participant in the Amazon Services LLC Associates Program, an affiliate advertising program designed to provide a means for us to earn fees by linking to Amazon.com and affiliated sites.