Healthy Holiday Tips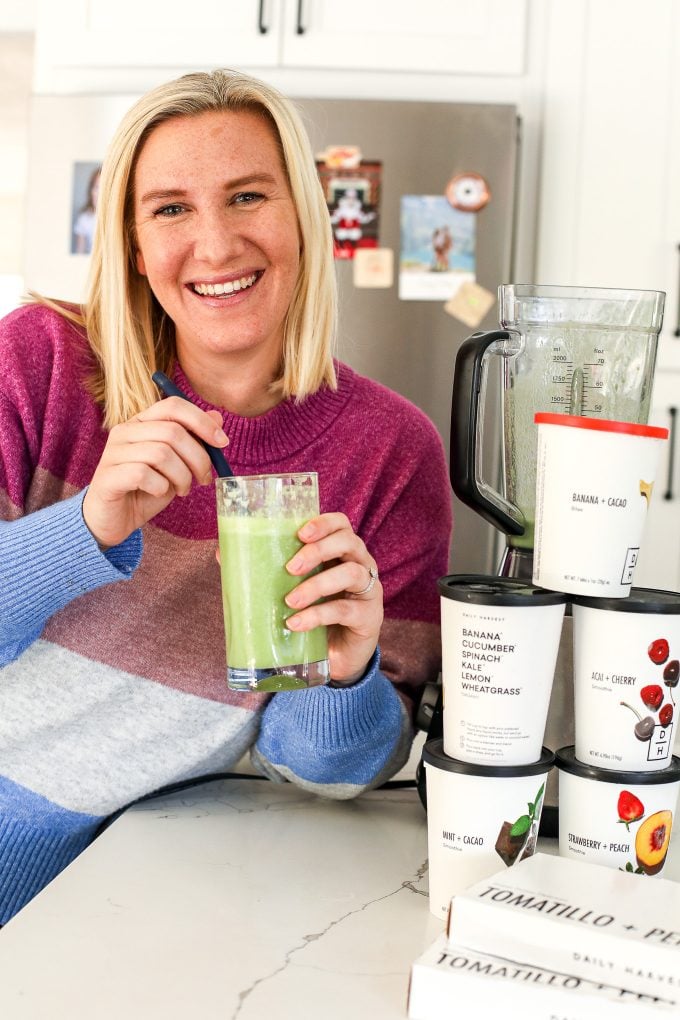 Let's all be honest, the holidays can be FULL of all the food and sweets and it would be crazy to deprive yourself of all of that goodness.  So in order to get through the holidays feeling balanced and still enjoying all of the things, I try to make sure to be aware of a few things in December every year. In this post I will share some healthy holiday tips to keep in mind as you navigate all of that delicious jingle jangle from trader joes that always ends up in your pantry.
Extra Veggies
One way I ensure balancing out sweets is to add in extra veggies every day.  That could be taking time to prep more on a sunday, or you can be like me and stock your freezer with Daily Harvest.  I have been using Daily Harvest for years, since their first collection of amazing pre-packaged smoothies. If you haven't heard of them, Daily Harvest is a company that sends amazing frozen foods (over 100 options!) to your doorstep that are organic, gluten free, dairy free and plant based.  They have incredible smoothies, flatbreads, harvest bowls, bites, lattes, oat bowls and more. (oh and I have code – KELSEYP for up to $40 off your first box!)
I live and breathe their Banana + Greens smoothie because it is packed with SO many greens and it's incredibly delicious.  Like my 3 year old loves them delicious.  Adding in those greens makes me physically feel good but also mentally checks that box so I can also make all the yummy cookies and feel great about it.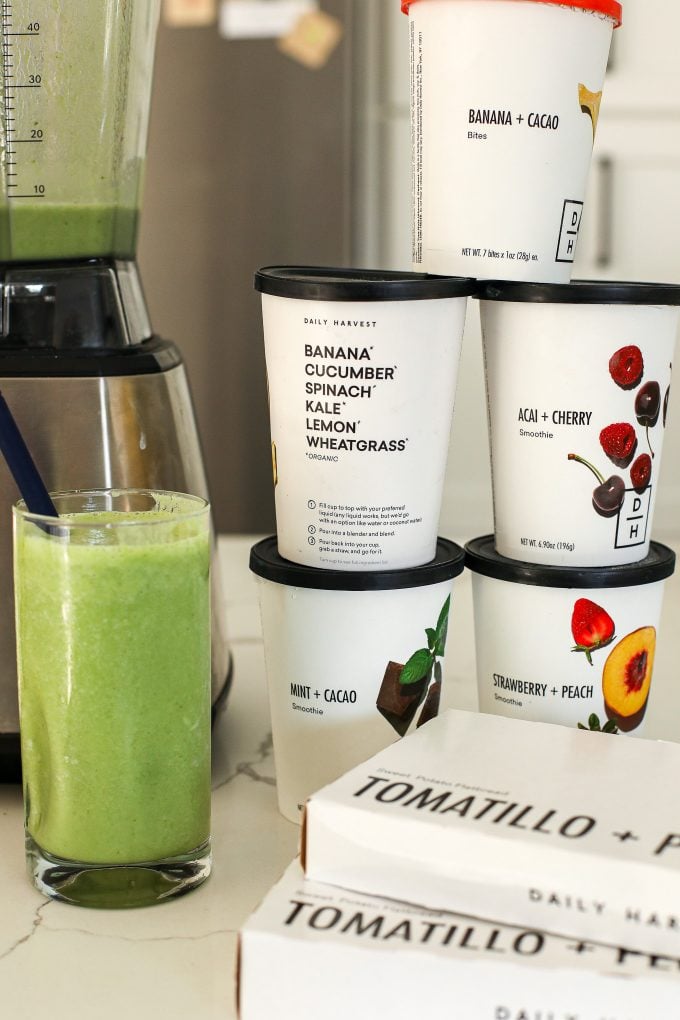 Healthy Lunches
I don't know about you but this time of year I like to make heartier dinners like chili and meatloaf with mashed potatoes, so I love to keep my lunches lighter and healthier.  Daily Harvest also makes fabulous harvest bowls that are perfect for lunches.  They have this Broccoli + Cheeze bowl that I cook up on the stove with some chicken apple sausage and it makes such a filling and nutrient dense meal.  I also love that I can cook these up for my kiddos when I have zero time, which feels like a lot of time.  They have Flatbreads that are super tasty and easy to cook up in either the oven or air fryer. The Artichoke + Spinach ones are so tasty and I love to add a little cheese on top (as they come dairy free!). Milo is also a huge fan of that one and I love seeing him devour spinach!! Everything comes to your door frozen then you pop it right in your freezer to be ready whenever you need it.  We have a chest freezer in the garage which is so nice to stay stocked.
Walking
I am at a place right now with these two small kiddos where I try to get workouts in when I can but it isn't always possible.  Walking is something that is easy and doable, especially with my kids!  We just starting doing a little walk with them after dinner to look at neighbors Christmas lights and it is not only great for Ruth to look at all the fun decorations, but great to get our bodies moving after we eat to help digest.  It is also something that I am trying to do on my own for just even 10 minutes during the day to get moving and clear my mind.  A clear mind is hard to come by some days so a quick walk with a podcast or some music always makes me feel better!
Allow the indulgence
I have spent many a Christmas season just feeling "bad" about eating all the yummy treats around the holidays.  I would just gorge on cookies, feel bad about, then tell myself I would just keep going crazy eating everything then totally stop in January.  This mentality is so exhausting and unhealthy!  I am at a much more balanced place now where I allow myself to eat what I want when I want and I never gorge anymore.  Adding in the veggies, healthy lunches and walking while allowing myself the treats makes for a much happier and healthier holiday season!  I also want to do this to set a good example for Ruth and show her you should never be ashamed of loving cookies.  You just also need to make sure to eat up all of the greens which is easy to do when you make them delicious.  And if you want to treat yourself to dessert every day you can also stock up on Daily Harvest Scoops & Bites!  Their Chocolate + Ooey, Gooey, Midnight Fudge Scoops is incredible and I can't believe it's dairy free.
So what do you think you will add into your routine to stay healthy this holiday season?  Comment below and let me know!
This post is graciously sponsored by Daily Harvest! If you want to learn more about the products they offer head to their website and use KELSEYP for up to $40 off your first box of goodies.
We are participant in the Amazon Services LLC Associates Program, an affiliate advertising program designed to provide a means for us to earn fees by linking to Amazon.com and affiliated sites.