Healthy Chicken Marsala
I have a pretty basic routine down these days.
Wake up
get ready
go to work
talk with Lindsey about wanting to live with our boyfriends
have everyone else in the office tell us to wait till we are 30
either go home or to the gym (ha)
make dinner or dessert (or both)
watch TV with my fam
go to bed
It is a pretty great routine, but sometimes it can get a bit monotonous. But luckily some genius invented a little something called "Happy Hour". Don't know if you have heard of it, but it is pretty great.
Ha! The little things in life, I tell ya…
So Happy Hour once a week with friends is great, and the wonderful weekly Bev Mo runs by my dad really make me a happy camper. On top of all that I love to make new delicious meals and treats, and every new recipe I try is an adventure. This Tuesday, the adventure on my plate was a Healthy Chicken Marsala, and Garlic Mashed Cauliflower.
This is a very simple, healthy, and delicious meal.
All it takes is a little pounding…
And yes you are seeing correctly. I used an ice cream scooper to pound my chicken. And it worked wonderfully! Then a little breading…
A little cooking… (well hopefully a good amount of cooking.. just no pink…pink is bad).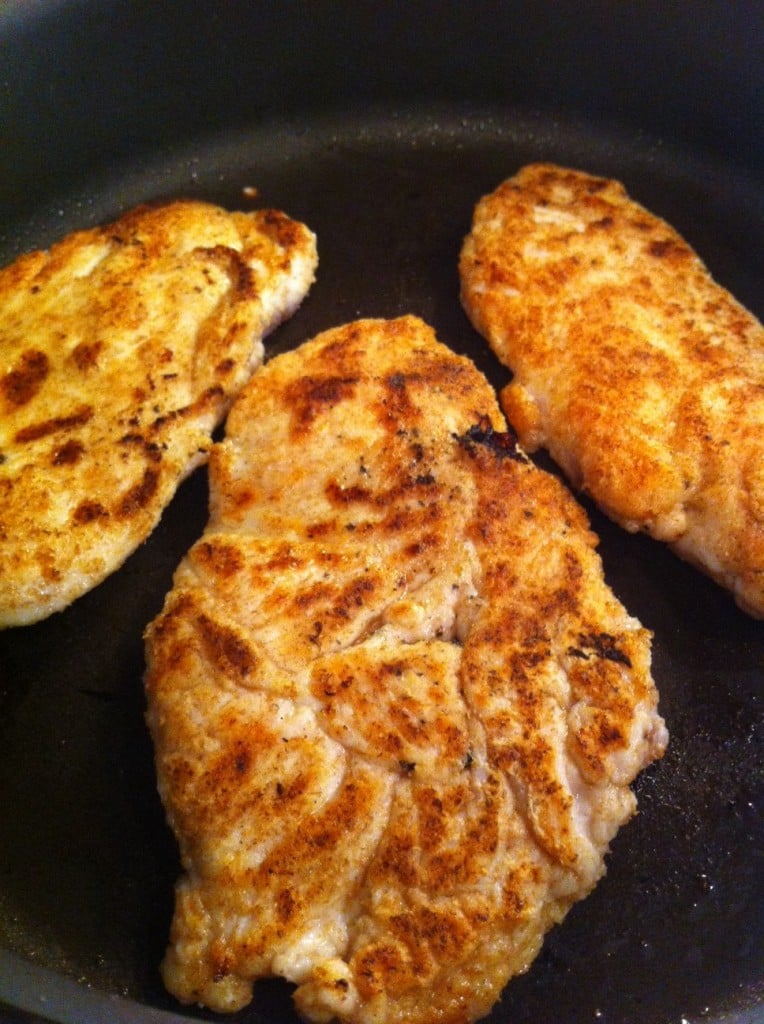 Then just a little mix of marsala wine, chicken broth, lemon juice and mushrooms….
A little cornstarch to thicken…
Add the chicken back in the mix, and bring it outside to enjoy the sun that is still shining!
Meanwhile I made this amazing Garlic Mashed Cauliflower.
I also enjoyed this meal with a Shock Top (a staple in my house). I'm still learning how to pair drinks with food, but beer goes with everything in my book!
Print
Healthy Chicken Marsala
---
8 (6-ounce) skinless, boneless chicken breast halves
1/2 teaspoon salt
1/2 teaspoon freshly ground black pepper
4 tablespoons all-purpose flour
2 tablespoon olive oil
2 cup pre-sliced mushrooms
1 cup Marsala wine
1 cup fat-free, less-sodium chicken broth
4 tablespoons fresh lemon juice
2 teaspoon cornstarch
---
Instructions
Place chicken breasts between 2 sheets of plastic wrap, and started pounding them down to about ½ inch thickness. Sprinkler both sides of chicken with salt and pepper, then lightly bread with flour. Drizzle olive oil in a large skillet over medium heat and cook for 3 minutes on each side or until browned. Remove chicken from pan and set aside. Add mushrooms, wine, broth, and lemon juice to the pan and simmer for 10 minutes or until mixture is reduced. Add cornstarch to sauce until you reach your desired consistency. Return the chicken to the pan. Cover and cook for an additional 5 minutes until chicken is cooked and warm.
Recipe Adapted from Ruffles and Truffles
We are participant in the Amazon Services LLC Associates Program, an affiliate advertising program designed to provide a means for us to earn fees by linking to Amazon.com and affiliated sites.