Grilled Peaches with Hazelnut Pancetta Crumble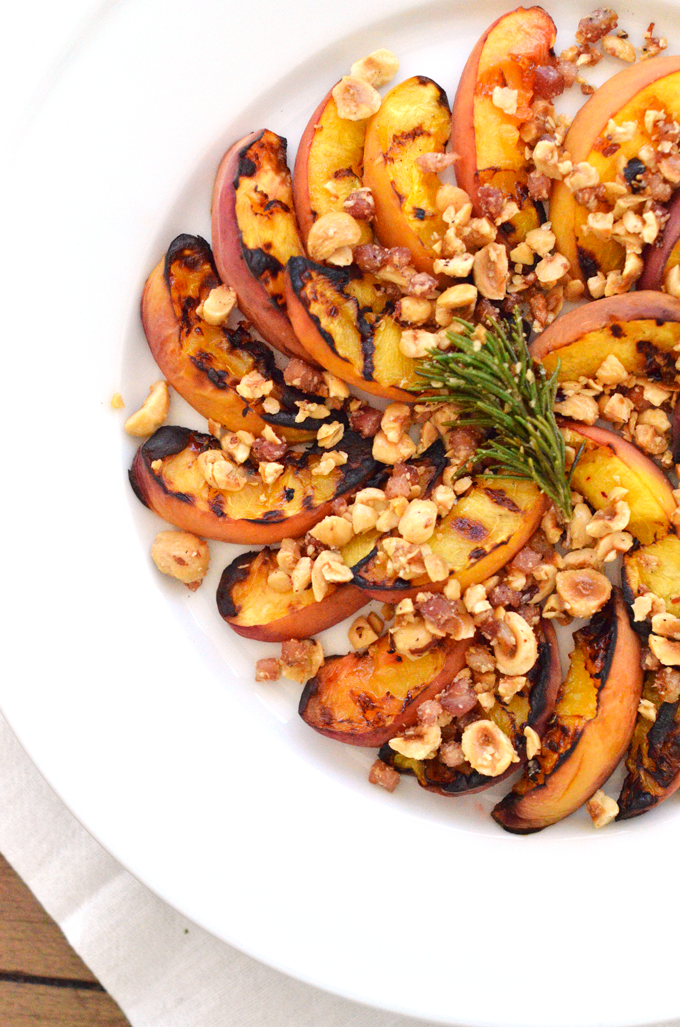 Millions of peaches, peaches for me. Millions of peaches, peaches for free.
SUCH a great song! I am never one to gravitate towards peaches at the store (I am an apple a day kinda gal), but every time I have a nice juicy peach I just fall in love! So what better to pair with a super sweet and caramelized peach but salty pancetta and hazelnuts! This combo is unreal. It's a flavor and texture combination like you have never had before! After we ate turkey burgers this weekend, I made this and we continued to eat and eat. THEN I took this leftover crumble and have kept it all week for a little snack when I need it. It is pretty much amazing.
It also makes me want to put it into other sweet things, like brownies or brittle! GAH. The options seem endless. I will report back when I have experimented with these ideas more. For now, please enjoy the next few moments of beauty while you scroll through these pics! 🙂
Adding rosemary while the hazelnuts and pancetta cook just gives them some slight rosemary flavor without over powering it!
Crumble crumble topping topping.
This dish is so pretty, perfect for your next party!
I have to try this over ice cream sometime too!!
Pin it!
Print
Grilled Peaches with Hazelnut Pancetta Crumble
---
3 Peaches
¾ cup chopped roasted hazelnuts
½ cup pancetta
1 sprig of rosemary
Salt and pepper
---
Instructions
Cut peaches into slices. Grill the slices on high heat until caramelized, about 3 minutes on each side. Place a skillet over medium high heat and add pancetta to the pan. Let it render and cook for about 5-7 minutes, then add hazelnuts and full sprig of rosemary to the pan. Stir and cook until hazelnuts are fragrant. Season with salt and pepper, remove rosemary and spoon over peaches. Enjoy on its own over over some dairy free ice cream!
We are participant in the Amazon Services LLC Associates Program, an affiliate advertising program designed to provide a means for us to earn fees by linking to Amazon.com and affiliated sites.