Gluten Free Chocolate Chip Cookies
Happy New Year!!  I am already loving 2013.  Which is weird because I have a thing about not liking odd numbers.  Although most of my major life accomplishments have happened in odd numbered years…. hmm I may be onto something here.  Anyways, I have once again decided to be healthy and lose some weight! You with me? Okay we can totally be all about that, but I have learned one thing through my years of "trying to lose a few pounds."  I cannot tell myself that I can't have something.  If I say "okay I am only going to eat cookies on Saturdays."  You will find me on the floor of my kitchen with 6 cookies in my mouth and a spatula full of cookie dough in my hand.  It isn't pretty.
So if I tell myself to just watch my portions, the cookies stay and the excessive up and downs of weight and emotions go away.  Lovely!  In turn I PROMISE I will post healthy dinner recipes and all of that good stuff but I wanted to start off the new year with a promise of health and a promise of cookies.
I got a gluten free cookbook for Christmas and I am super excited to start trying some recipes out.  The first up are these delicious chocolate chip cookies.  The key to these is the types of flour used.
I found them at Whole Foods.
You will start by mixing all of you dry ingredients including the sugars into a mixer.
Then once that is combined, you will add your unsalted butter.  It will be quite coarse but just keep mixing until combined.
Then you will add the eggs and vanilla.
It will need a bit of time to come together completely but trust me it will!  Then add in your chocolate chips.  You can use regular or mini, mini was the only kind I had!
Then you will have to stick it in the fridge for at least 2 hours.
Roll them into balls and flatten them slightly.  Then bake at 325 for 13-17 minutes.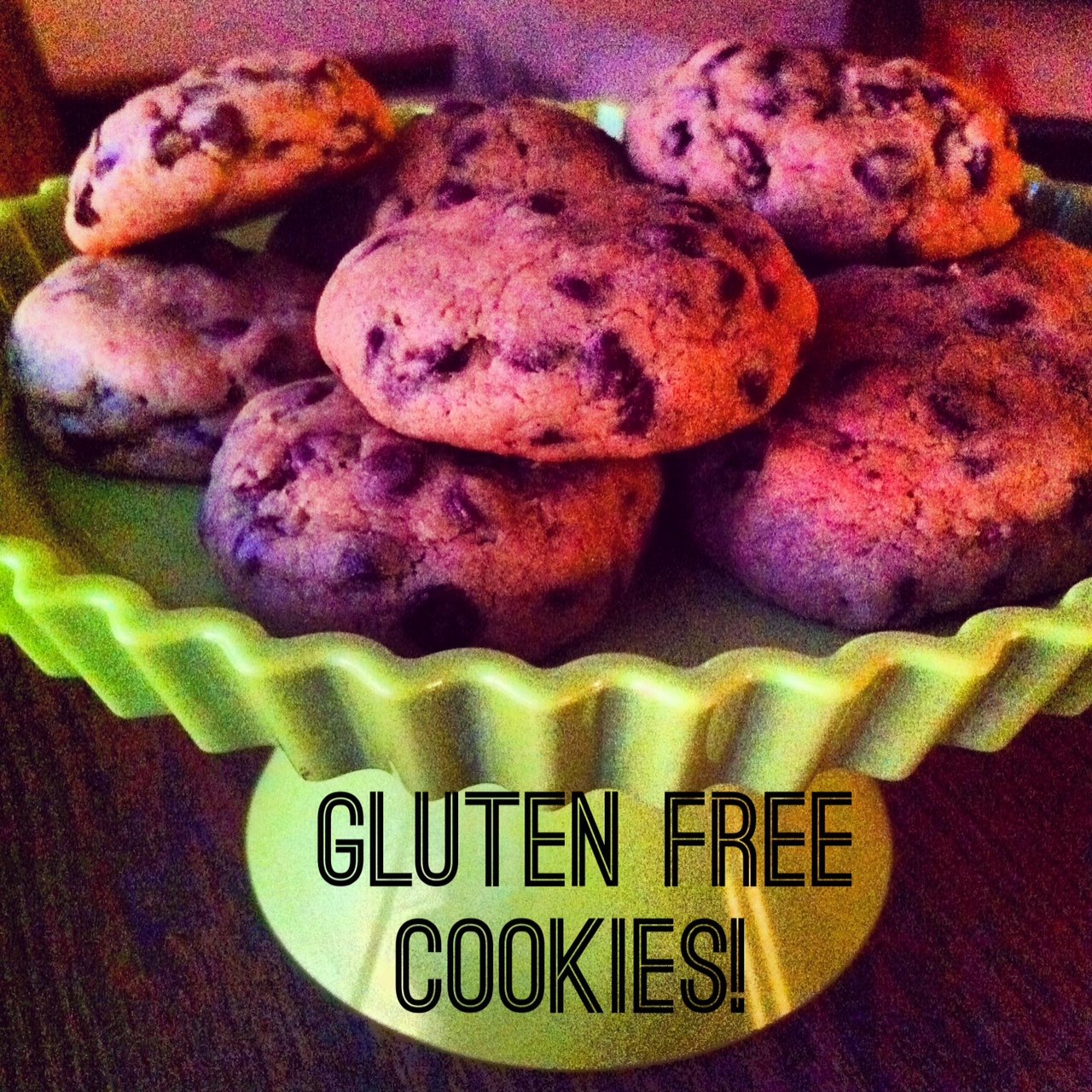 This was obviously an iphone picture when it was dark 🙁 sorry!!
Print
Gluten Free Chocolate Chip Cookies
---
1 1/4 cups rice flour
1 1/4 cups sorghum flour
1/2 teaspoon baking powder
2 1/2 teaspoons salt
1 teaspoon guar gum (or xanthan gum)
1 1/2 cups packed light brown sugar
1/4 cup plus 1 Tablespoon sugar
1/2 cup (1 stick) unsalted butter, room temperature
3 eggs
4 teaspoons vanilla extract
2 cups semi-sweet chocolate chips
---
Instructions
In a mixer with a paddle attachement, combine the 2 flours, baking powder, salt, gum and both sugars and beat until well blended. Add in the softened butter and beat until combined. Then add the eggs and vanilla. Once everything is combined beat for about a minute longer. Add chocolate chips. Cover and refridgerate for at least 2 hours and up to 2 days. Preheat oven to 325 degrees. Scoop the dough into balls onto either parchment paper or a silicone mat. Flatten each ball slightly as the dough does not spread much while baking. Bake for 13 minutes if you like doughy and soft cookies, and up to 17 minutes if you like crunchier. 14 minutes was perfect for me! Enjoy!
We are participant in the Amazon Services LLC Associates Program, an affiliate advertising program designed to provide a means for us to earn fees by linking to Amazon.com and affiliated sites.