Gingerbread White Chocolate Chip Pancakes
Lets all agree on something.  Breakfast is amazing anytime of day.  I usually go for an omelette at brunch, but when I know a place makes good pancakes, I am there!    But most weekends we make breakfast at home.  I do love making pancakes from scratch, but when you are out of buttermilk and low on flour, Bisquick is the way to go!  Using an "easy way out" and doctoring up something simple like Bisquick or a cake mix can be quite amazing sometimes.  To make something gingerbread, all you have to do is add molasses and spices!  And I love any and all chocolate chips in my pancakes, so white chocolate seemed like an obvious choice.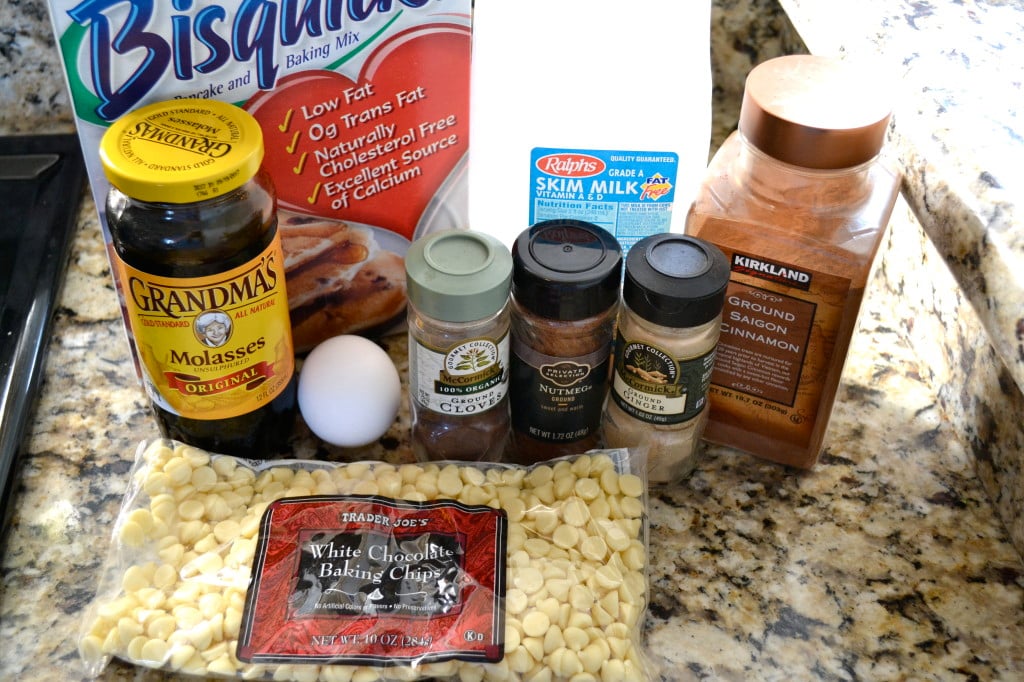 First make the normal batter by Bisquick's instructions.  Then add 1 Tablespoon of Molasses.
Then add your spices!  Cloves, ginger, nutmeg & cinnamon.
WHITE CHOCO!
Melt some unsalted butter in a pan then drop batter.  I sprinkled a few extra chips cause… why not?  Cook until they are no longer shiny & flip!
Cook for another minute and place in a warm oven while the rest cook.
Garish with more chips if desired!
Print
Gingerbread White Chocolate Chip Pancakes
---
2 cups bisquick or pancakes mix
1 egg
1 1/4 cup skim milk
1 Tablespoon molasses
1/2 teaspoon ground cinnamon
1/2 teaspoon ground nutmeg
1/2 teaspoon ground ginger
1/4 teaspoon ground cloves
1/2 cup white chocolate chips
unsalted butter
---
Instructions
Mix all ingredients but butter together in a bowl until combined. In a large skillet, melt 1/2 tablespoon of butter over medium high heat. Drop pancake batter into pan in the desired size you want. Flip pancakes once they are no longer shiny, and small bubbles come to the surface. Serve pancakes warm. Enjoy!
We are participant in the Amazon Services LLC Associates Program, an affiliate advertising program designed to provide a means for us to earn fees by linking to Amazon.com and affiliated sites.