Dr. Oz & Adventures in New York
GUYS!!! I did it. I may have been scared, I may have been nervous as EVER, but I did it!  When the Dr. Oz people called me which I talked about in this post, my first reaction was a YES while internally panicking like no other.  Even though I had never been on TV and don't particularly like public speaking, I knew that this would be the opportunity of a lifetime.  So I did it.  So today there is no recipe for you, just a recap of our weekend in New York!  What we ate, what we saw and how awesome everyone at the show was.  Here is how it all went down:
Thursday:
We flew into JFK at 10 PM and were greeted by this wonderful driver that the show sent!
That night we got right to bed after stopping to split a sandwich at a deli by the hotel.  Tried to fall asleep but instead made Matt practice what I was going to say with me – he makes a great Dr. Oz! Then we drifted to sleep and woke up Friday ready to go!
We got up and attempted to work out at the hotel gym before walking down the street to a cute coffee shop!  I wanted to eat something light and healthy so I got this egg & avocado sandwich on wheat bread.  It was definitely light but not the tastiest (especially compared to Matt's beautiful biscuit sando!). BUT we split a maple waffle doughnut because we were in NYC and YUM.
I also got this latte that had pumpkin seed & cashew milk in it! DIVINE!
Then we were off to the studio, got dressed, hair and makeup and DID THE THING!
Here is another little pic Matt took during the recording! Everyone at the show was beyond nice and helpful and made me feel super comfortable.  Dr. Oz himself was just a GEM and I couldn't believe how kind he was.  They all just seemed genuinely excited I was there which made me feel confident and ready.  One take and it was done!
Don't forget to set your DVR to December 5th for the show!!
After taping we were SO high on life.  We walked down the block to Levian Bakery to get this beauty of a cookie.  Seriously people you know I love eating well and nourishing my body but DAMN if this wasn't the best cookie I have ever had.  It was almost good for me because I have no desire to eat any cookie ever again unless it is this cookie right here.
Then we checked into our new hotel room (got free drinks from the front desk – WHAT UP DOUBLE TREE IN CHELSEA!)  then walked down to the West Village for dinner.   My friend Monica suggested this restaurant Buvette and it was incredible.  Cute and romantic little French place and we tried Steak Tartar.  INCREDIBLE!! Highly recommend if you are in the city.
We were just a little happy 🙂 🙂
After dinner we went on our first subway ride to meet our friend Michael and had a TON on fun out on the town.
The next day started off slow due to the vodka sodas that were consumed… but we made it out and hit up a juice place!! This was the most incredible smoothie bowl and helped cure my hangover perfectly!! 🙂
Here I am being super happy about my bowl.  Also, shout to Matt for taking pictures of me like this… best #instagramhusband!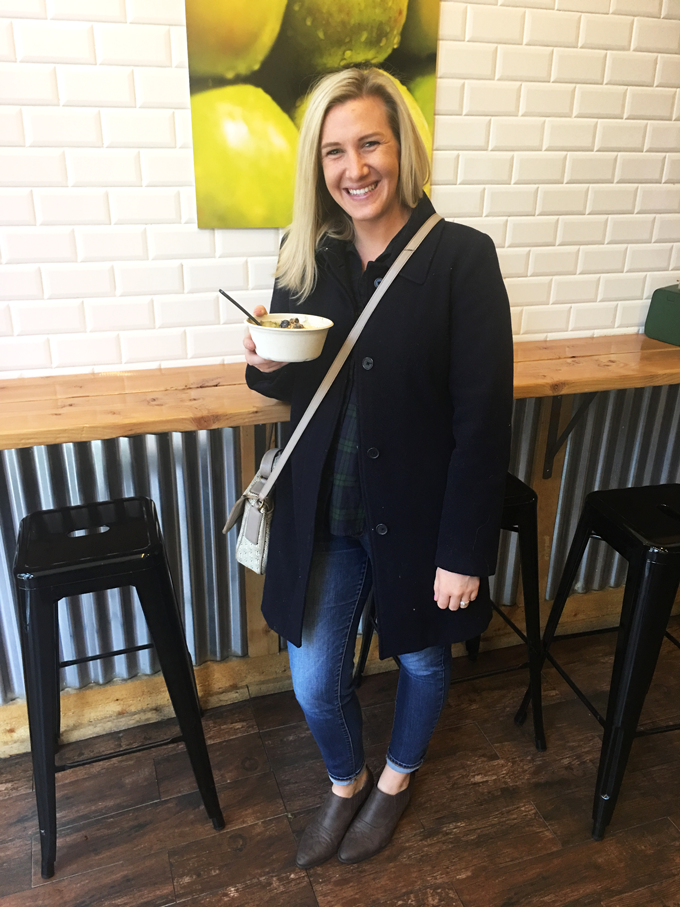 We then went to the 9/11 memorial and museum and it was incredible.  I am so glad we made it a priority and we were both were on the verge of tears the entire time.
After that we took another subway down to Chelsea Market!  I loved this place.  We got coffee, then tacos then we bought some black truffle salt! After this we met friends out for dinner again and had a fabulous night.
Sunday was our last day so we started off with a bagel sandwich! It was on my NYC bucket list 🙂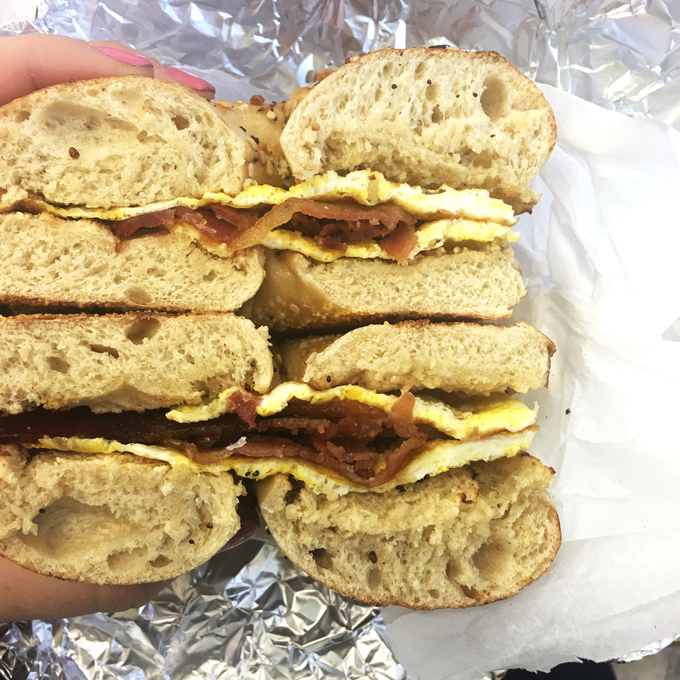 Then we walked through Time Square,  Rockefeller plaza and over to Central Park.  The Marathon was  going on so we got to watch some of the first people run through!
Before leaving the city we stopped at Hu Kitchen for lunch and I thoroughly enjoyed this paleo meal!
And then it was over and our crazy quick trip came to a close.  Can't wait for the show to air and see what you think!! I hope you enjoyed my trip recap! 🙂
We are participant in the Amazon Services LLC Associates Program, an affiliate advertising program designed to provide a means for us to earn fees by linking to Amazon.com and affiliated sites.