Cold Shrimp Scampi Zoodle Bowl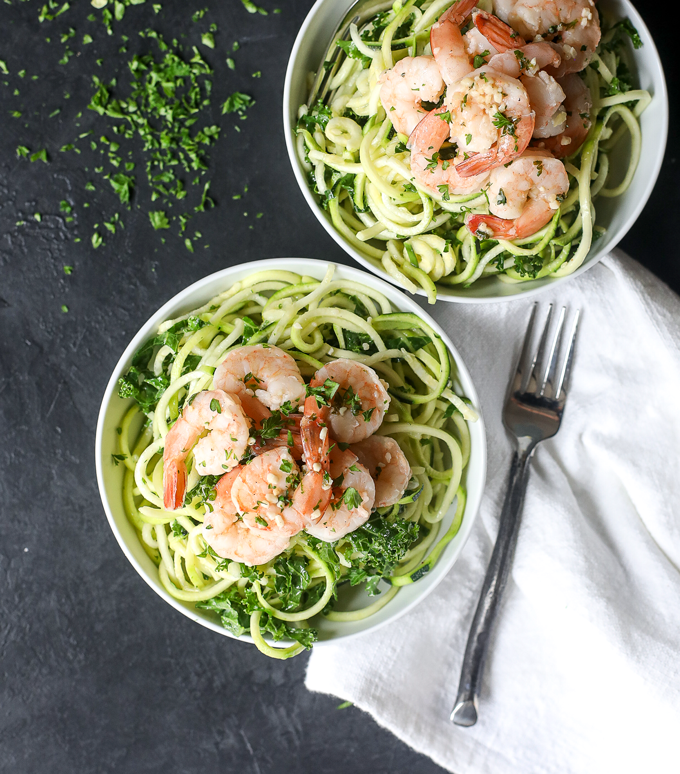 It is super duper officially summer and that means it's time to stop cooking ANYTHING.  It's so dang hot and turning on the oven sounds like the worst idea ever.  So buy some frozen cooked shrimp and make a shrimp scampi you can enjoy on a hot day!  These days in the 90s have been so interesting, especially when you have a small child to entertain.  We have been living in the kiddie pool in the backyard and taking full advantage of the kid play area at the mall.  As for meals we have mostly been eating my cookbook creations as leftovers or grilling everything!  I love to fully embrace the season of eating outside at night with a cold beverage and trying new ways of incorporating seasonal goods.  Zucchini is a summer squash so now is the time to make all the zoodles!  These zoodles are not cooked at all, which I love, because they don't get watery and too tender.  If you massage them with the dressing well, they are the perfect texture in my opinion. So get zoodling and enjoy this weather!
We love Zoodles as much as the next person, so here are a few more recipes.
Slow Cooker Turkey Bolognese & Zucchini Noodles
Pin the image below to save this Cold Shrimp Scampi Zoodle Bowl recipe for later!
Print
Cold Shrimp Scampi Zoodle Bowl
---
Protein
1 lb cooked peeled & deveined shrimp
3 tbsp olive oil
2 tsp minced garlic
2 tbsp lemon juice
1 tbsp chopped parsley
Veggies
4 zucchini, spiralized
2 cups thinly sliced kale
¼ cup chopped parsley
Dressing
3 tbsp olive oil
1 tbsp white wine vinegar
1 tbsp lemon juice
1 tsp garlic powder
1 tbsp maple syrup
Salt and pepper
---
Instructions
In a medium bowl add shrimp.  Place a small pan over medium heat and add in 3 tablespoons olive oil, 2 teaspoons minced garlic and 2 tablespoons lemon juice. Cook for 2 minutes, stirring occasionally. Pour over shrimp and season with salt and pepper.
Place zoodles, kale and parsley in a large bowl.  In a small bowl combine 3 tablespoons of olive oil, 1 tablespoon white wine vinegar, 1 tablespoon lemon juice, 1 teaspoon garlic powder and 1 tablespoon maple syrup and whisk to combine. Season to taste with salt and pepper.
Pour dressing over zoodles and massage with your hands to coat the zoodles and help break them down a bit.
Serve shrimp over zoodles and enjoy!
We are participant in the Amazon Services LLC Associates Program, an affiliate advertising program designed to provide a means for us to earn fees by linking to Amazon.com and affiliated sites.