Chocolate Peppermint Avocado Brownies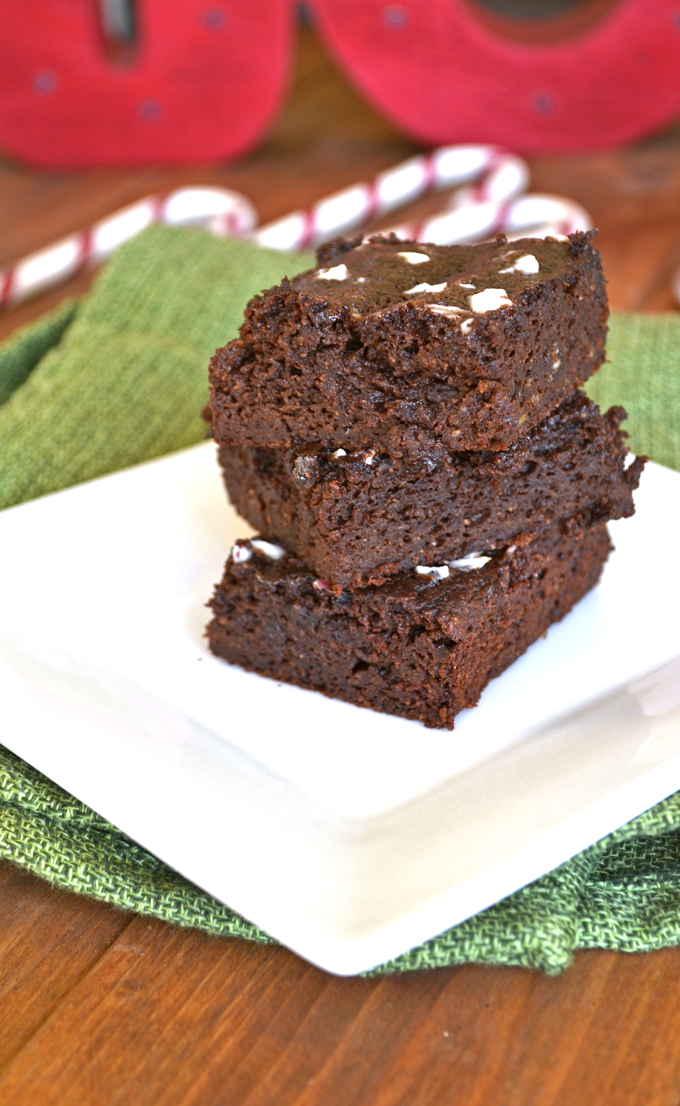 People. I have a serious addiction to these brownies.  You would never be able to tell that there is avocado instead of butter and whole wheat flour instead of white.  I made these on Sunday and after eating 4 that day… I put them in the freezer for safe keeping.  Turns out frozen brownies are DELICIOUS.  Like 16 brownies gone by Tuesday night kind of delicious.  The hubby helped I promise!!  And at roughly 70 calories a brownie I really don't feel bad about it in the slightest.  I am already planning on making these again this weekend and I can't wait to share them with friends.  100% Pure Cacao powder is what makes these super chocolatey and amazing.  I used Navitas Naturals as they are all organic, non-GMO and superfoodlicious!  << That's totally a word by the way.  The best part of these brownies is that they are the perfect mix between fudgey and cakey.  Matt could not believe they were healthy and my COO/ CTT (Chief Operating Officer/ Chief Taste Tester) does not kid around!!  I found out about Navitas from Thrive Market!  I have told you about Thrive before but it is my favorite place to get healthy, organic, non-gmo groceries.  You can shop by product, diet, lifestyle, ingredient and more!  The best part for me is that they are based in LA so I get my shipment to my door 2 days after I order.  The cost for a year is so minimal (less than 60$) considering how much money you save compared to a big box store.  AND every membership purchased pays for another membership for a low income family.  It's really a win, win, win! Another Thrive Market find I used on these brownies was these TruJoy Organic Candy Canes!!  I was so excited to find these and just crushed up a little bit to add that nice sweetness on top.  Okay enough about Thrive, back to these brownies!!!
Chocolate and Peppermint are what the holidays are all about for me!
See what I mean by fudgey meets cakey??? Brownie perfection.
How much do you love my JOY sign?? Thank you target sale!! It's in our bookcase now but I just had to throw it in this photo!
If you aren't stacking your brownies….. you're doing it wrong! Pin this beauty and share the wealth!
Print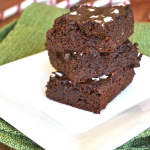 Chocolate Peppermint Avocado Brownies
---
1 large avocado
1/2 cup unsweetened applesauce
1/2 cup maple syrup
1 teaspoon vanilla extract
1 teaspoon peppermint extract
3 large eggs
1/2 cup whole wheat flour
1/2 cup cacao powder
1/4 tsp sea salt
1 tsp baking soda
2 organic candy canes, crushed into little pieces
---
Instructions
Preheat oven to 350 degrees F. In a blender or food processor combine avocado, applesauce, maple syrup, peppermint extract and vanilla extract. Add these ingredients to a large bowl and whisk in eggs. Add in whole wheat flour, cacao powder, sea salt and baking soda and stir until well-combined.
Grease an 8 x 8 inch baking dish with coconut oil and add batter. Sprinkle the crushed candy canes on top of the batter in an even layer. Place in oven to bake for 25 minutes. Allow to cool for 20 minutes before cutting into 16 brownies.
Keep them on the counter in an airtight container at room-temperature for up to 2 days or for a longer shelf-life store in the fridge or freezer. **The freezer brownies are so yummy!!
Note: To make gluten free, use coconut flour or gluten free AP flour instead of whole wheat.
We are participant in the Amazon Services LLC Associates Program, an affiliate advertising program designed to provide a means for us to earn fees by linking to Amazon.com and affiliated sites.