Baby Self Feeding at 6 Months
Figuring out what to name this was difficult! I read a lot about Baby Led Weaning and decided to do the Feeding Littles infant course to prepare myself before she turned 6 months old. (ps, if you are interested in the feeding littles courses use REALFOOD at checkout for $10 off!) If you don't know what Baby Led Weaning is, by definition it is "a method of introducing solid food into a baby's diet by allowing them to feed themselves, as opposed to being spoon-fed." Simple enough right? Well as there are in any group of people, the die hard baby led weaning people say no to purees no matter what! And I think there is a time and place for them, especially if she is still feeding them to herself.
When I first heard about this method I was hooked. Have your baby figure out how to feed themselves, help their dexterity and hand eye coordination while introducing them to healthy whole foods? PERFECT! There are so many great benefits and I have heard from many many people that did this with their kids and say they are the least picky eaters ever and always try new food. It is definitely a messy way to feed your kid so be prepared for lots of wipes and baths, but watching them explore and learn is so so cool. I think giving our babies this independence from an early age can only do great things for them in the future!
So I wanted to share my experience so far now that we have gotten through our first month of it. Most people I have talked to about this are SO nervous about the gagging that comes with Baby led weaning/ baby self feeding. Trust me, I get it! It takes some time for them to figure out that they have to push the food with their tongue over to their gums to chew. And I am amazed at how quickly Ruth has figured that out, babies are so smart!! In order to keep myself a little less nervous though, I have found certain foods to be best for this first month of baby self feeding, so I am sharing those with you today! Oh and quick note – they don't need teeth!! Their gums are so strong. Ruthie is still teeth free and she is crushing it (literally).
Roasted Veggie Strips:
The most basic, healthy and easy thing to start with is veggies! Our favorites are Sweet Potato, Butternut Squash and Zucchini. These 3 are perfect because they can hold their shape while still basically turning to mush right when baby starts munching. Head to the bottom of this post for a basic recipe on how I roast these strips. I also love adding avocado to the plate and I usually peel off half of the skin on the strip so she can have a bit of a handle when grabbing it.
Quick note here so you see it – I love this little plate because it pretty and silicon and suctions to the table or counter, BUT she isn't actually eating out of it yet! Right now I just place the food directly on the table in front of her one piece at a time.
Nutrient Dense Baked Goods:
I wasn't sure what to call this section but basically these are things I like to bake or cook up that add nutrients, and texture while still being nice and easy for them to mush up in their mouths. I love following Ali from Insprialized and she made these spinach banana and oat donuts and Ruth loves them! I wanted to create something that I could pipe onto a baking sheet and bake so they would be the perfect size for Ruthie to be able to pick up easily. So I made these Sweet Potato Biscuit Bites – she loves them!
Another super easy thing to whip up is banana egg pancakes! All you do is blend up 1 mashed banana and 1 egg and pour it onto a skillet in pancake form. I like to add cinnamon to these sometimes too! Then you just slice the pancakes into strips so baby can grab them.
You will see in all of these foods we are not adding salt! Their little baby livers can't handle it quite yet so when we roast veggies we do a small section or pan of hers with no salt. This isn't to say they can't have ANY salt, just don't go out of your way to add a lot to anything you serve them.
Mashed or Pureed Foods:
This first month has been a lot of Ruth trying to figure out how to chew and swallow. So in order for her to start trying new foods and practice the swallowing part, I load up these Num Num Gootensils with some puree (loving both Happy Baby Organic and Once upon a Farm) and let her put the spoon into her own mouth! It is so fun to watch her figure it out and learn to put the spoon at the back of her gums.
Another thing I put into this category is yogurt!! Ruthie loves yogurt and I love that its high in protein and fat and fills her up for a nice long night of sleep. We get her full fat greek yogurt and usually mix in a little bit of nut butter. It is also a great way to add those nuts in early to prevent allergies!
Another thing we got that is great for adding purees or frozen fruit is this Boon Silicone Teether! She can suck them out if they are mushy or gnaw on frozen stuff or even ice when she is teething. Super easy to clean too!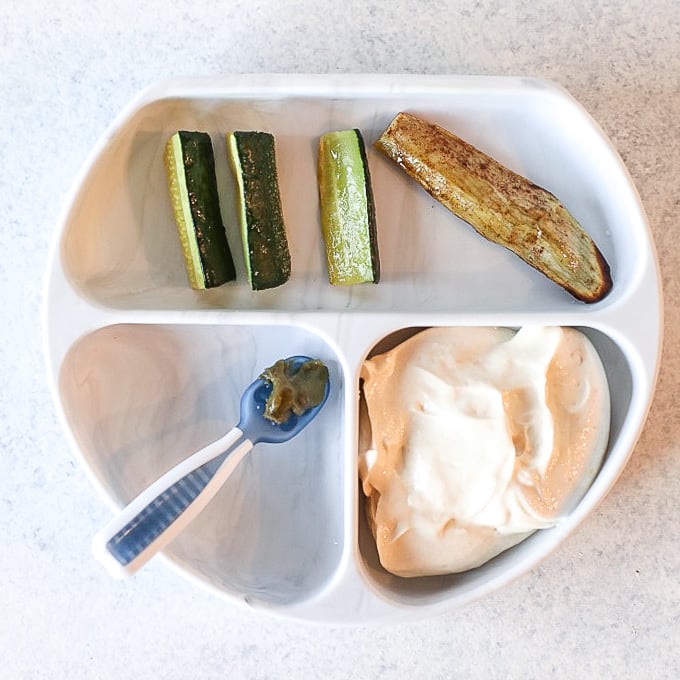 Important Reminder:
One important thing I have learned if you want to survive this 1st month of baby self feeding is to try to trust your baby! They are so incredible and learn so very quickly. Oh and the other really important thing is to always and forever trust yourself and your instincts! That is the exact reason I am doing this combo and adding in purees a bit as needed. It's just how I want to do it and I am confident in listening to my instincts! I asked our pediatrician if she had heard of Baby Led Weaning and she said no and that we should first do rice cereal, then one pureed vegetable, spoon fed a day for 3-4 days at a time. The thing about most pediatricians is that they only take one nutrition course in school and don't necessarily care to learn new ways of doing things. That is why it's important to remember that we go to the pediatrician for her expertise in medicine, not nutrition.
Trust your instincts!! There is a TON of noise out there and on the internet of a million and one ways to raise your kid "the right way". Please please please don't get bogged down in all of it and know that learning from other people is great but no one knows what your kid needs better than you!!
Readiness:
A big question I have heard is how to know when they are ready! For Ruthie we started a few days before she turned 6 months, just because I was eager to give her something other than formula!! We did not wait until she could sit up unassisted because if we did, we still wouldn't be feeding her! We have her sit in either our ikea high chair with this blow up pad to help her sit up, or in this counter high chair that she can sit up in well. There are certain babies that try foods and automatically push everything out of their mouths, which is a normal reflex for little babies! They grow out of it so just give them time. Ruthie has loved putting everything in her mouth and has lots of teether toys she chews on all the time which I think helps!
Allergies:
This is one area people get very nervous about! I know allergies are a thing but after growing up and never having any allergies or really even knowing anyone with intense allergies, this just didn't make me nervous at all. In the Feeding Littles course they go over just waiting a day or two between the top 8 allergens (peanuts, tree nuts, wheat, shellfish, finned fish, dairy, egg and soy) and just watching for reaction. I highly recommend her course as she also goes over exact ways to introduce each of these! I haven't given her soy or shellfish yet as we just don't have alot ourselves but I am going to make a point of getting her some ASAP. Introducing babies to these is important to expose them and reduce the risk of them having an allergy later.
Frequency:
This first month we have fed her real food 1-2 times a day, honestly just depending on our schedule and how busy we are! I am going to try to start doing 2 a day more often because the more practice she gets the better she will be! So far our bottle schedule hasn't changed too much but if she eats a lot at dinner her last bottle before bed she might only drink 4 oz vs. 6 oz. So she still consumes roughly 24-28 oz of formula throughout the day!
As for the schedule of her bottle feeds vs real food, dinner has been her main meal and she usually takes an afternoon nap from 4-5 or 3:30-4:30, gets up and I offer her a bottle where she might drink 4 oz, then around 6 we will all eat together, clean her up and get her in PJs, she will bounce in her bouncer a bit then have a little bottle right before bed at 7!
Print
Sweet Potatoes, peeled
Butternut Squash, peeled
Zucchini, peeled or unpeeled!
Avocado oil or olive oil
Any spices you like
---
Instructions
Preheat oven to 400 degrees.

Cut vegetables into 3 inch by 1 inch strips.

Place on a foil lined baking sheet (note: make require multiple baking sheets), drizzle 1 tbsp of oil over each sheet of vegetables and mix around until veggies are coated. Distribute evenly on the baking sheet.

Depending on your preferences, sprinkle different spices you desire.

Bake in oven 20-25 minutes or until fully fork tender.

Let cool completely before serving to the baby!
Notes
If any ends get burned and crispy, just cut them off!  Also, browned edges end up softening a ton once they have cooled.
We are participant in the Amazon Services LLC Associates Program, an affiliate advertising program designed to provide a means for us to earn fees by linking to Amazon.com and affiliated sites.