Asian Guacamole
IT'S ABOUT DARN TIME!  Prepare to have your avocado world rocked by this Asian Guacamole.  Whenever we make something like our favorite Asian Meatballs with Cauliflower Fried Rice, I always want to add avocado to it.  Both because I love my healthy fats and because we always have an avocado on hand that is one day away from going bad.  I usually just mash up the avo with coconut aminos, garlic powder, ground ginger and salt, and slap it on top, but today I wanted to elaborate on that general idea.  To amp it up even more I added chopped water chestnuts & green onions, and topped it with toasted sesame seeds and some seaweed!
Now this goes great with those Paleo Sesame Crackers I made earlier this week or even chopped bell peppers, but I think putting it on my Asian Stir-Fry Frittata might be life changing.  I will report back!  When I was shopping at Ralphs for this recipe , every avocado was perfectly ripe.  It was almost scary because I wanted to pick the best one but they were all SO GOOD.  Then I went cray cray and bought 5.  I used 2 for this recipe and the other perfectly ripe ones were donzo the next day.  Nothing makes me more sad than throwing out avocados. 🙁  Okay well that's a bit dramatic I guess.
All you need to do now it go get some avocados and make this ish HAPPEN!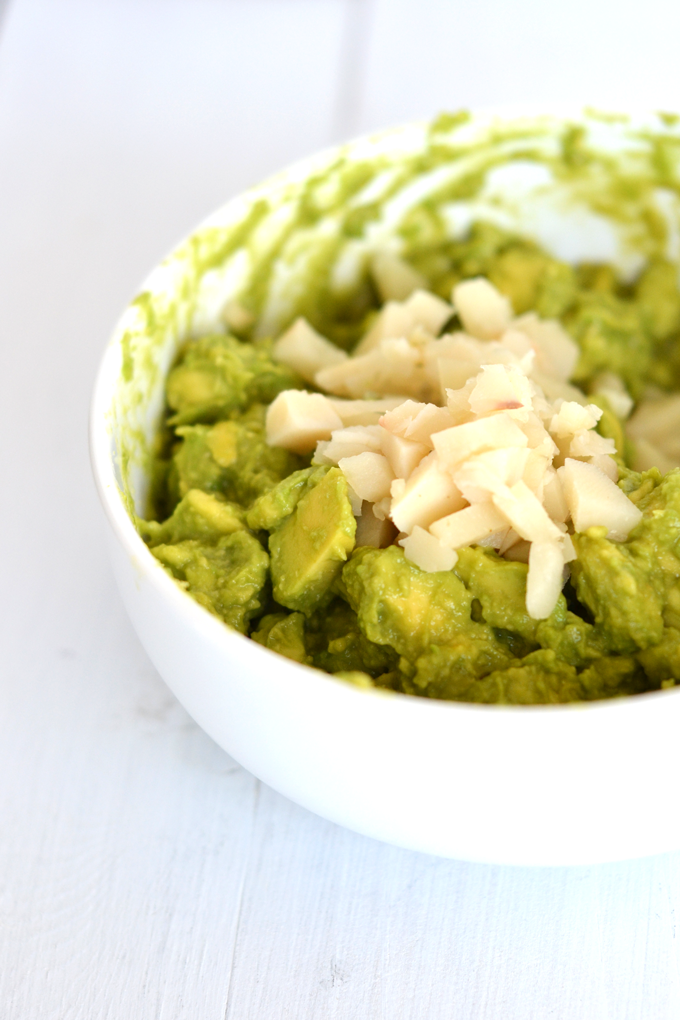 When I dip you dip we dip!
Pin it!
Print
Asian Guacamole
---
2 ripe avocado
1 tablespoon lime juice
2 teaspoons coconut aminos
¼ teaspoon ground ginger
½ teaspoon garlic powder
2 tablespoons chopped green onion
1/4 cup chopped water chestnuts
toasted sesame seeds & seaweed to garnish
---
Instructions
Peel and pit and chop avocados. Add them to a bowl with lime juice, coconut aminos, ginger and garlic powder and mash. Stir in green onion and water chestnuts. Scoop into serving dish and top with more green onions, sesame seeds and seaweed!
We are participant in the Amazon Services LLC Associates Program, an affiliate advertising program designed to provide a means for us to earn fees by linking to Amazon.com and affiliated sites.