Valentine's Day Charcuterie Board
It's one week until Valentine's Day! And if valentine's day means anything it means a GREAT reason to celebrate just for the sake of celebrating.  You know this blog is mostly focused on healthy recipes, but a huge huge part about being healthy is having balance and enjoying delicious and decadent food when the time calls for it.  So of course we had to make a 5 foot long valentine's day charcuterie board filled with all of your favorites!  In the video below you can see Catherine and I putting this bad boy together, it was quite a feat.
If you are wondering where in the world I got a 5 foot board like this, the answer is I made it!  You might remember I made it for our Christmas party and it was just such a hit that I had use it again – and plan to for every holiday!  For the board, I got a 5 ft x 14 inch piece of walnut wood from a local lumber store then used this oil finish to lock in that beautiful color and make it so that you can put food on it. Finally I added these gold handles from amazon and voila!  I love it so much and hope it lasts for years!  Now you are probably wonder what exactly all of these yummy products are on this board, so let's go over that.
*indicates it is from Trader Joes!
Cheeses:
Le Delice De Bourgogne Triple Cream Soft Ripened Cheese*
Unexpected Cheddar*
Wedge of Brie *
Honey Goat Cheese*
Meats:
Low Sodium Salami*
Prosciutto*
Crackers:
Fig & Olive Crisps *
3 Seed Beet Crackers*
Multigrain Pita Bite Crackers*
Valentine's Day Add Ons:
Strawberries & Raspberries
X & O gummies*
Chocolate Hearts (wrapped & unwrapped)
Freeze Dried Strawberries*
Sesame Honey Almonds*
Valentine's caramel M&Ms
Conversation Hearts
Honey
Fig Butter*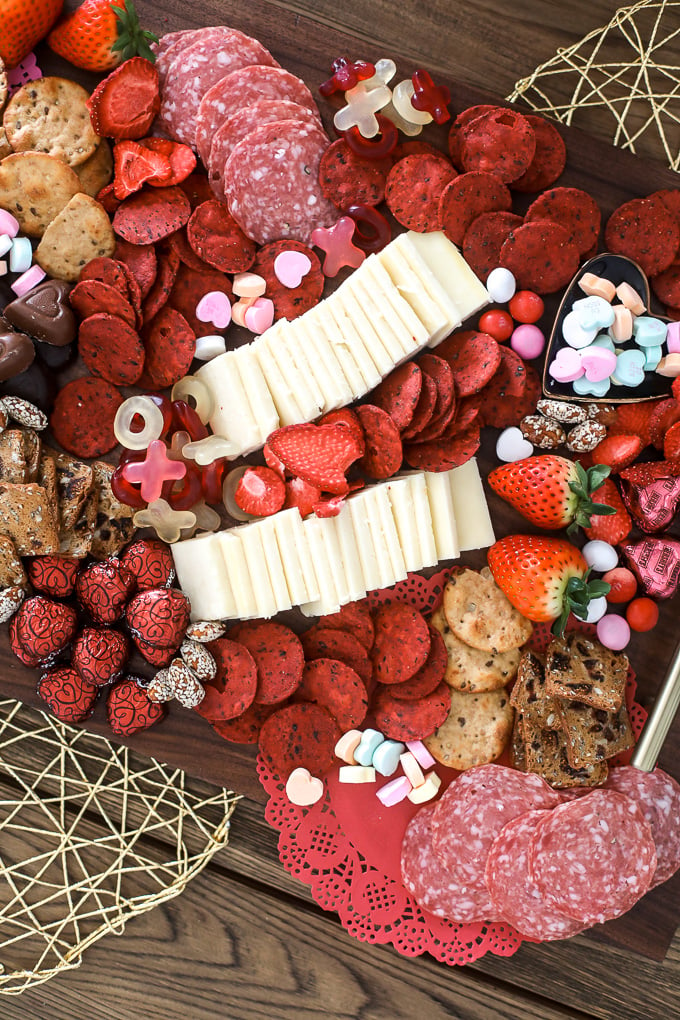 So tell me, will you make one??  Whether you are having a galentines party or just doing dinner at home with your significant other, I think a little board is a super fun way to celebrate LOVE!! Even if the love you are celebrating is your love for charcuterie boards. 🙂
I'm really glad Catherine was with me to assemble and disassemble this or I would have just sat at the table and eaten it all day long!!
Pin the image below to save this Valentine's Day Charcuterie Board for later!!
We are participant in the Amazon Services LLC Associates Program, an affiliate advertising program designed to provide a means for us to earn fees by linking to Amazon.com and affiliated sites.