Sun-dried Tomato Lentil Cakes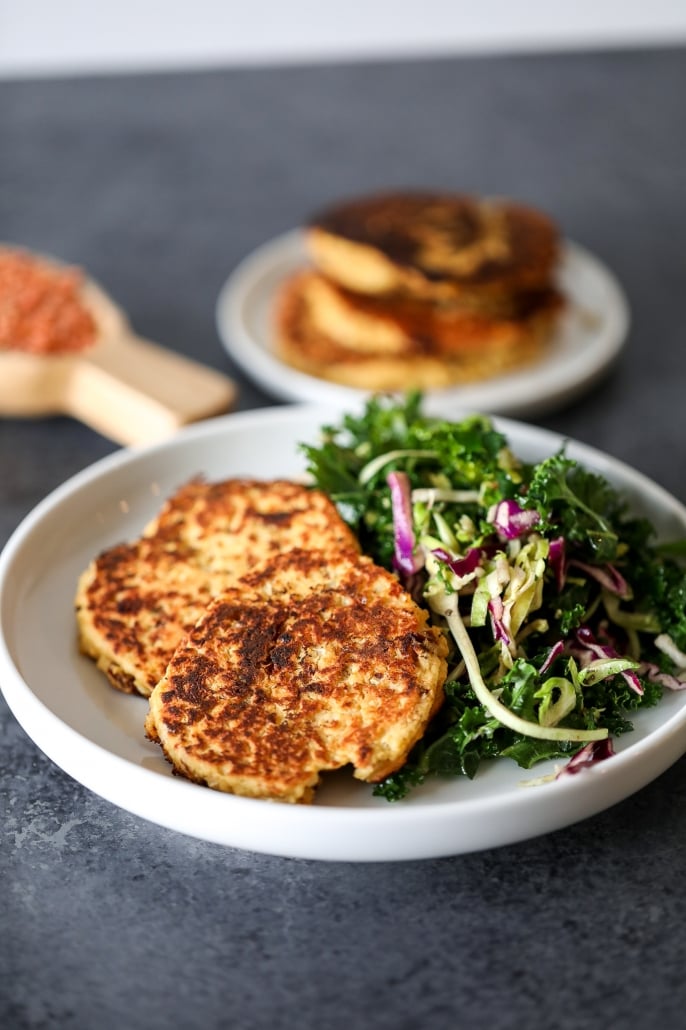 It's time to learn about lentils!  I rarely ever use lentils but now that I want Ruthie to be exposed to lots of new foods, it is forcing me to experiment.  Lentils are a legume that is super high in protein and very versatile.  They also have lots of fiber, folate, iron, zinc, Vitamin B6, the list goes on and on!  So they are fabulous not only for us adults but also great for kiddos!  These cakes are super tasty and stay together enough to make the cake shape but also mushy enough for babies to take down easily.  Catherine and I made these having no idea how they would taste and when we finished them we couldn't stop eating them!  There was a lot of "wowww I can't believe how good these actually are!"
We have been working to get ahead on recipes so we can start creating a new ebook for you guys!  We really want to find a way to bring more and more value to you and your kitchen so we can't wait to get started.  Speaking of planning ahead, can you believe it's already March?! And already time to spring forward this weekend!  I feel like we just fell back and now summer is around the corner.  And Ruthie only has 4 months until her first birthday.  Now that is just insanity. Maybe I should just make her a stack of lentil cakes for her birthday cake?? Hahaha nooo I would never! She is getting a sugary cake and I can't wait to see her go crazy for it. Okay okay back to lentils!
Pin the image below to save this Sun-Dried Tomato Lentil Cakes recipe for later!
Print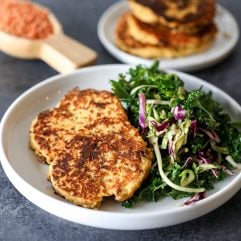 Sun-dried Tomato Lentil Cakes
---
1 cup red lentils
3 cups vegetable stock
1 egg
1 cup raw cauliflower rice
¾ cup almond flour
½ teaspoon garlic powder
½ cup sun-dried tomatoes, chopped
½ teaspoon salt
1 tablespoons avocado oil
---
Instructions
In a saucepan combine 3 cups of stock to 1 cup of dry lentils. Bring to a boil, cover tightly, reduce heat and simmer until they are tender, about 15-20 minutes.
Transfer to a bowl and place in the fridge to cool down.  
Once cool, combine lentil with egg, cauliflower rice, almond flour, garlic powder, sun-dried tomatoes and salt.
Place a large skillet over medium high heat and drizzle in the avocado oil.
Scoop lentil mix into the pan and use the back of a spatula with some oil on it to press them down into cakes.
Cook for 4 minutes then flip and cook for another 4 minutes until cooked through, browned on both sides and they hold together.
Notes
If your lentils are firmer instead of pressing them with the spatula, take the scoop and hand roll/form it before placing into the pan.
We are participant in the Amazon Services LLC Associates Program, an affiliate advertising program designed to provide a means for us to earn fees by linking to Amazon.com and affiliated sites.