Pink Champagne Cake
Booze Cakes.  I got this cookbook a couple of years ago and just tried it for the first time.  Booze + Cake = 😀  Happy taste buds!  Considering there are 2 cups of champagne in the cake and 1/2 cup in the frosting, it surprisingly does not taste like champagne at all.  The bubbles and liquid somehow create a moist and dense cake that if wonderfully complimented by the sweet frosting.   Lets get boozey.
Mix the champagne with your batter…
Bake those cakes!
Then make your frosting!
Garnish with raspberries!
Print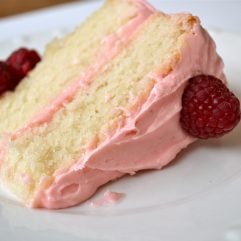 Pink Champagne Cake
---
cake:
3 cups all-purpose flour
3 teaspoons baking powder
1/2 teaspoon salt
1 cup (2 sticks) unsalted butter
2 cups sugar
1 teaspoon vanilla extract
6 egg whites
2 cups Champagne
frosting:
3/4 cup (1 1/2 sticks) unsalted butter
9 – 10 cups powdered sugar
1/2 cup champagne
1/4 cup whole milk
1 tablespoon vanilla extract
a few drops of red food coloring
raspberries for garnish
---
Instructions
Preheat oven to 350 degrees. Grease and flour two 9 inch round cake pans.
In a bowl combine flour, baking powder and satl; set aside. In a mixing bowl with paddle attachement, beat butter and sugar for 3-5 minutes or until light and fluffy. Add vanilla and beat in egg whites one at a time.
Beat in flour mixture and champagne in alternating additions, starting and ending with flour to prevent curdling. Pour batter into pans and bake 35 minutes or until a toothpick inserted in the center comes out clean.
For the frosting:
In a mixing bowl, beat butter for 1 minute. Gradually add powdered sugar, champagne, milk, vanilla and food coloring. Beat until smooth and creamy.
Once cake has cooled, place bottom layer on a cake plate and spread half of frosting on top. Add the next layer and cover the cake completey with frosting. Garnish with raspberries!
We are participant in the Amazon Services LLC Associates Program, an affiliate advertising program designed to provide a means for us to earn fees by linking to Amazon.com and affiliated sites.