Pecan Pie
Finally the Pecan Pie post.  I make this pecan pie at least once a month.  The agreement when I moved home after graduating, was that as long as I keep the Pecan Pies coming, no rent would be necessary.  Pretty sweet deal huh?  My parents rock.
After many "pretty good" Pecan Pies, I thought I would try out the Pioneer Women's Pecan Pie.  The only alterations I made were adding 1/2 tsp. of cinnamon, and baking it for a bit longer than she suggested.  This Pecan Pie blows all others out of the water.  It is perfect.  I could go on and on about it, but you should probably just go make one.  Another easy and delicious one for you.  Takes about 5 minutes to throw together.
First combine your ingredients:
Stir that up and add 1/2 tsp. of cinnamon.  Then take a store bought refrigerated pie crust and fit it into a deep dish pie pan.  Add your Pecans then pour batter on top.
Then you need to cover it lightly with tin foil and place in a 350 degree oven for 30 minutes.  Then remove foil and bake for an additional 20 minutes.  This is the time that the pioneer woman says to take it out.  I usually need to put the foil back on and cook it for an additional 15 minutes, or until it is only slightly jiggly when picked up.  If you move it and it still looks like it is liquid, continue baking.  The 30-20-15 is usually just perfect.
Once it has reached the desired about of jiggle, remove and let cool.
Print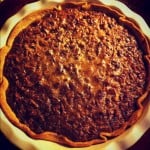 Pecan Pie
---
1 whole Unbaked Pie Crust
1 cup White Sugar
3 Tablespoons Brown Sugar
1/2 teaspoon Salt
1 cup Corn Syrup
3/4 teaspoons Vanilla
1/3 cup Melted Butter (salted)
3 whole Eggs Beaten
1/2 teaspoon cinnamon
1 1/2 cups (heaping) Chopped Pecans
---
Instructions
Preheat the oven to 350 degrees. Grease a deep dish pie pan and place the unbaked pie crust inside. Next, mix sugar, brown sugar, salt, corn syrup, butter, eggs, vanilla, and cinnamon together in a bowl. Pour chopped pecans in the bottom of the unbaked pie shell. Pour syrup mixture over the top. Cover top and crust lightly with foil. Bake pie at 350º for 30 minutes. Remove foil, then continue baking for 20 minutes, being careful not to burn the crust or pecans.
NOTE: Pie should not be too jiggly when you remove it from the oven. If it shakes a lot, cover with foil and bake for an additional 15 minute or until set.
Recipe slightly adapted from The Pioneer Woman
We are participant in the Amazon Services LLC Associates Program, an affiliate advertising program designed to provide a means for us to earn fees by linking to Amazon.com and affiliated sites.