Paleo Balance Bowl
BOWLS! Paleo Bowls! Mixing a bunch of ingredients into a bowl for any meal is the way to go.  I also have a weird love for putting warm ingredients on salads which this bowl does beautifully.  1st choice in topping this bowl was butternut squash.  It has tons of Vitamin A, lots of fiber and not to mention is DELISH when roasted. So that was an obvious choice.  Then avocado… OBVI.  Don't really need to explain that one because we love our healthy fats!!  Then you can really top this with any protein of your choice but chicken is always on hand and always delicious.  For dressing I went with tahini!  Whoever thought to pulverize roasted sesame seeds could be one of my favorite people.  This dressing to to die for.  The flavorful tahini mixed with some lemon juice, apple cider vinegar and spices makes a killer dressing that you'll want to eat from a spoon.  So there you have it.  I called this a balance bowl because that is exactly what it is… a perfectly balanced meal in a bowl! Do yourself a favor and make this bowl asap. You could even prep all the ingredients one day and have bowls ready all week!
The browned pieces of the butternut are the best pieces… in my humble opinion.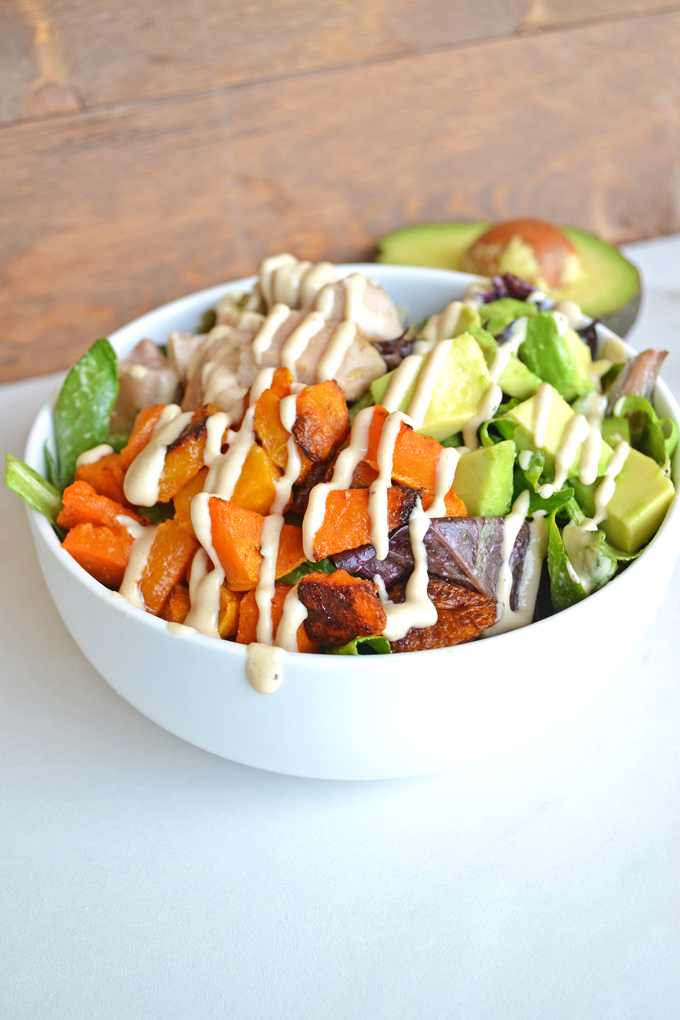 I made a big batch of the tahini dressing to keep in my fridge for the week and pour on…. basically anything and everything.
nom. nom . nom. Paleo Bowl!
Pin it puhlease?!

Nutrition for Paleo Balance Bowl
This recipe makes  2 servings and is jam packed with veggies and lean meat.  The adult male and female DRIs for vegetables is 2.5 cups per day.  This Paleo Bowl recipe alone is going to cover 80% of the daily recommended needs!  There also is no dairy and no cheese so that lowers the calorie amount overall!  If you are looking to add more veggies into your meals and love carryout places like Chipotle and Flame Broiler then you are going to love this recipe!
Print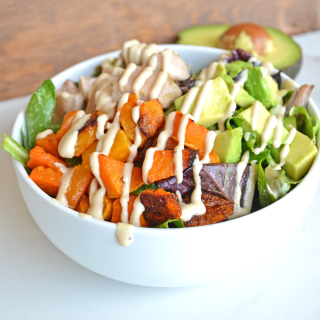 Paleo Balance Bowl
---
2 chicken thighs or breasts
12 oz chopped Butternut squash (about 2 ½ cups)
1 tablespoon + 2 teaspoons coconut oil
6 cups mixed greens
1 avocado, chopped
¼ cup tahini
1 tablespoon lemon juice
1 tablespoon apple cider vinegar
3 tablespoons water
salt
pepper
garlic powder
---
Instructions
Preheat oven to 425 degrees. Place butternut squash on a baking sheet. Toss with 2 teaspoons of melted coconut oil, ½ teaspoon salt, ¼ teaspoon pepper & ¼ teaspoon garlic powder. Roast in the oven for 25 minutes, tossing around half way through.
Take your chicken and sprinkle both sides with salt, pepper and garlic powder. Place a large saute pan over medium high heat. Add 1 tablespoon of coconut oil and let heat up for about 30 seconds. Then add chicken and cook for 3-4 minutes on each side depending on how thick they are (If they are thick i suggest pounding them down a bit so they all have even thickness). Set chicken aside.
In a small bowl combine tahini, lemon juice, apple cider vinegar, water, ½ teaspoon salt, ¼ teaspoon pepper & ¼ teaspoon garlic powder. Toss a couple of tablespoons of dressing over the greens in a large bowl until evenly coated.
To assemble bowl add lettuce and top with butternut squash, chopped chicken and avocado pieces. Drizzle more tahini dressing on top and enjoy!
We are participant in the Amazon Services LLC Associates Program, an affiliate advertising program designed to provide a means for us to earn fees by linking to Amazon.com and affiliated sites.