Nutella Cookies & Cream Ice Cream
As you can tell… I'm still not over my ring! I think that's a good thing.  Once Matt proposed I thought it was only appropriate for me to make him ice cream.  That's a fair trade off right?  I have made a few ice creams in my day and always try to make a healthy version of it.  Don't get me wrong, making your own fro yo is great! But have you ever made full fat full delicious ice cream?  There is nothing like it.  This is a custard based ice cream and the nutella serves as our sugar and flavor.  I knew when I decided to make this that I had to buy some cones.  If you are going big you gotta go BIG.  With summer coming in hot… literally… I know we will all need lots of frozen treats.  I promise to make healthy treats too, but come on… NUTELLA ICE CREAM.  Nuff said.
Not pictured:  licking up the drop of melty ice cream.  Then demolishing the whole thing.  Wedding diet starts tomorrow! 🙂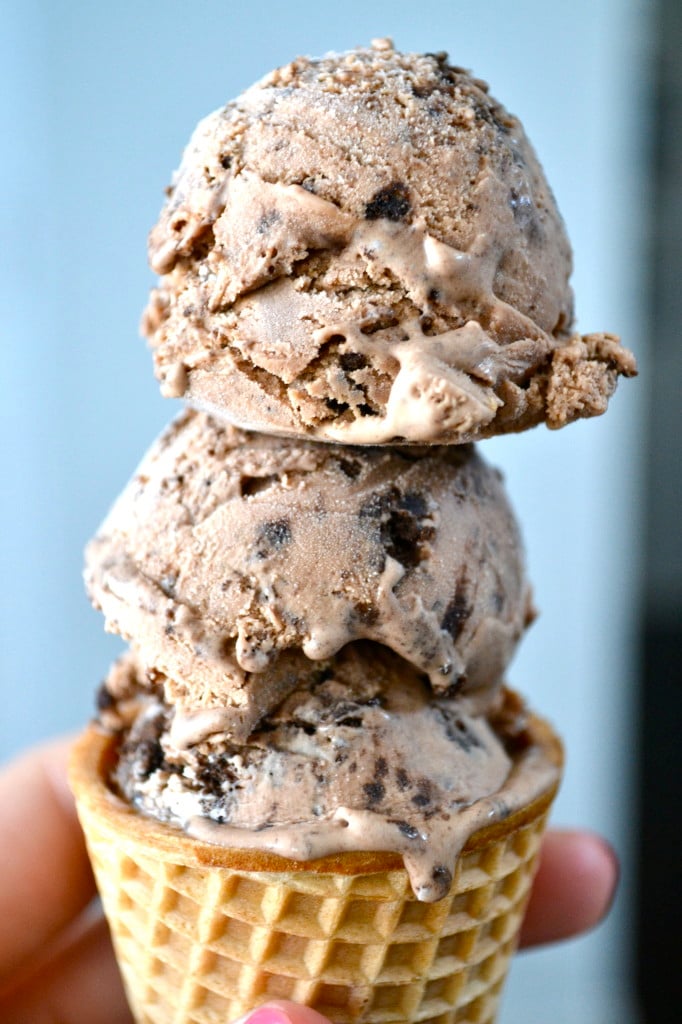 Print
Nutella Cookies & Cream Ice Cream
---
6 egg yolks
1 cup half & half
1 cup room-temperature Nutella
pinch kosher salt
2 cups heavy cream
1 cup crushed oreos
---
Instructions
Whisk together yolks, half & half, Nutella, and salt. Set aside. Add a few cups of ice and cold water to a large bowl. Put a smaller bowl in the larger bowl. Place a fine strainer on top of the small bowl. Set aside.
Heat cream until right before it comes to the boil (it will bubble along the edges). Turn off heat. VERY slowly whisk hot cream into the Nutella/yolk mixture.(If you pour it in quickly the eggs with cook and you with have scrambled eggs!) Pour mix back into pot and stir constantly on medium heat until until it thickens slightly. This custard thickens quickly so don't leave the pot. It's ready when you draw your finger along the back of a wooden spoon and your finger leaves a trail. Turn off heat. Pour custard through strainer into the small bowl. Add just enough water to the ice so that the cold water rises up to the level of the custard. Stir occasionally. When cool, remove from ice bath and cover with plastic wrap. Refrigerate for several hours.
Churn the ice cream according to manufacturer's instructions. Pour ice cream in a container and add crushed Oreos. Stir until Oreos are evenly distributed. Freeze for a few hours or overnight.
We are participant in the Amazon Services LLC Associates Program, an affiliate advertising program designed to provide a means for us to earn fees by linking to Amazon.com and affiliated sites.