Maple Cinnamon 3 Nut Butter
NUT BUTTER!!! This stuff is addicting. I made homemade almond butter for the first time a couple of weeks ago and couldn't believe how easy it was. You always hear that a handful of almonds is a healthy snack… but who wants to do that?! A handful of nuts just never seemed to be an adequate snack for me… but a spoonful of almond butter?! That's something I can get on board with. The best part of making it vs buying it is that you know exactly what goes into it. I usually buy the Trader Joe's almond butter which is great and says its only almonds and salt, but something about seeing the almonds turn into butter gives you much more peace of mind. I have also had cashew butter and obviously peanut butter, so I thought… LIGHTBULB! Let's combine them all! And why not make it a treat and add some cinnamon and maple syrup?? Now this stuff is dangerous because it becomes very hard to put the spoon down because it is just perfectly sweet and salty. I got these nuts from Trader Joe's and they are roasted and slightly salted, I also added a bit of extra salt until it was just right.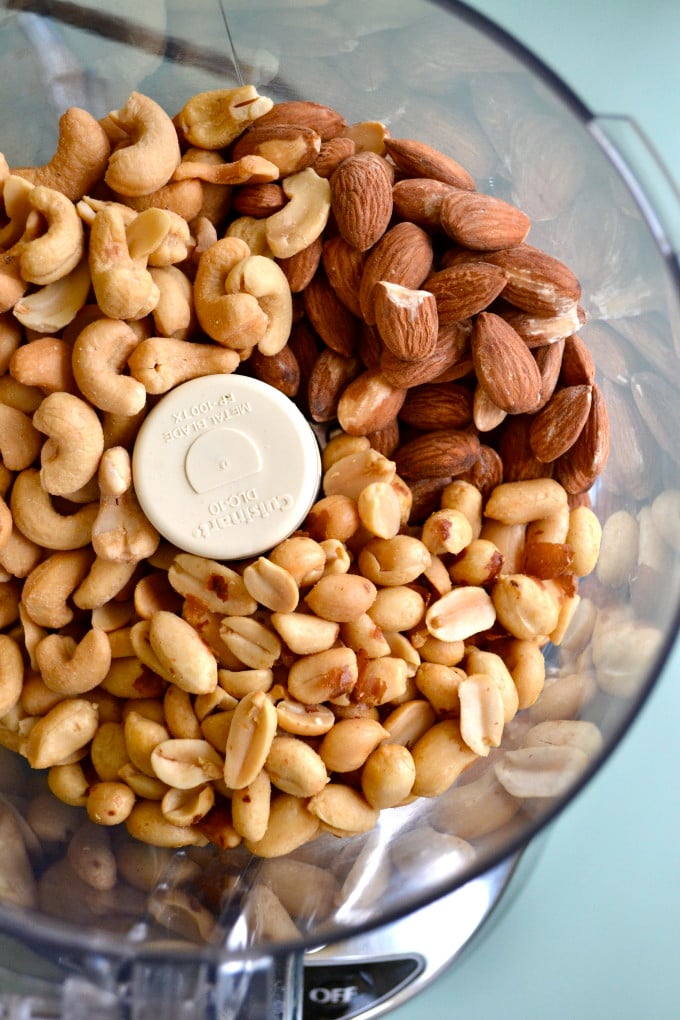 Whirl whirl whirl & swirl that butta!
Add the luscious 100% real maple syrup (no flavored corn syrup!!!)
And lots of cinnamon! Like that action shot?!
VOILA! Beautiful and thick 3 nut butter.
I like to eat mine on toast with banana and possibly a honey drizzle??
Okay this might qualify for dessert at some point but I will call it a snack so I don't feel too bad.
PIN IT!
Print
Maple Cinnamon 3 Nut Butter
---
1 cup roasted almonds
1 cup roasted cashews
1 cup roasted peanuts
2 teaspoons cinnamon
3 tablespoons 100% pure maple syrup
salt to taste
---
Instructions
Combine all 3 nuts in a food processor. Blend until nuts break down and become smooth and creamy. This could take up to 10 minutes. Scrap down the bowl and add cinnamon, maple syrup and salt and pulse until combined. If you like your nut butter thinner, add 1 tablespoon of any oil of your choice until your desired consistency is achieved.
We are participant in the Amazon Services LLC Associates Program, an affiliate advertising program designed to provide a means for us to earn fees by linking to Amazon.com and affiliated sites.