Maple Bacon Cookies
Who doesn't love BACON!? I somehow had to come up with a way to incorporate bacon into my holiday treats and I came up with Maple Bacon Cookies.  It has taken me a while to jump on the "add bacon to everything" bandwagon, but the time has come!!  So here are the Maple Bacon Cookies! I had a pound of bacon and thought hmm… cookies.. maple… BACON!  I just took the toll house chocolate chip cookie recipe and altered it a bit by using maple extract and bacon instead of vanilla and chocolate.  They are pretty dang delicious.  First cook up your bacon.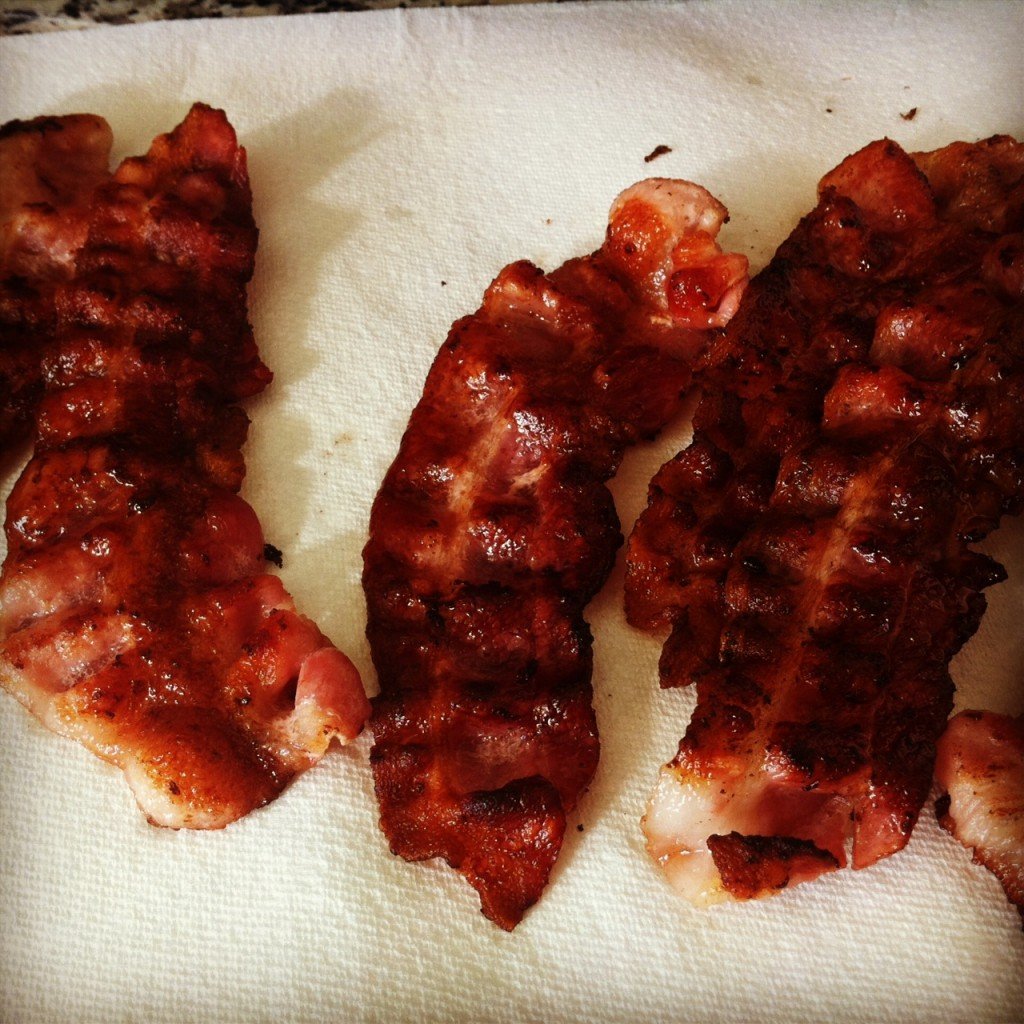 Cook it until crisp and cut it up into pieces.  Don't use the super fatty pieces, I cut those off and tossed them.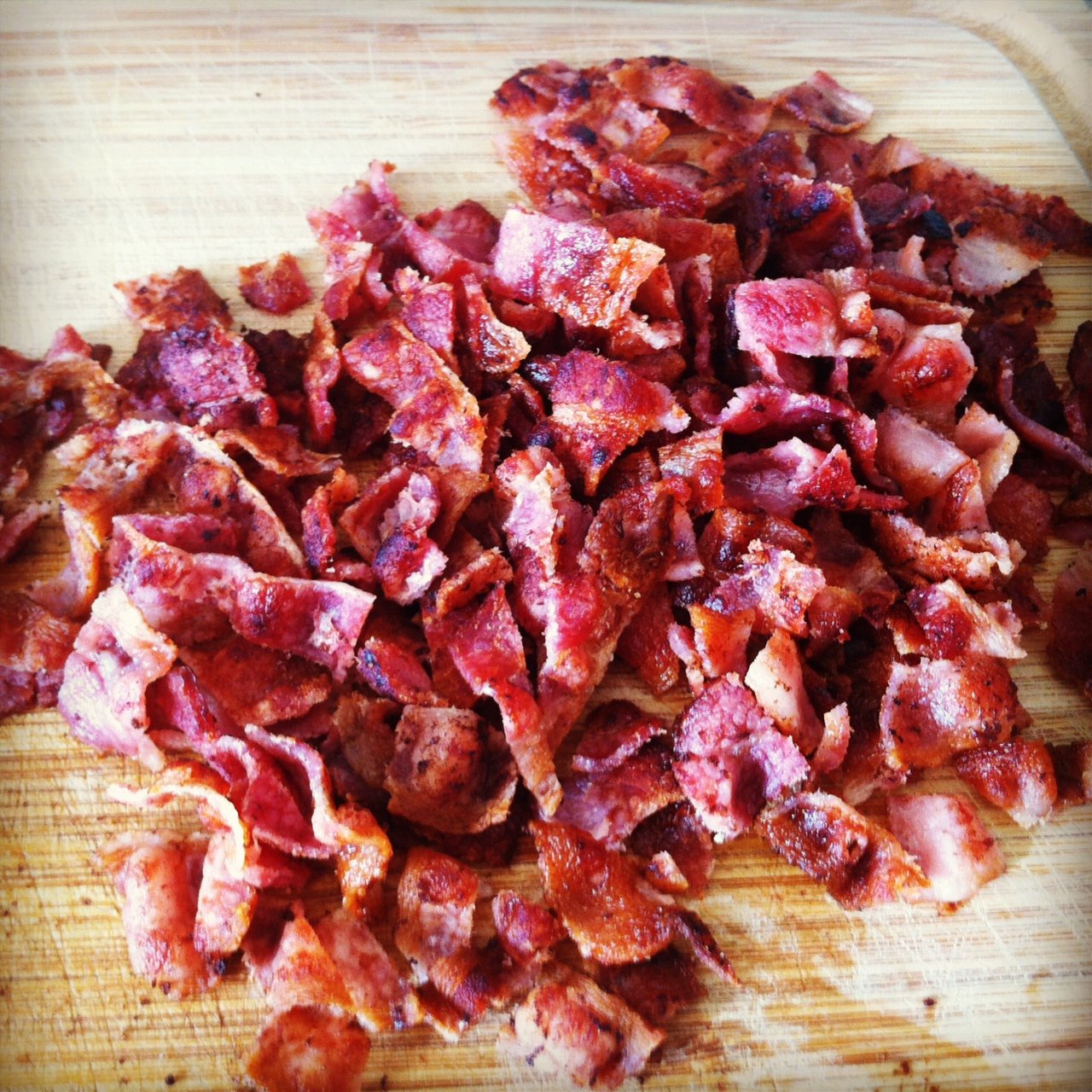 Then whip up your dough for the cookies and add in the bacon.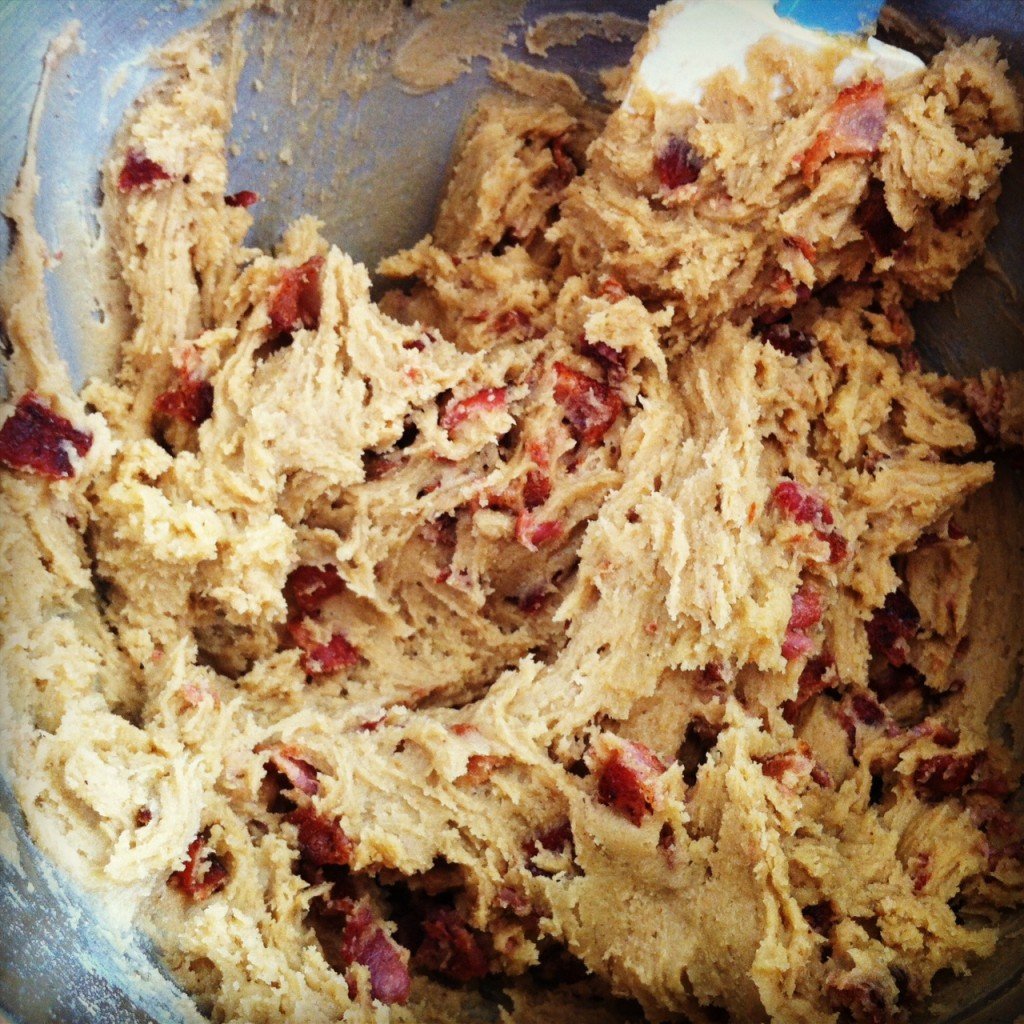 Scoop onto a cookie sheet and sprinkle with sea salt. Almost to Maple Bacon Cookie goodness.
Bake for 9 minutes and enjoy!

Lets be honest, I didn't come up with this Maple Bacon Cookie recipe to then tell you how deliciously decadent they are!  Just enjoy on your special day and remember, everything in moderation!
Print
Maple Bacon Cookies
---
2 1/4 cups flour
1 teaspoon baking soda
1 teaspoon salt
1 cup softened butter (2 sticks)
3/4 cup sugar
3/4 cup brown sugar
2 large eggs
2 teaspoons maple extract
1 1/2 cups chopped bacon (cooked)
sea salt
---
Instructions
Preheat oven to 375 degrees. In a medium bowl sift or whisk together the flour, baking soda and salt. In a mixer bowl with paddle attachment, cream together butter and both sugars. Once blended, add maple extract and eggs and beat until combined. Slowly add in the dry ingredients. Once combined, mix in the bacon pieces. Scoop tablespoons of dough onto an ungreased baking sheet and sprinkle with sea salt. Bake for 9-11 minutes. For extra salty flavor and appearance, sprinkle with a bit more salt once removed from oven. Let cool and enjoy!
We are participant in the Amazon Services LLC Associates Program, an affiliate advertising program designed to provide a means for us to earn fees by linking to Amazon.com and affiliated sites.