Greek Yogurt Cheese Caramel Dip
Has anyone heard of yogurt cheese??  It is a completely new concept to me and I am DIGGING it.  This discovery happened when I was looking into making healthy dessert dips for the Super Bowl.  Every dip out there had cream cheese.  Even the "healthy" ones just used low fat cream cheese.  It is hard to substitute greek yogurt in these dips as it has a much more liquidy consistency.  Insert my amazing googling skills.  I googled something like, "How to thicken greek yogurt" and up popped this mythical "Yogurt Cheese" recipe.  It said all you had to do was put some yogurt in a cheese cloth, put it over a strainer and set something heavy on top.  Let it sit a day in the fridge and voila! Some of the liquid comes out and you are left with a cream cheese texture yogurt.  I though there was no way it was that easy……… WRONG!  I was amazed at how easy this was.  It created a texture so similar to cream cheese and went perfectly with caramel!! Now I could have made this even healthier with some kind of low sugar caramel or something but I used the good stuff.  But I did dip apples, both fresh and freeze dried, in it so we can call it a win.  Here is my contraption:  Minestrone soup made for a great device to push that liquid out.
Remove and look at that creamy goodness!
Do you see that thickness!!
Sweet sweet caramely goodness.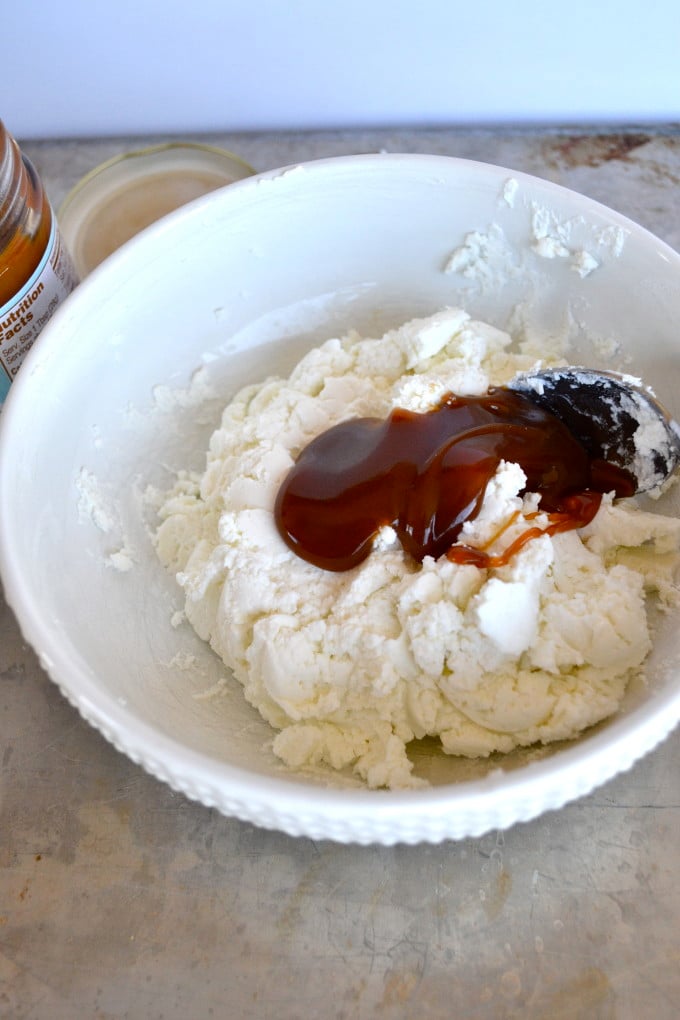 This caramel apple dip is so good.  Creamy, smooth and sweet without being too horrible for you 🙂
YUM!
Print
Greek Yogurt Cheese Caramel Dip
---
17.6 oz tub of 0% plain greek yogurt
3–4 tablespoons of caramel (depending on how sweet you want it)
1 teaspoon vanilla
pinch of salt
---
Instructions
To make the yogurt cheese, place a strainer over a bowl. Lay cheese cloth or a flour sack towel in the strainer and dump all of the Greek Yogurt in it. Wrap the rest of the towel or cloth on top and place something heavy like a can of soup on top of that. Let sit in your refrigerator for at least 24 hours.
Once yogurt cheese is done, dump in a bowl with caramel. Mix untill well combined. Add in vanilla and salt for extra flavor. Serve with apples!
We are participant in the Amazon Services LLC Associates Program, an affiliate advertising program designed to provide a means for us to earn fees by linking to Amazon.com and affiliated sites.