Goat Cheese,Caramelized Onion and Fig Jam Grilled Cheese
HOLY GRILLED CHEESE! Let's have some serious real talk right now.  I am officially addicted to Diners, Drive ins and Dives.  I watch it on the reg and always get SO inspired!  Banana bread french toast with bananas foster and ice cream?  French dip with pork, bacon, gruyere? It's too much.  It leaves me in bed at 10 PM making a grocery list for the next day.  Inspiration comes from many different places… TV, cookbooks, blogs, and restaurants are just a few!  When I thought of making a "grown up" grilled cheese, goat cheese came to mind.  It really is an unsung hero of the cheese world.  It has a flavor that is not as strong as gorgonzola, but more complex than american.  I found this creamy goat cheese and knew it would spread wonderfully on some sourdough.  What else would you pair it with? Caramelized onions…. obvi.  And fig jam?! Why not?  Wow.  I am so excited about this one.  It had sweetness and salt that balanced with the creaminess of the cheese.  Grilled up with butter, this gem will knock your socks off!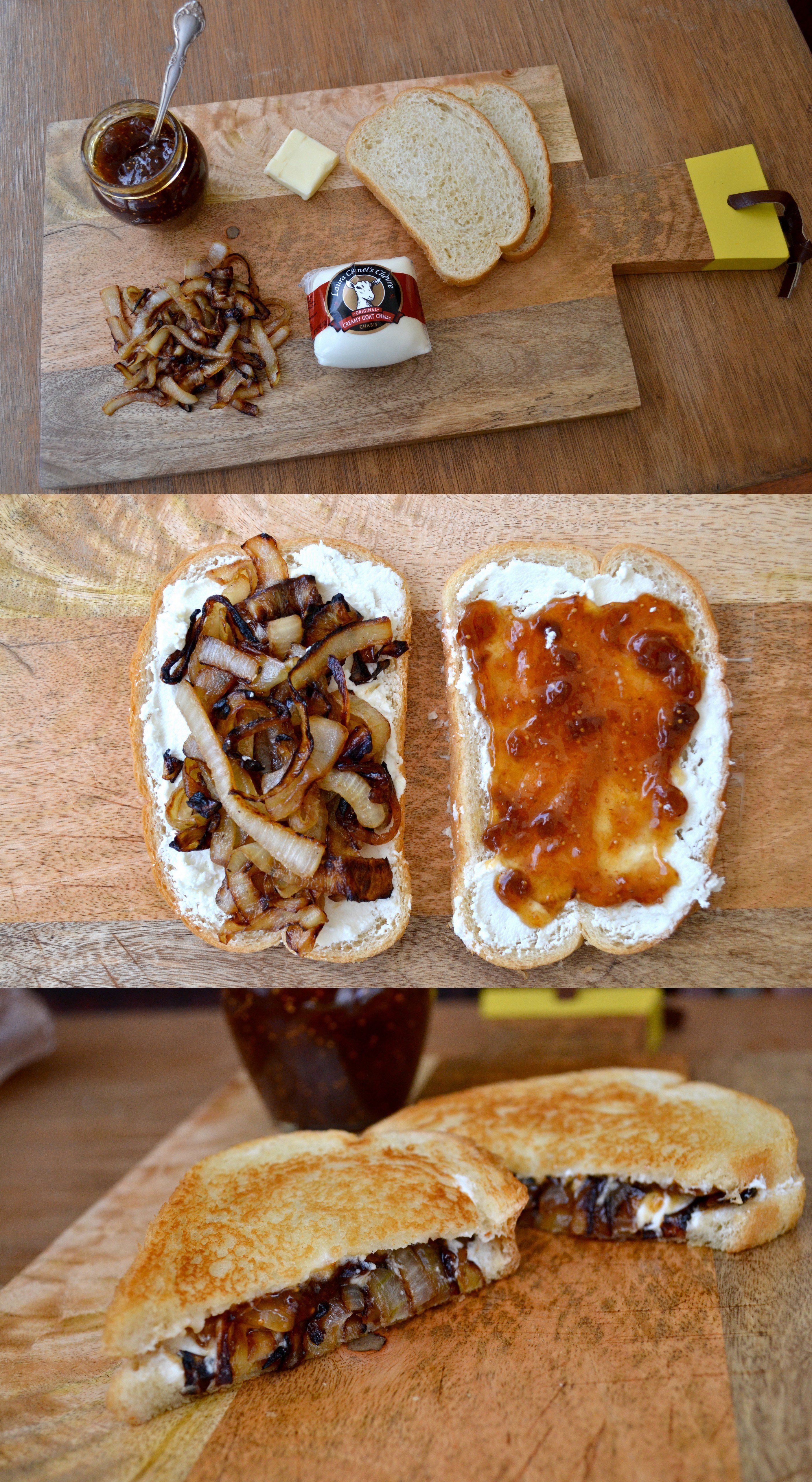 Its very simple. Sourdough, butter, goat cheese, onions, fig jam.
Grilled cheese never tasted so good!!
Print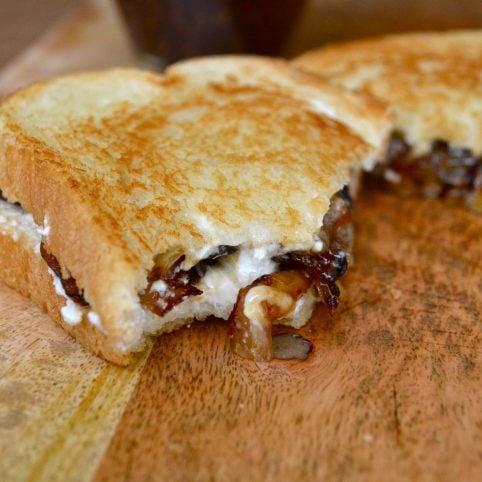 Goat Cheese,Caramelized Onion and Fig Jam Grilled Cheese
---
2 pieces sourdough bread
1/2 brown onion
1 tablespoon extra virgin olive oil
1/4 – 1/2 cup goat cheese (depending on preference)
2 tablespoons fig jam
2 teaspoons softened butter
---
Instructions
In a skillet over medium heat, heat olive oil. Add onion and cook until caramelized, up to 30 minutes. Take bread and butter one side of each piece. Spread half of the goat cheese on each non buttered side of the bread. Add caramelized onion to one side on top of the cheese, and fig jam to the other side. Assemble sandwich and place on hot skillet. Cook until browned, flip and repeat. Enjoy!
We are participant in the Amazon Services LLC Associates Program, an affiliate advertising program designed to provide a means for us to earn fees by linking to Amazon.com and affiliated sites.