Ginger Peach Kombucha Sangria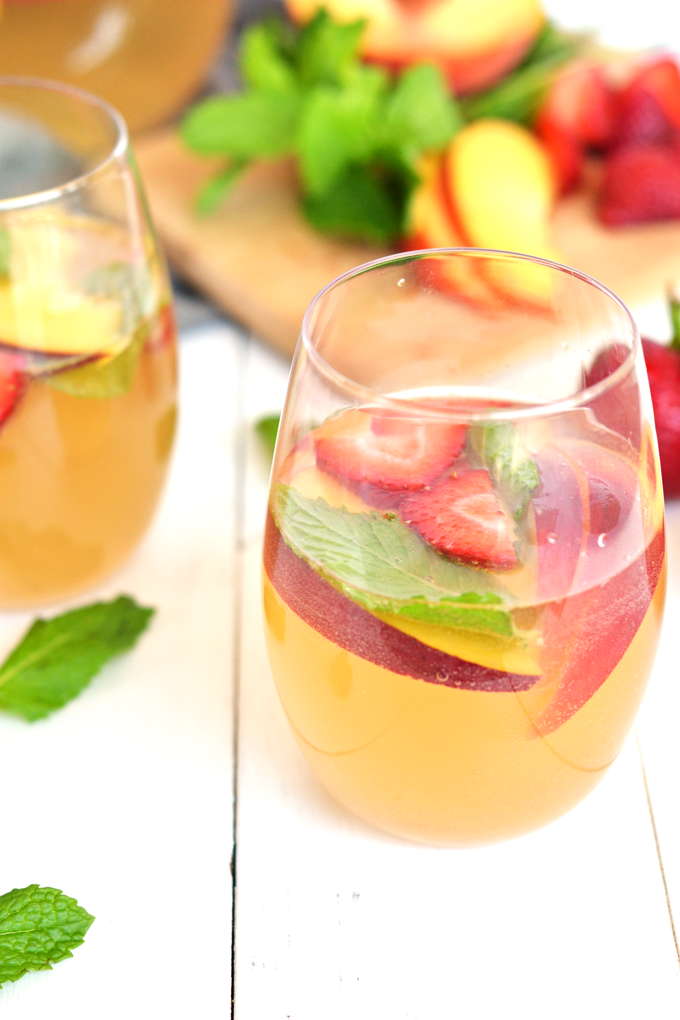 Kombucha has been my new obsession lately. I work right next to a Target and love to walk there on lunch breaks. I recently started a new ritual on instagram called #walktotargetwednesday and it usually results in a kombucha purchase, or I find a new treat to try! If you don't know what Kombucha is, it is a fermented tea! It is fermented with these live yeast and cultures called "SCOBY", which makes it smell like vinegar a bit, and also makes it bubbly! Most kombuchas are flavored though which makes them taste amazing.
Real talk – when I first tried the booch in college I thought it was gross. I couldn't get past the vinegary smell and now? I don't even smell it! The taste is also way different than the smell usually. My favorite is the GT's Gingerade. It tastes like a healthy ginger beer with no sugar or anything added, just kombucha and ginger. This whole adding it to alcohol thing is new territory and I am SO pumped about it. I love a good cocktail but I feel like most mixers are loaded with sugar unless you go with club soda which can get super boring. Now I can turn to kombucha for all of my mixer needs! Bonus: kombucha is a probiotic that improves digestion, mental clarity and mood stability – perfect compliment to a drink that might do the opposite thing.
We gotta live and enjoy our cocktails so CHEERS!!! 🙂
The add ins for sangria are always my favorite. Strawberries are beautifully in season now!
Stemless glasses are the best. THE BEST!
Pin it for future sangria fun!!
Print
Ginger Peach Kombucha Sangria
---
1 bottle white wine (i used pinot grigio)
1 bottle (1 1/2 cups) ginger kombucha
1/4 cup peach schnapps
1 cup chopped strawberries
1 handful mint leaves
1 peach, sliced
---
Instructions
Combine wine, kombucha and schnapps in a large pitcher. Add strawberries, mint and peaches! Serve in wine glasses and enjoy!
We are participant in the Amazon Services LLC Associates Program, an affiliate advertising program designed to provide a means for us to earn fees by linking to Amazon.com and affiliated sites.