Five Spice Beef & Broccoli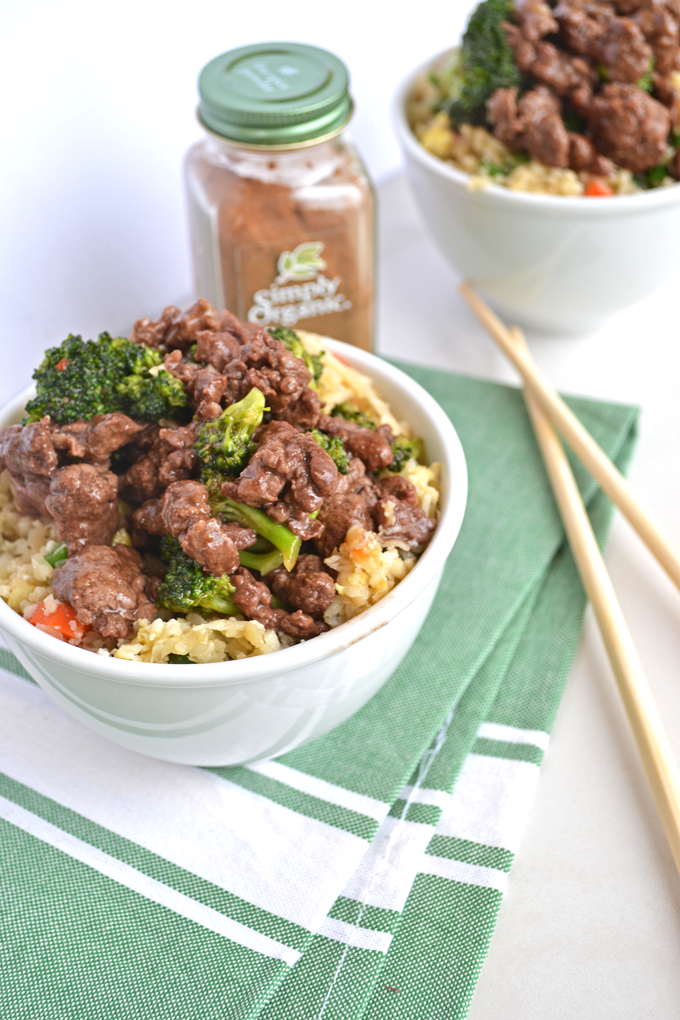 Are you a fan of Pho? To be honest I didn't really discover the stuff until last year. I had heard of it but never had the urge to go because I had no idea what I was missing out on. So last year Matt and I thought we would give the our local Pho restaurant a try. And people, it is a day I will never forget. This discovery led to our infamous Pho Friday and a crazy obsession with the stuff. Obviously the noddles in Pho are not Whole30 approved, but I just really wanted that sweet, earthy, savory amazing taste that came with it. Cut to > Chinese Five Spice. Little did I know that this combination of flavors was the exact thing I loved about pho. The origin of this combo isn't quite nailed down, but some people say that the Chinese were trying to create a "wonder powder" by mixing five spices that hit on the five flavors of sour, bitter, sweet, pungent, and salty. This makes so much sense too because it has always been a flavor I just couldn't put my finger on… and it's because you can't! So when my friends at Simply Organic sent me some spices, I was beyond THRILLED when I saw a jar of Five Spice Powder. I opened it up to smell and it immediately made me feel like I was eating a warm bowl of Pho. So that brings us to this beef & broccoli. The wonder flavors compliment beef so well and I just can't help but add veggies to everything. It is loaded with tasty ingredients like coconut aminos and my favorite way to thicken sauces – arrowroot! It comes together super quickly too and I love serving it over Cauliflower Fried Rice!
The sauce is the best best… Make sure to pour it all over your bowl!
Perk of keeping old take out chopsticks… 🙂
Pin it puhlease?
Simply Organic provided me with these products but the views are completely my own!
Print
1 tbsp coconut oil
1.5 lbs flank steak, thinly sliced
½ cup coconut aminos
2 tbsp arrowroot
1 tablespoon +1 teaspoon Simply Organic 5 Spice Powder
1/2 teaspoon Simply Organic Pepper & More (or just pepper)
2 cloves garlic, minced
3 tbsp rice vinegar
2 tsp sesame oil
½ teaspoon Simple Organics pepper blend
½ cup beef or chicken broth
2 cups of broccoli cut into small florets
Salt & Pepper
---
Instructions
In a medium bowl, whisk together the coconut aminos, arrowroot, garlic, rice vinegar,1 teaspoon 5 spice powder, sesame oil, pepper blend and broth. Set aside until ready to use.
Take thinly sliced steak and sprinkle with 1 tablespoon 5 spice powder and a pinch of salt and pepper and mix with your hands until evenly coated.
Heat the coconut oil in a large skillet and cook the steak until it starts to brown, about 4 to 5 minutes. Add sauce and stir in with the steak, it should start to thicken immediately. Add broccoli and cook for an additional 2 minutes until broccoli is tender and sauce is thickened.
Serve over cauliflower fried rice!
We are participant in the Amazon Services LLC Associates Program, an affiliate advertising program designed to provide a means for us to earn fees by linking to Amazon.com and affiliated sites.