Easy Toasted Coconut Caramels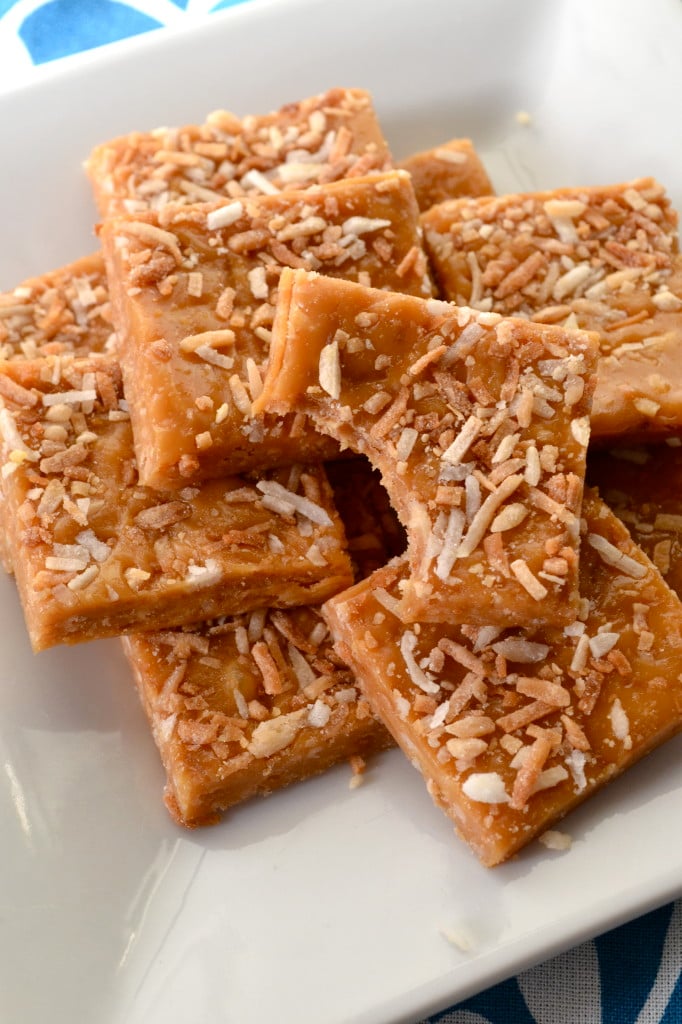 I've talked about my love for toasted coconut before.  And with girl scout cookie season among us I have been thinking about Samoas and that wonderful mixture of caramel and coconut.  I haven't had any girl scout cookies this year and I will try to hold out as long as I can.  It's only a matter of time till I am forced to take a few boxes in front of the grocery store.  In that case I am completely okay with it… it's for the children right?  Until then I can just satisfy my coconuty caramel craving with these easy treats.  All I did for these was melt some of those individually wrapped square caramels and mix in some toasted coconut.  Very simple and it can make you look very impressive.  I'm here for you.
 Melt, mix, pour and top!
 Cut into squares! You could also dip, drizzle or dunk these in chocolate.  I am sure that would be kind of ridiculous.
 Take a BITE!
Print
Easy Toasted Coconut Caramels
---
2 7oz bags of caramel squares
1 1/2 cups toasted coconut
---
Instructions
Unwrap caramels and place in a microwave safe bowl. Microwave on high for 1 minute. Then microwave in 1 minutes intervals on 50% power, until all caramels are melted. Make sure not to over heat! Once melted, mix in 1 1/4 cups of toasted coconut. Pour into greased 8 x 8 pan and press down with greased wax paper so that the caramel is even. Then sprinkle the top with remaining 1/4 cup of toasted coconut and press down again. Let set in the fridge for 20 minutes. Cut into desired shape and size.
*** To toast coconut: Take 1 1/2 cups of sweetened shredded coconut and place on a cookie sheet in a 400 degree oven. Don't go far and check coconut often until lightly browned.
We are participant in the Amazon Services LLC Associates Program, an affiliate advertising program designed to provide a means for us to earn fees by linking to Amazon.com and affiliated sites.