Date Cinnamon Roll Wheat Bread
I have officially made this bread recipe 4 times…and it yields 2 large loaves.  First I made a version of it after we had Ruthie and it was so good but I didn't take pictures for the blog.  Then I made it again recently but sprinkled the dates all throughout it and not in the swirls, and they basically got lost in the mix.  So now I have tried it twice with the cinnamon roll center and it is PERFECT!!  And I love love love watching ruth gobble it up and knowing exactly the whole real ingredients that went inside.  This recipe makes two loaves and I highly recommend slicing one and freezing it! Then you always have a delicious little bread treat waiting for you when the craving hits.  I plan to make MANY of these loaves to freeze before the next time I get pregnant.  The first trimester with Ruthie was so brutal and bread was basically all I ate for 2 months so this time I am going to be prepared with the good stuff. Oh and don't worry I'm not planning on getting pregnant any time soon.  BUT it's all about planning and prep baby!
Also can we talk about the beauty of unraveling anything cinnamon roll like?  I toast this and either put nutter butter or just butter on it and that top layer of crust is everything!! I mean how could Date Cinnamon Roll ANYTHING be bad people??
I mean those rolls!!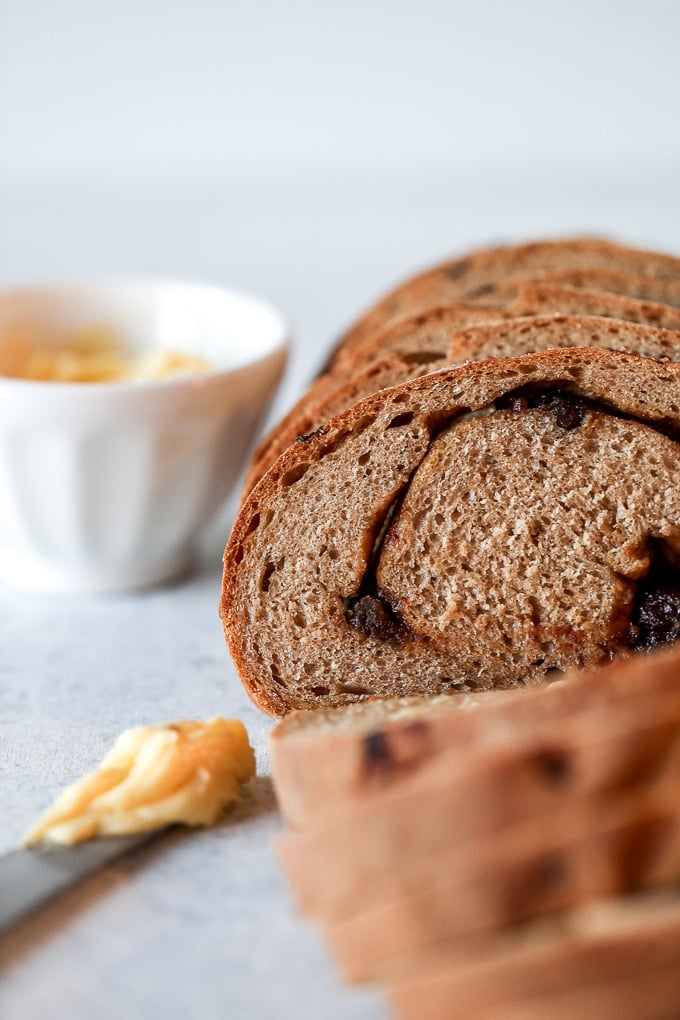 Pin the image below to save this Date Cinnamon Roll Wheat Bread Recipe for later!
Print
Date Cinnamon Roll Wheat Bread
---
Author:
Yield: 16-18 slices per loaf (2 loaves) 1x
2 cups warm tap water, about 110 degrees
1/4 cup olive oil
2 1/2 teaspoons (1 envelope) active dry yeast
2 3/4 – 3 cups all-purpose flour
2 1/2 cups whole wheat flour
2 teaspoons cinnamon
2 tablespoons salt
4 dates, chopped
3 tablespoons coconut sugar
1 teaspoon cinnamon
4 tablespoons grass fed butter, softened
---
Instructions
To make the dough, in a small bowl or glass measuring cup place water and sprinkle yeast on surface, allowing it to stand for three minutes before whisking. After dissolved, whisk in the olive oil. To mix dough in a full-sized food processor, place 2 3/4 cup all-purpose flour and 2 1/2 cups whole wheat flour and salt in bowl of the food processor fitted with a dough blade.
Add water, oil, and yeast mixture and process to form a smooth, elastic and slightly sticky dough, about 45 seconds. Incorporate the remaining 1/4 cup all-purpose flour a tablespoon at time if the dough is too soft.
Place dough in an oiled bowl and turn dough over so top is oiled. Cover bowl with plastic wrap and allow dough to rise at room temperature until doubled.
To shape loaves, scrape risen dough onto a lightly floured surface and press it to deflate it. Divide dough in half and shape one piece at a time.
In a small bowl combine coconut sugar, cinnamon and melted butter.
Press dough into a rectangle (about 7" x 11", then pour on half of the sugar butter mixture and spread it evenly over the bread.
For each loaf spread 2 chopped dates over the sugar mixture evenly, then roll it up tightly longways so it is a shorter roll and there are the most rolls possible.  Pinch the sides in and tuck them under so no butter comes out. Arrange dough seam side down, cover with plastic or a hand towel and let it rest for 5 minutes. Repeat with remaining piece of dough.
Roll each piece of dough under palms of your hands to elongate it a little. Work from middle of loaf outward, pointing the ends slightly. Place loaves seam side down on cookie sheets and dust each loaf with a little flour. Cover with plastic or a towel and allow to rise until doubled. (let them sit on top of the oven while it's preheating for warmth)
About 15 minutes before you intend to bake the loaves, preheat oven to 500 degrees F and set racks at the middle and lowest levels. Set a pan on the lowest rack to absorb some of the excess bottom heat and keep the bottom of the loaves from burning.
Holding a very sharp knife at a 30-degree angle to the top of each loaf, make 4 to 6 diagonal slashes in each loaf. Immediately place loaves in oven and lower temperature 450 degrees F. After loaves have baked for 20 minutes and are completely risen, lower temperature to 350 degrees F and continue baking about 20 to 30 minutes longer, until bread reaches an internal temperature of about 210-220 degrees F. Remove loaves from oven and cool on a rack. Enjoy!
We are participant in the Amazon Services LLC Associates Program, an affiliate advertising program designed to provide a means for us to earn fees by linking to Amazon.com and affiliated sites.