Chocolate Chip & Caramel Bit Cookies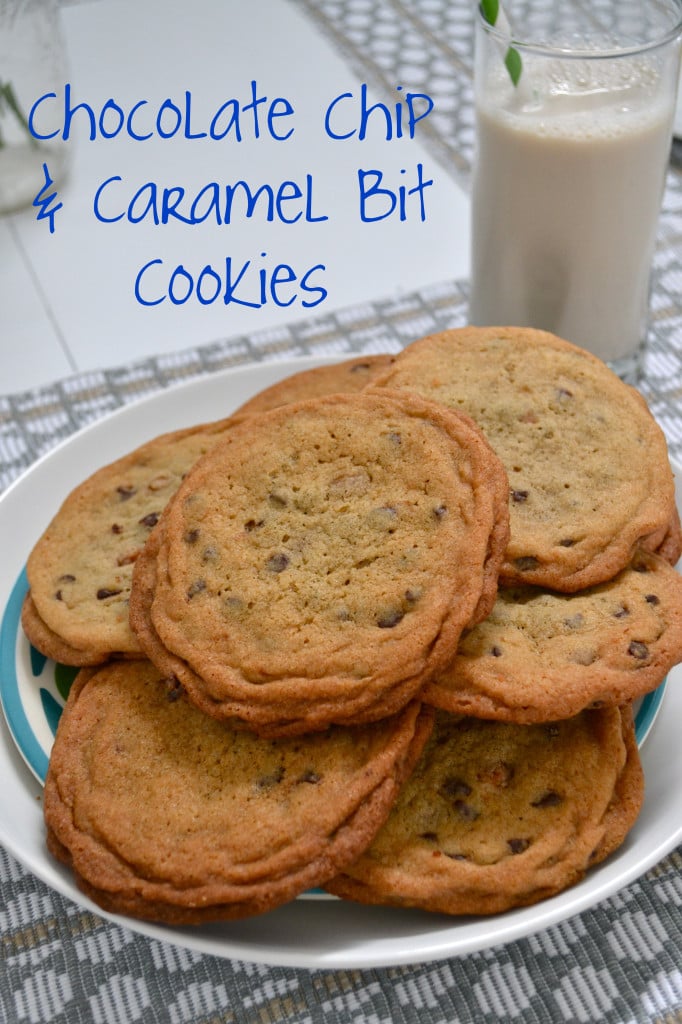 Moving is tough. We moved into our condo 2 weeks ago, but the trips from the car up to the 3rd floor seem to never end.  This weekend we just picked up a bed for our spare room.  A queen size box spring is very difficult to get through a tight stairwell.  End result > Bed in room, sweaty bods and cookies in the oven.  It also helped that I asked Matt, "I'll make cookies if you put together the bed?" His response? "DEAL!"
Bartering with cookies is always a good technique.  These cookies are so good.  Just the perfect cookie.  Crispy edges, chewy center, sweet chocolate chips and little pockets of caramel.  They are hard to beat.  Especially after a long day of stairs.
First make your cookie dough.
 Add in these beautiful caramel bits!
 Big scoops = BIG cookies.
 Stack em' up!
 YUM!
 Look at that caramel!
Print
Chocolate Chip & Caramel Bit Cookies
---
2 3/4 cups all-purpose flour
1 teaspoons salt
1 teaspoon baking powder
1 teaspoon baking soda
1 1/4 cups butter, softened (2 1/2 sticks)
1 1/4 cups packed brown sugar
3/4 cup granulated sugar
2 large eggs
1 teaspoon pure vanilla extract
1 cup semisweet chocolate chips (mini or regular)
3/4 cup caramel bits
---
Instructions
Preheat oven to 350 degrees. Beat butter and sugars with a mixer on medium-high speed until pale and fluffy, about 4 minutes. Beat in eggs 1 at a time. Add vanilla. Reduce speed to low. Add flour, salt, baking powder & baking soda; beat until combined. Mix in chocolate chips and caramel bits.
Using a 2 1/4-inch ice cream scoop (about 3 tablespoons), drop dough onto baking sheets lined with parchment paper or a silpat, spacing about 2 inches apart. Bake until golden around edges but soft in the middle, about 15 minutes. Let cool for 5 minutes. Transfer cookies to a wire rack, and let cool completely. Enjoy!
We are participant in the Amazon Services LLC Associates Program, an affiliate advertising program designed to provide a means for us to earn fees by linking to Amazon.com and affiliated sites.