Cherry Tomato & Carrot Soup (Whole30)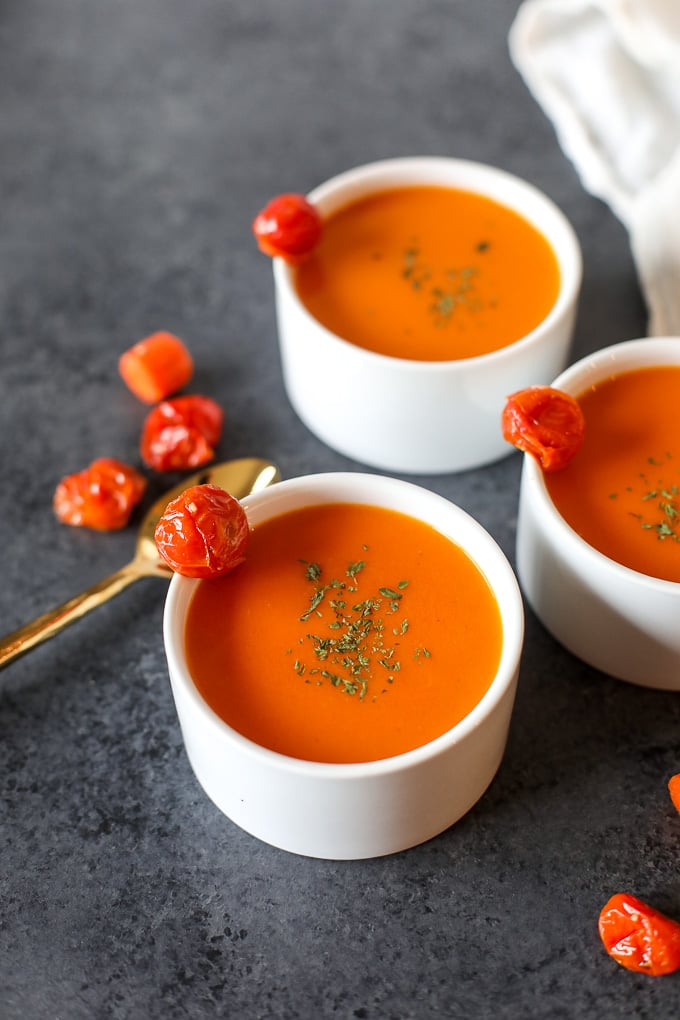 This soup came to be when I realized I had a big tub of cherry tomatoes in my fridge that were about to go bad, some carrots and a hankering for grilled cheese. I figured I would just roast everything up, blend it and have some kind of soup! It was soooo good! I now plan on making tomato soup with cherry tomatoes every time. It is so easy because you can roast them whole and use either grape or cherry tomatoes. I honestly don't really know the difference between the two so any small tomato you see at the store is fair game! I always buy bins of cherry tomatoes with grand plans and get to the end of the week and haven't touched them. So now I know that even when I have one of those weeks, I can make this soup before they go bad.
This soup is Whole30 compliant which is lovely because I am on Day 4 over here! I am doing a Whole18 this year so I feel like i'm almost done somehow – but the weekend is the real tough part. Making this soup and having a warm sweet potato toast tuna sandwich to dip in it might just make all my dreams come true.
Before I sign off for the week I wanted to say THANK YOU! My website was down the whole last weekend and it was terrifying but I am so glad it is back up and so many of you are coming to visit. I switched host companies so I am hoping the speed of my site is faster than ever so you can go through a rabbit hole of all my recipes and get inspired this year!
Is there anything more comforting?
Pin the image below to save this Cherry Tomato & Carrot Soup recipe for later!
Print
Cherry Tomato & Carrot Soup
---
2 lbs cherry or grape tomatoes
3 cups chopped carrots
1/2 yellow onion, chopped
1 tablespoon minced garlic
1/4 cup avocado oil or olive oil
pinch of salt and pepper
4 cups of chicken broth
1/4 cup tomato paste
---
Instructions
Preheat your oven to 400 degrees.
Line baking sheet with foil or parchment paper and add tomatoes, carrots, onion, garlic, oil and salt and pepper to the pan and toss to combine.
Roast for 30-35 minutes or until carrots are fork tender.
Remove from oven and add to a saucepan.  Then add in the chicken broth and tomato paste and bring to a boil.
Take an emersion blender and blend the soup until smooth, or transfer to a blender to blend! Season with salt to taste.
Notes
If you like a super smooth soup, you can run the whole thing through a strainer to get any little remaining chunks out!
We are participant in the Amazon Services LLC Associates Program, an affiliate advertising program designed to provide a means for us to earn fees by linking to Amazon.com and affiliated sites.