Bruschetta Stuffed Grilled Avocado
One of my favorite restaurants/ the place Matt and I had our rehearsal dinner is called the Belmont Brewing Company. They have amazing beers and even better food! My favorite appetizer there is their grilled avocados. They are stuffed with salsa and have this bacon drizzle thing that is REDIC. I was thinking about recreating them but also wanted to make some bruschetta…. LIGHTBULB! This recipe is perfect for a summer appetizer because it is light and super easy. I used cherry tomatoes because we always have them on hand and there is much less gooey tomato insides! No one likes to deal with a lot of that goop. If you don't have a grill or an indoor grill pan, you can definitely just cook the avocado face down on the stovetop. Just a little char gives them another level of flavor and warming them up makes them extra soft and spreadable. I served these with just a bunch of grilled baguette pieces and it was perfection.
Look at these beautiful tomatoes!
Basil and garlic make the world go round….
Grilled and stuffed!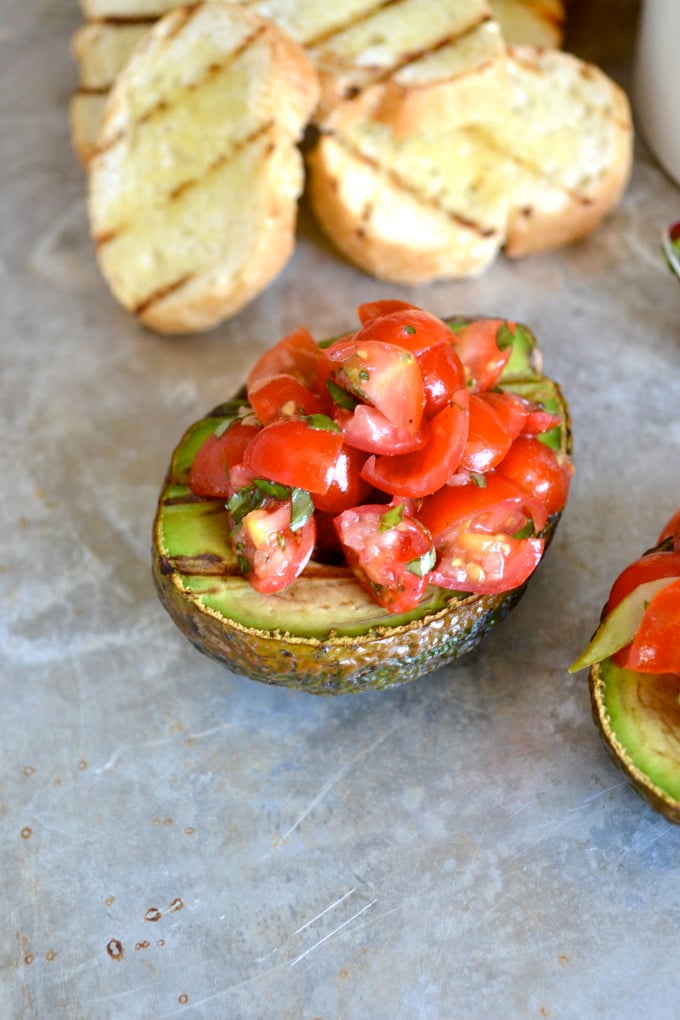 Let's just eat all of the avocados, tomatoes and bread and be the happiest people in the world!
PIN IT!
Print
Bruschetta Stuffed Grilled Avocado
---
1 cup chopped cherry tomatoes
1 tablespoon extra virgin olive oil
1 tablespoon chopped fresh basil
1–2 cloves crushed garlic (depending on how garlicky you like!)
large pinch of salt
fresh cracked pepper
2 avocados
---
Instructions
Mix tomatoes, olive oil, basil, garlic, salt & pepper in a bowl and toss until combined. Cut avocados in half and remove the pit. Fire up your grill or pan and cook the avocados until lightly charred. Scoop bruschetta on avocados and serve on sliced baguette.
We are participant in the Amazon Services LLC Associates Program, an affiliate advertising program designed to provide a means for us to earn fees by linking to Amazon.com and affiliated sites.