Brown Butter & Chocolate Chunk Cookies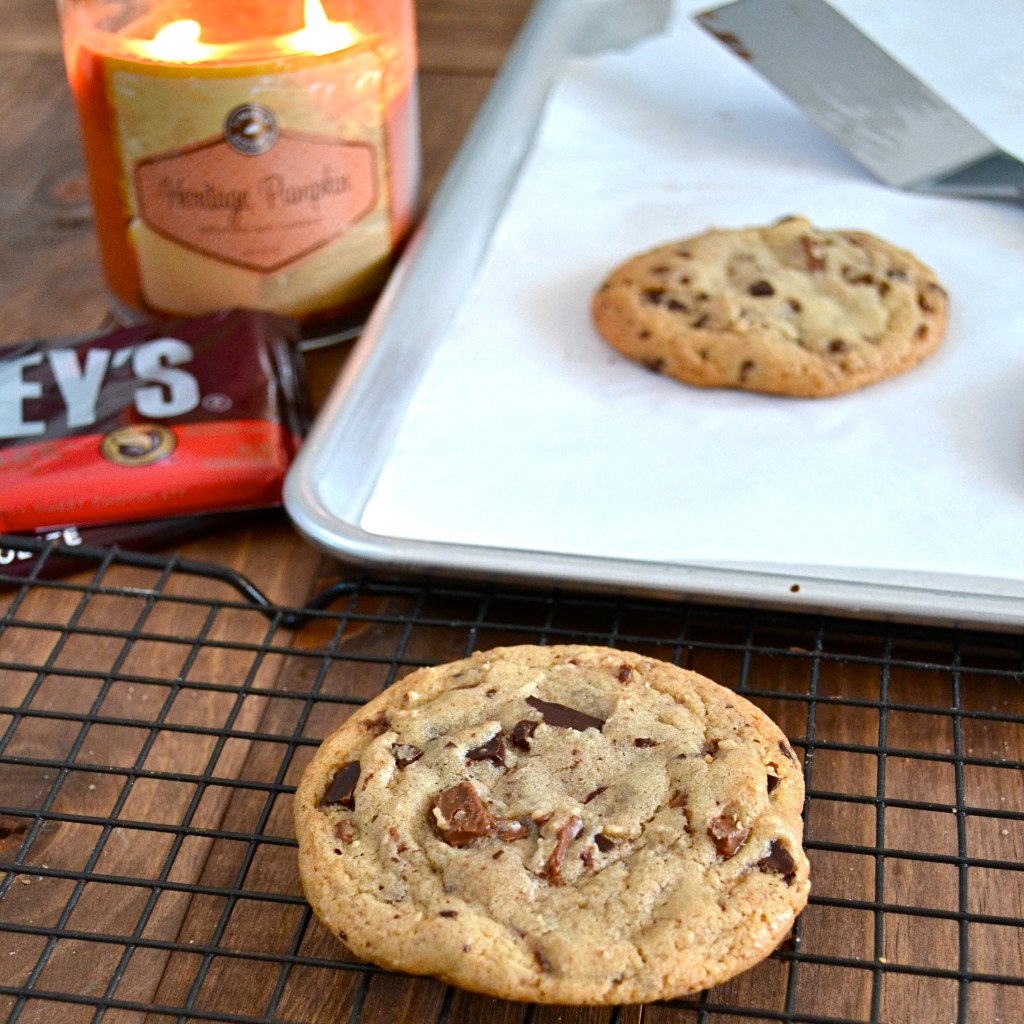 I've done it.  I made a cookie that has crispy edges and and a wonderfully undercooked chewy center. I also made this cookie with brown butter which I have wanted to do for a while.  For so long I was stuck on the toll house choco chip cookie bit.  It was easy and good.  Or so I thought!  The thought of making a delicious chip cookie came when Matt and I went to a little sandwich place in LB that we heard had great cookies.  We had to try them.  And of course they were amazing.  Big, thick and chewy.  With chocolate chunks!  So we stopped by Rite Aid on the way home and I looked at my chocolate options.  I saw Hershey's and decided I would do half special dark and half milk chocolate.  I am so glad I did this, but I'm sure any chocolate chunk would be amazing.   Browning butter also added another dimension to this dish.  It has a wonderful aroma and makes you want to drink it on the spot.  But don't do that… I hear drinking butter is bad for you or something.  Lets just cut to how you make these bad boys!
CHOCOLATE!  I used one of each bar.
Brown that butter!
 Once you brown the butter there will be these little bits.  These bits are good! Don't reject them, embrace them!
 Mix that with your sugars, vanilla and salt.  Then the eggs!
 Then add flour and baking soda… and finally your chunks!
 The dough.
I used a #20 scoop. Nice and big!  Then do something crazy.  Throw these in the freezer!! Once you cook them, the dough will essentially melt, this will keep the center chewy and make the edges crispy.
 Once the dough is frozen (about 30 minutes in the freezer), bake for about 16 minutes!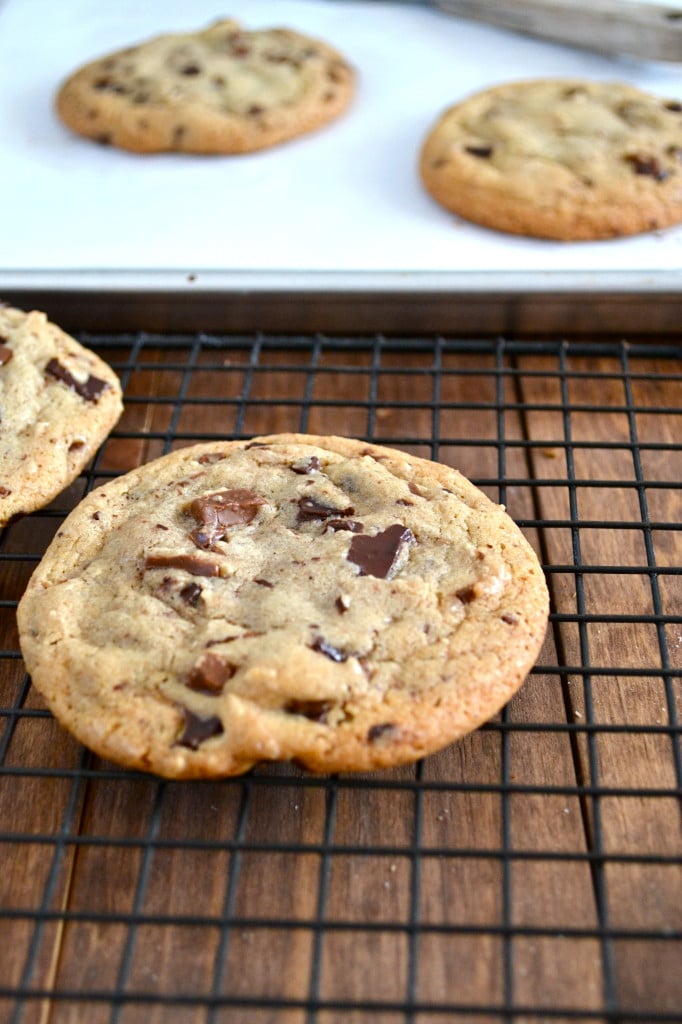 They will be perfect.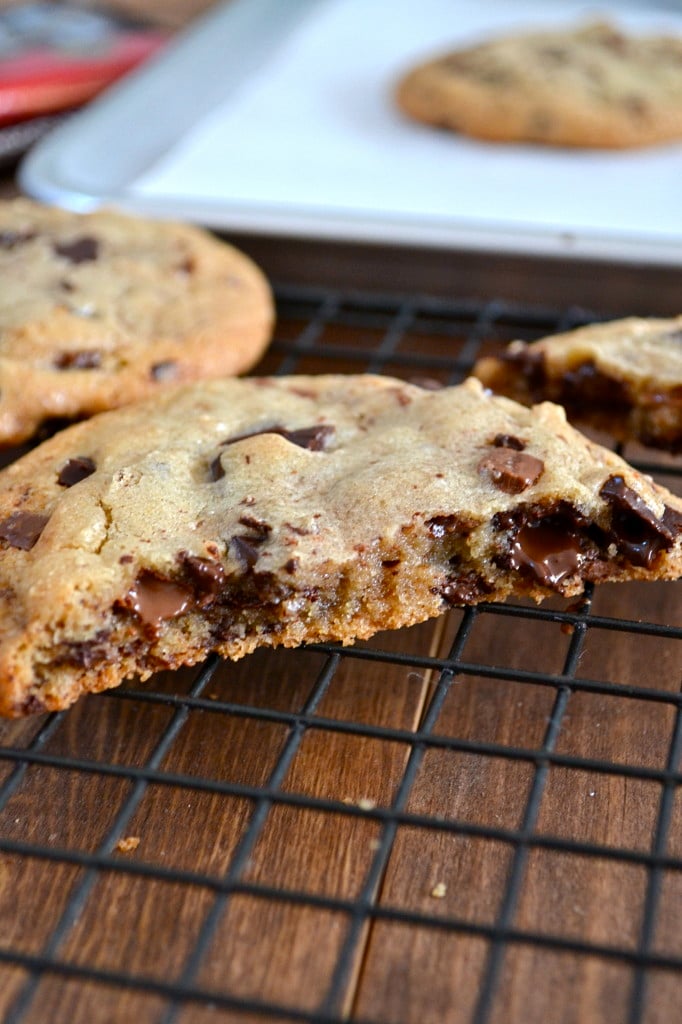 Print
Brown Butter & Chocolate Chunk Cookies
---
1 3/4 cups all-purpose flour
1/2 teaspoon baking soda
14 tablespoons unsalted butter (1 3/4 sticks)
1/2 cup granulated sugar
3/4 cup packed dark brown sugar
1 teaspoon salt
2 teaspoons vanilla extract
1 large egg
1 large egg yolk
1 XL Hershey's Special Dark Chocolate Bar, chopped into chunks
1 XL Hershey's Milk Chocolate Bar, chopped into chunks
---
Instructions
Preheat oven to 375 degrees. In a medium saucepan over medium high heat, add butter. Once butter had melted, continue to cook until light brown in color and the nutty aroma comes out. You will need to swirl the pan around to combine all the brown bits at the bottom of pan. Make sure to keep and eye on it because it can go from brown to burnt fast. Once the butter is brown, remove from heat. In a stand mixer with paddle attachment, add both sugars, butter, salt and vanilla. Beat for about 1 minute on medium high. Then add the egg and egg yolk and beat for 1-2 more minutes. Then add flour and baking soda and beat until combined. Finally add 1 1/2 cups of chocolate chunks. and beat until combined.
Line a cookie sheet with parchment paper. Divide the dough into 3 tablespoons (or a #20 scoop) of cookie dough onto prepared pan. Once all of the dough is divided, place the sheet into your freezer for at least 30 minutes. Once dough is frozen, place 6 dough balls on each pan, evenly spaced out. Bake for 15-17 minutes or until edges are golden brown. Let cookies cool on pan for 5 minutes then place on cooling rack. Store in an airtight container.
We are participant in the Amazon Services LLC Associates Program, an affiliate advertising program designed to provide a means for us to earn fees by linking to Amazon.com and affiliated sites.