Bridal Shower Brunch
Bridal showers can seem daunting at first if you are a Maid of Honor.  What to make for food?  What kind of health restrictions to people have? Do we play games even though they are a bit lame?  Well let me tell you – have a Bridal Brunch!! My sister got married a week and a half ago now and her shower was about a month ago. A brunch was the way to go.  For decorations I first found the color scheme we wanted: Gold & Mint!  Then found some cute decor on etsy and used things we already had like the gold tablecloth and green cake stand, to keep the theme going! The best part about having a brunch?  Not a lot has to be made at home or has to be kept warm!  The only thing I made was a potato basil frittata… which was amazing but not even necessary.  Here is the menu:
-Yogurt Bar (plain greek & regular vanilla)
-Toppings for Yogurt: Granola, berries, toasted coconut, sprinkles & agave.
-Mini Cinnamon Rolls
-Mini Bagels & Cream Cheese
-Doughnut skewers
-Fruit Skewers
-Potato Basil Frittata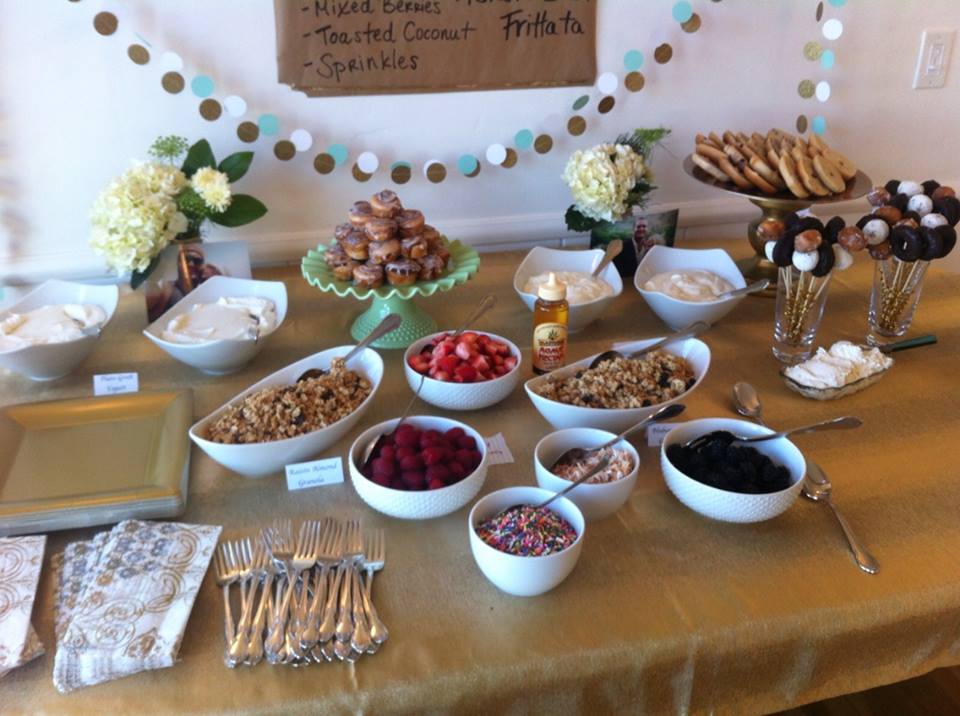 For the doughnut skewers we just took regular wood skewers and wrapped gold pipe cleaners around one half.  Then we stuck on either 2 doughnut holes, or 1 mini doughnut!  Simple and so cute.
The drink bar! We had mimosas, coffee and water.
Mimosa bar consisted of Cranberry Juice, Orange Juice and Orange Peach Mango Juice! Aaaaaaaaand Costco Champagne is amazing!
The group of gorgeous ladies!!  Cheers to Taylor Taylor!!!
We are participant in the Amazon Services LLC Associates Program, an affiliate advertising program designed to provide a means for us to earn fees by linking to Amazon.com and affiliated sites.