Black Pepper & Blue Cheese Gougeres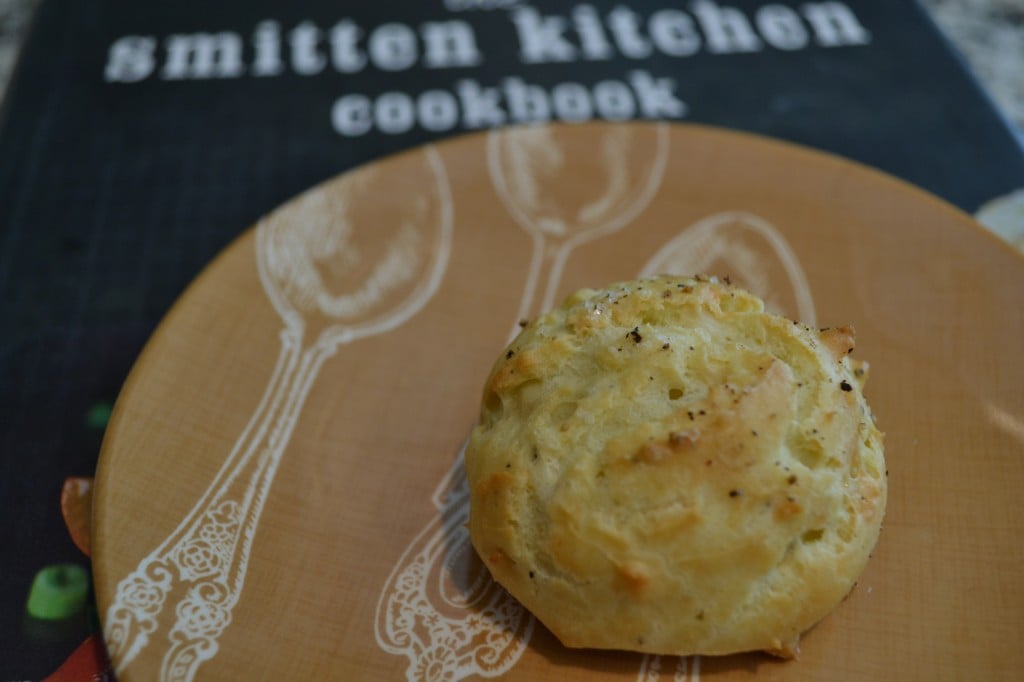 Hello friends!  I am still lost in my Smitten Kitchen cookbook.  I want to make EVERYTHING.  Deb (the author) likes to make things with interesting names.  Things that I have never heard of before.  These Gougeres (which I still cannot pronounce) caught my eye right when I saw blue cheese.  And the fact that in her pictures, the dough looked very liquid-like before it went in the oven, yet they came out looking like a cross between a roll and a biscuit was very puzzling.  I was interested so I thought I would give them a try.  And let me tell you they were like puffs of blue cheese heaven.
First I melted butter, water and white wine.  Then mixed that with flour, salt & pepper. Once it was combined I transferred the dough to a mixer.
Then added blue cheese!
Then mix that up and add some eggs!  This will complete your dough.  Scoop onto parchment or silpat and sprinkle with salt and pepper.
Then bake for about 25 minutes…
So excited about trying new things! Thanks Deb!
Print
Black Pepper & Blue Cheese Gougeres
---
4 tablespoons unsalted butter
1/2 cup water
1/2 cup white wine
1 cup all-purpose flour
1/4 teaspoon freshly ground black pepper, plus more for sprinkling
1/2 teaspoon fine sea salt, plus more for sprinkling
1 cup crumbled blue cheese
4 large eggs
---
Instructions
Preheat your oven to 375 degrees. In a medium saucepan bring the butter, water and wine to a boil. Remove pan from heat and add flour, pepper and salt, and stir until blended and smooth. Reheat pan over medium heat and stir the mixture vigorously until it forms a ball.
Transfer the mixture to the bowl of an electric mixer and cool slightly. Add the blue cheese and beat on low until combined. Add the first egg and beat until fully incorporated. Scrap down the sides of the bowl then repeat the process with the rest of the eggs. Then scoop onto a cookie sheet lined with parchment paper or a silicone mat. Sprinkle each with sea salt and pepper and bake for 20-25 minutes or until puffed and golden. Serve warm or at room temperate.
Recipe from The Smitten Kitchen Cookbook.
We are participant in the Amazon Services LLC Associates Program, an affiliate advertising program designed to provide a means for us to earn fees by linking to Amazon.com and affiliated sites.