Basil & Sun-dried Tomato Bread
Guys.  I love bread.  When I was pregnant I loved all the sandwiches and toast I could eat so I quickly decided I needed to make some bread at home to remove some of the processed food I was eating.  When I am not on a whole30 or on the paleo train, I just try as best I can to eliminate packaged foods, and this sun dried tomato bread is perfect for that!  This basil and sun-dried tomato bread is perfect for sandwiches, toasted with butter or even toasted with avocado at breakfast.  Oh and did I mention how accomplished you feel after you make bread?  It is so so simple but I still feel 10x more like martha stewart than when I make a batch of grain free cookies.
Another awesome thing about this recipe is that it makes 2 good sized loaves of sun dried tomato bread.  So you can either freeze the other one, give it to a neighbor or friend, or if you have a big family just work your way through both! I love mixing with the flavor combos in this by replacing the basil and sun-dried tomato with other things like cinnamon and dates for a sweeter version.  So jump outside of your comfort zone this week and make some bread!!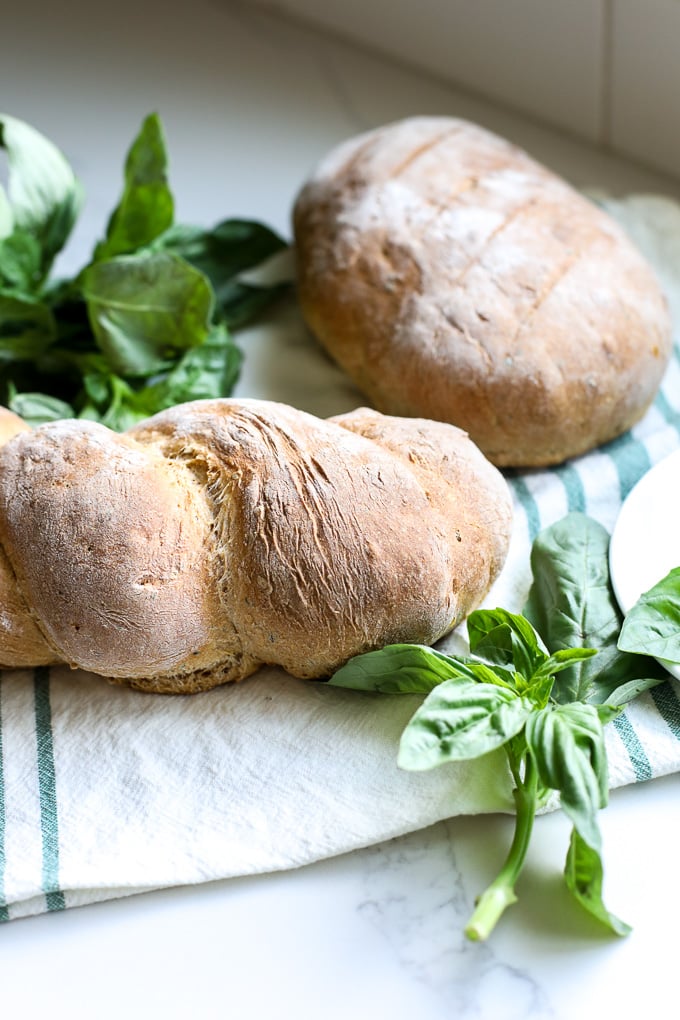 Spread all the grass fed butter you can find on these slices! Sun Dried Tomato Bread.
Here are a few more bread recipes to give a try:
Date Cinnamon Roll Wheat Bread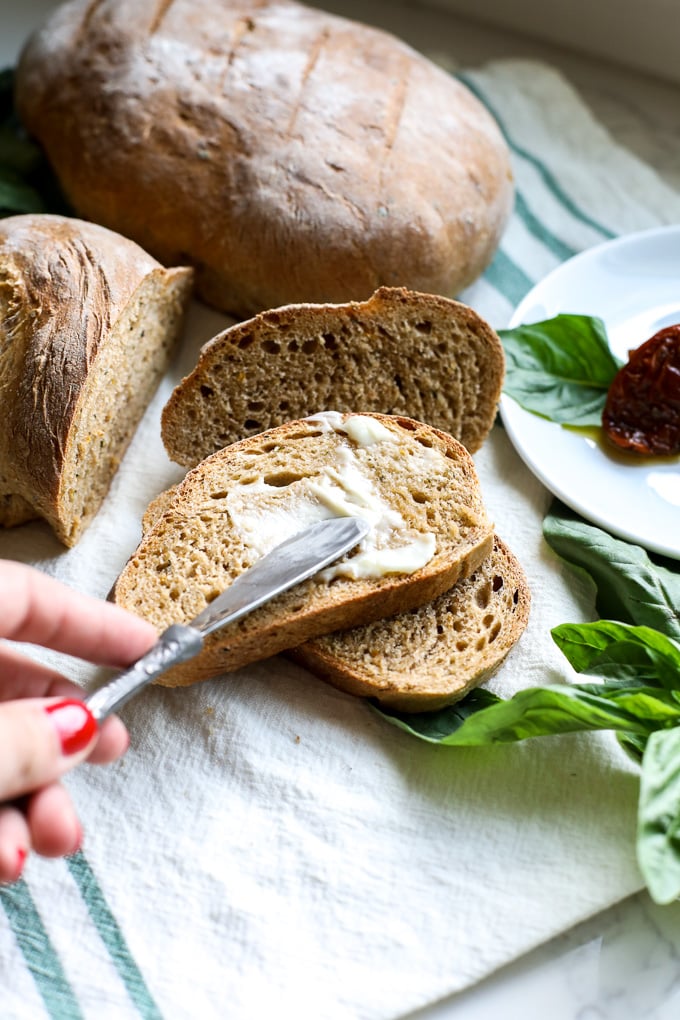 Pin the image below to save this Basil & Sun-dried Tomato Bread for later!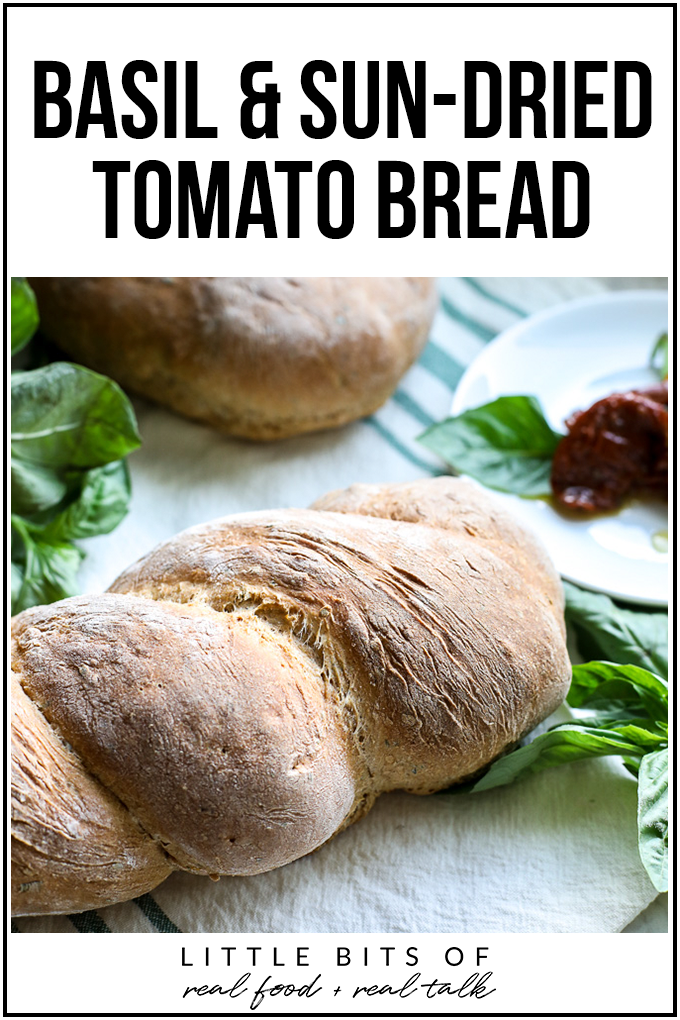 Nutrition for Sun Dried Tomato Bread with Basil
If you slice your loaf into 12 slices, the calorie breakdown will be around 280 calories per slice.  This bread is jam packed with fiber, 4 g per serving and is also high in iron, potassium and folic acid.  One macro-nutrient it is also high in is PROTEIN.  Coming in at 6 g per serving which is a decent amount for a slice of bread!  Having a combination of protein with a carbohydrate during digestion actually slows the breakdown of a simple carbohydrate into a sugar in the blood stream which allows your body to process this sun dried tomato bread slower!  All things good here!
Print
Basil & Sun-dried Tomato Bread
---
2 cups warm tap water, about 110 degrees
1/4 cup olive oil
2 1/2 teaspoons (1 envelope) active dry yeast
2 3/4 – 3 cups all-purpose flour
2 1/2 cups whole wheat flour
4 teaspoons salt
½ cup chopped sundried tomatoes (in oil, drained)
1 cup roughly chopped fresh basil
1/4 cup flour for dusting the loaves
---
Instructions
To make the dough, in a small bowl or glass measuring cup place water and sprinkle yeast on surface, allowing it to stand for three minutes before whisking. After dissolved, whisk in the olive oil.
To mix dough, in a food processor, place 2 3/4 cup all-purpose flour and 2 1/2 cups whole wheat flour, sun-dried tomatoes, basil, and salt in bowl of the food processor fitted with a dough blade.
Add water, oil, and yeast mixture and process to form a smooth, elastic and slightly sticky dough, about 45 seconds. Incorporate the remaining 1/4 cup all-purpose flour a tablespoon at time if the dough is too sticky.
Place dough in an oiled bowl and turn dough over so top is oiled. Cover bowl with plastic wrap and allow dough to rise at room temperature until doubled. (or put it in your oven on the proof setting if it has it, for 30 minutes).
To shape loaves, scrape risen dough onto a lightly floured surface and press it to deflate it. Divide dough in half and shape one piece at a time. Press dough into a square, then roll it up tightly. Rotate cylinder of dough 90 degrees and roll up again from short end. Arrange dough seam side down, cover with plastic or a towel and let it rest of 5 minutes. Repeat with remaining piece of dough.
** if you want it to be twisted like the one loaf in the photo, divide each half in half again and twist the two pieces together.
Dust pan with a little flour.  Place loaves seam side down on cookie sheets and dust each loaf with some flour. Cover with plastic or a towel and allow to rise until doubled.
About 30 minutes before you intend to bake the loaves, preheat oven to 500 degrees F and set racks at the middle and lowest levels. Set a pan on the lowest rack to absorb some of the excess bottom heat and keep the bottom of the loaves from burning.
If you make a non twisted loaf, hold a razor blade or the point of a very sharp knife at a 30-degree angle to the top of each loaf, make 3 to 4 diagonal slashes in each loaf. Immediately place loaves in oven and lower temperature 450 degrees F. After loaves have baked for 20 minutes and are completely risen, lower temperature to 350 degrees F and continue baking about 20 to 30 minutes longer, until bread reaches an internal temperature of about 210-220 degrees F. Remove loaves from oven and cool on a rack. Enjoy!
Notes
I love using bob's red mill flours!
We are participant in the Amazon Services LLC Associates Program, an affiliate advertising program designed to provide a means for us to earn fees by linking to Amazon.com and affiliated sites.