Banana Prune Oatmeal Bake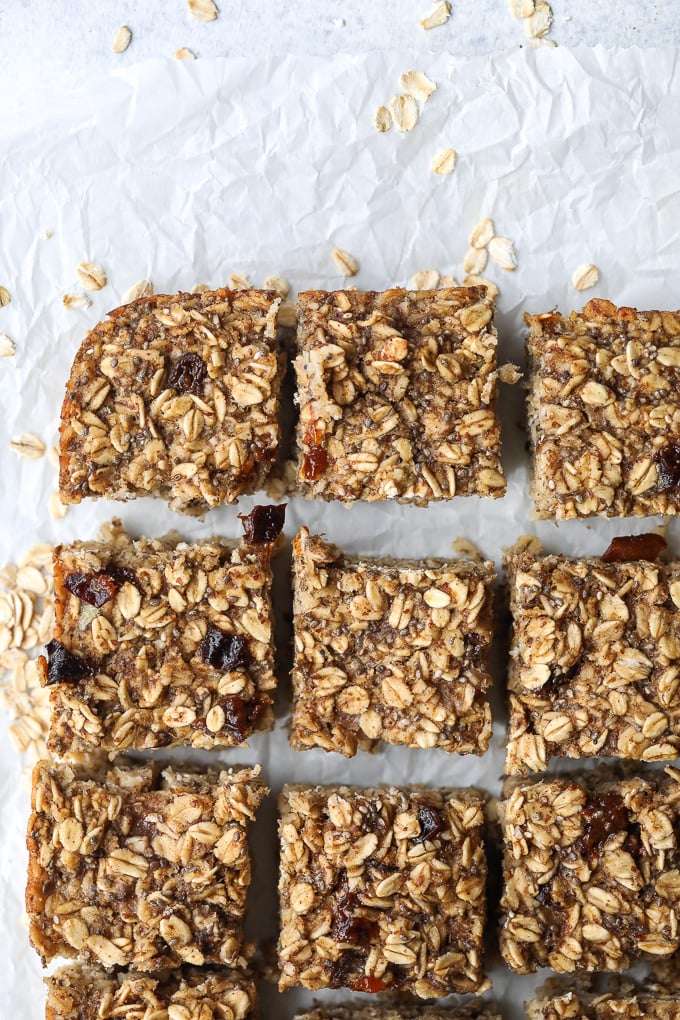 Last week I wanted to prep some food for Ruthie to have on hand throughout the week and tried out an oatmeal bake!  I had brown bananas so I knew I wanted to add those and when I serve her bananas I usually also give her some prunes to balance out the constipating nature of bananas in babies.  So I chopped some up and added them in and voila – we have Ruthie's new favorite snack! I love having a pre-made snack/ breakfast on hand for her because she is a hungry little girl.  The fun thing about these oatmeal bakes is that you can totally personalize them for you or your kiddo!  Add chocolate chips to make it a treat or add some nut butter and freeze dried strawberries for a pb&j.
I also added in chia seeds and flax meal to up the good omegas and nutrition.  It can be so easy to add stuff like that into kiddos food and they never know the difference.  I plan on sharing more recipes like this that you can prep on Sunday and have on hand for kiddos all week because DANG these kids keep us moving.  Now that Ruth is crawling she is all over the place and when she's hungry she is HUNGRY! So having stuff like this in the fridge or pantry is crucial.
If your kiddo doesn't like the consistency of the prune, you can blend the banana and prunes together in a blender before adding them to the mix!
Pin the image below to save this Banana Prune Oatmeal Bake for later!
Print
Banana Prune Oatmeal Bake
---
2 and 1/4 cups Bob's Red Mill Old Fashioned Rolled Oats
2 tablespoons flax meal (ground flax seeds)
1 tablespoon chia seeds
1 teaspoon baking powder
1/2 teaspoon ground cinnamon
1/4 teaspoon salt
1 cup ripe mashed bananas (about 2 large bananas or 3 medium bananas)
3/4 cup almond milk
1/4 cup maple syrup
1 large egg
1 teaspoon vanilla extract
2 prunes, chopped
---
Instructions
Combine all ingredients in a bowl and pour into a square pyrex dish that has been lightly oiled.
Bake at 350 degrees for about 35 minutes.
We are participant in the Amazon Services LLC Associates Program, an affiliate advertising program designed to provide a means for us to earn fees by linking to Amazon.com and affiliated sites.