Asparagus, Prosciutto & Blue Cheese Frittata
 Hello friends!  How fast has May gone by??  Like a bullet train.  Did you know that this month is National Egg Month?  I don't know about you but I can't cook eggs on anything but Teflon.  They must know this is true because they want to show their appreciation for the month with a #TeflonEggMonth sweepstakes! If you go to their facebook page they will be giving away daily prizes and weekly prize packages from cookware products to iPad minis!  Their new products are beyond amazing.  For this blue cheese frittata I used their new Technique 3 Quart 11″ Lightweight Cast Iron Open Everyday Pan.  See the bottom of the post for more details, but here are the highlights in 3 blurbs.  Lightweight. NON stick. Dishwasher Safe!!  I was amazed at how great this pan was. And so purty!
 This blue cheese frittata was so simple to make yet had amazing flavor! First chop up 2 cups of Asparagus.
 Then grab some beautiful proscuitto.
 Melt some butter in your Teflon pan and roast Asparagus for about 8 minutes over medium high heat.  They will have a little brown on them, not too crunchy, not too soft.  Then chop your proscuitto.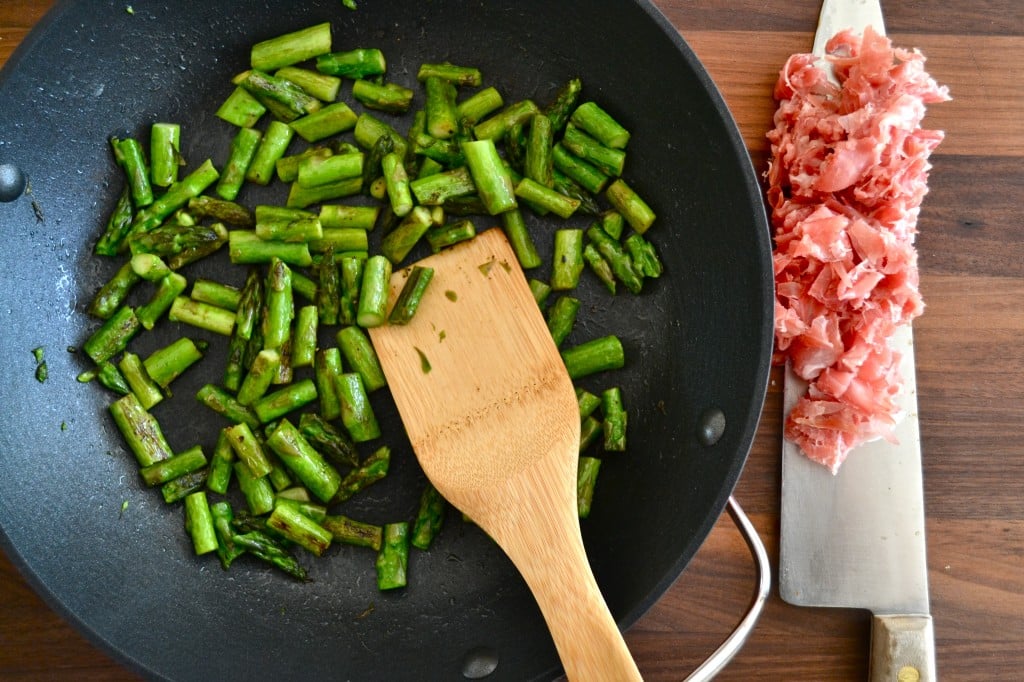 Add proscuitto to pan and cook for another 2 minutes to crisp up the meat.
 EGGS!  Take 6 eggs and mix them with some salt and pepper.
Then add those eggs to your pan and mix everything up so the veggies and meat are evenly dispersed.  Then cook for about 4 minutes or until the bottom is set.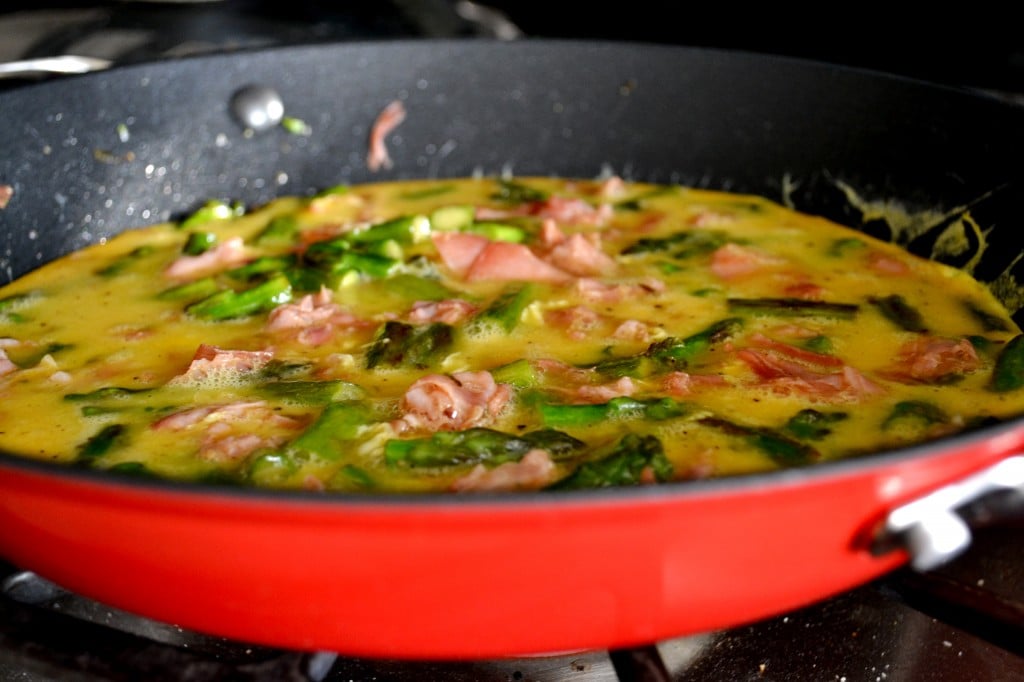 Sprinkle the blue cheese on and pop it under the broiler for about 2-3 minutes until lightly browned on top! Blue Cheese Frittata packed with Veggies!
 Then slip the blue cheese frittata out of the pan and onto a plate.  And if you are using Teflon, trust me it will slip out with ease!
 Enjoy!
Details about this amazing pan!
Technique 3 Quart 11″ Lightweight Cast Iron Open Everyday Pan:
Think of it as your own personal sous chef. This everyday pan will be by your side, helping you prepare delicious meals for the entire family. Its lightweight cast-iron construction and nonstick surface ensure everything from frittatas to risottos to roasted chicken breasts are cooked to perfection. From Technique(R) Cookware.
Lightweight cast iron with a porcelain enamel exterior
Stainless steel riveted handle on each side
DuPont(TM) ScratchGuard(R) Ultra nonstick interior is metal utensil-safe
Dishwasher-safe; oven-safe to 500F
Measures 11-1/2″Diam x 2″H
Lifetime Limited Manufacturer's Warranty
Made in China
Make sure to follow Teflon on Twitter and Facebook for more info and for more chances to win these amazing products!
* Teflon® brand sent me this pan to review.  All opinions are my own!
Print
Asparagus, Prosciutto & Blue Cheese Frittata
---
6 eggs
1/2 teaspoon salt
1/4 teaspoon pepper
1 tablespoon butter
2 cups chopped asparagus
3 oz. package of prosciutto
3/4 cup crumbled blue cheese
---
Instructions
Turn your oven broiler on high. Over medium-high heat melt butter in pan. Add asparagus and roast for 8 minutes. Chop prosciutto and add to pan to crisp for 2 minutes. In a separate bowl mix eggs with salt and pepper. Add eggs to the asparagus and prosciutto and stir to distribute evenly. Cook over medium-high heat for 4 minutes or until the bottom has set. Sprinkle blue cheese over frittata and place in oven for 2-3 minutes for until slightly browned on top. Enjoy!
We are participant in the Amazon Services LLC Associates Program, an affiliate advertising program designed to provide a means for us to earn fees by linking to Amazon.com and affiliated sites.