Apricot & Brie Crostini with Golden Honey
Fun Fact: An ocean breeze and push your worries aside.
My grandparents have a wonderful little house in Laguna Beach.  On Sunday we went there for dinner and I made these amazing little bites of goodness.  Good food + ocean breeze…. now that is a problem solver.  I got this recipe from a friend of a friend, who learned how to make it at a Sur La Table class.  First you start with your key ingredients, onions and apricots.
Combine onion, apricots, thyme and white wine vinegar in a saute pan and cook until tender and slightly browned.
Then cut up a bagette…. and look at the beautiful ocean… take a deep breath and smile. 🙂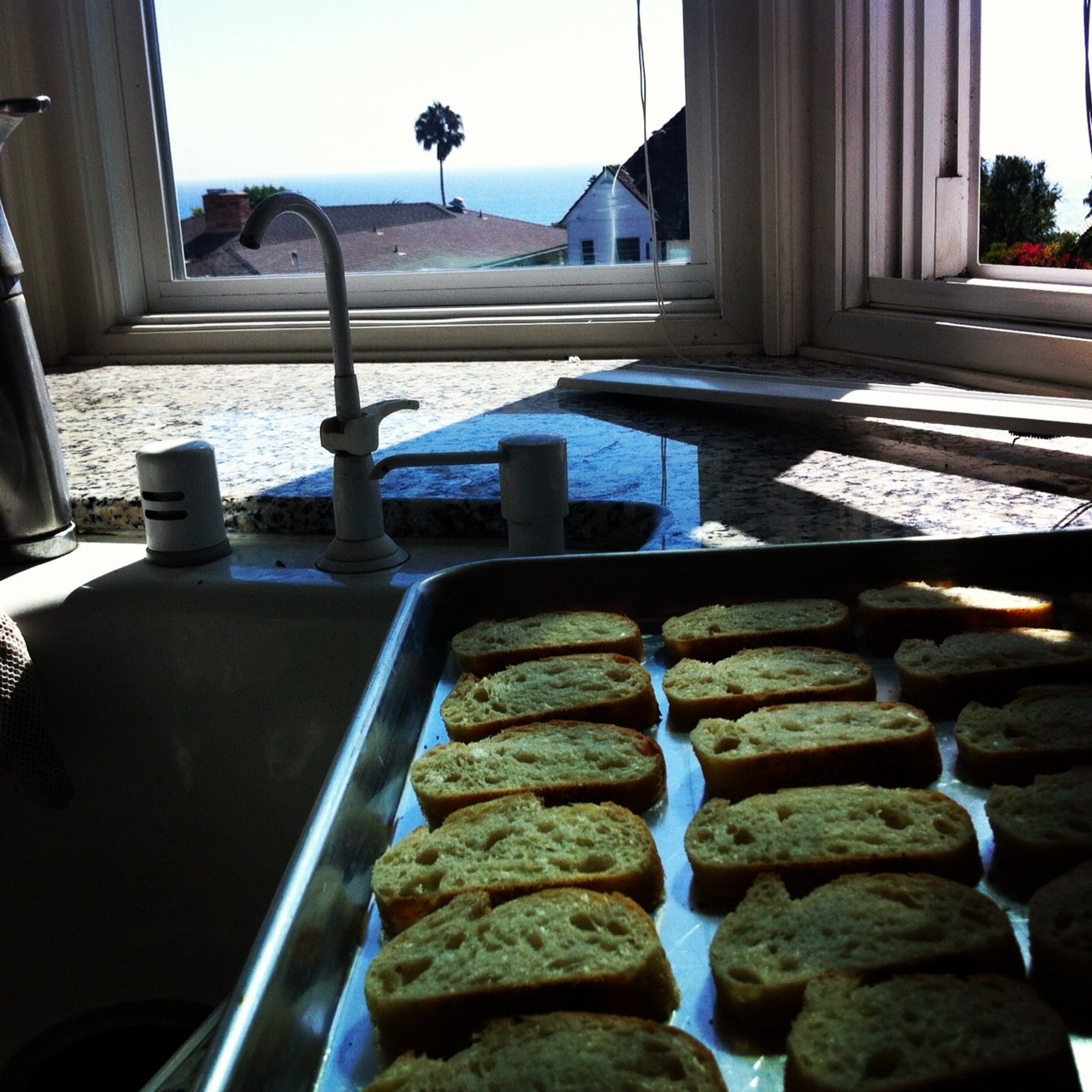 Put the bagette slices under the broiler for a few seconds, or until your desired crispiness.  Then take them out and scoop on some onion and apricot mixture.
Then cut up your brie.  I got a log of brie because it was the perfect size and easy to slice.
Then slice and place on crostini.
Top with honey and fresh thyme.
Print
Apricot & Brie Crostini with Golden Honey
---
2 tablespoons vegetable or canola oil
2 tablespoons unsalted butter
2 large onions, peeled and cut into 1/8-inch thick pieces
1/2 cup dried apricots, cut into 1/4-inch pieces
1/4 cup white wine vinegar
1 tablespoon fresh thyme leaves, plus more for garnish
2 teaspoons kosher salt
1/2 teaspoon freshly ground black pepper
1 large baguette, cut into 24 (1/2-inch thick) diagonal slices
4 tablespoons unsalted butter, softened
Kosher salt and freshly ground black pepper
6 ounces brie, cut into 2 inch by 1 inch by 1/8 inch slices
3 to 4 tablespoons honey, for drizzling
---
Instructions
To prepare onions, add oil and butter to a large skillet and heat over medium heat. Add onions, apricots, vinegar, thyme, salt and pepper. Cook until onions are golden, stirring occasionally, about 12 to 14 minutes. Allow mixture to cool to room temperature.
Preheat broiler and arrange baguette slices on a rimmed baking pan lined with parchment paper. Brush tops with butter and sprinkle lightly with salt and pepper. Toast until golden brown on top.
To serve, remove baguette slices from oven and top each with 1 tablespoon onion and apricot mixture. Top each with a slice of brie, drizzle with honey and garnish with thyme leaves. Serve immediately.
Enjoy!!!
We are participant in the Amazon Services LLC Associates Program, an affiliate advertising program designed to provide a means for us to earn fees by linking to Amazon.com and affiliated sites.