Whole Wheat Almond & Vanilla Bean Scones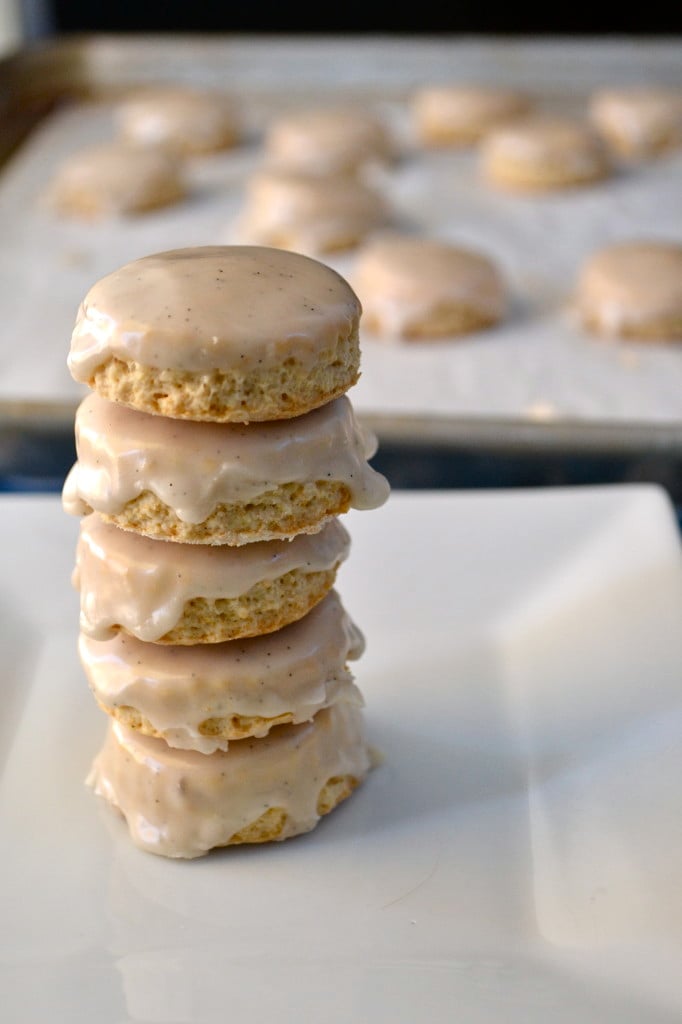 Okay people are you ready to be ahead of the times?   Scones are going to be the new cupcakes………. I'll let that sink for a minute.  No, I am not an expert, but I am pretty sure for something to be a "thing" it has to be delicious, easily adaptable and covered in icing.  I'm telling you people… SCONES!  Well I love scones for many reasons.  One of them being that they are so easy to make.  I made Whole Wheat, Espresso & White Chocolate Chip Scones about a year ago.  About a month after that it was a weeknight and Matt said, "I could really go for some of those scones again…"  And I replied, "Well the recipe is on my blog… go for it!"  At this point I assumed he would laugh and eat some ice cream instead.  But he pulled up the recipe on his iPad and started baking.  About 30 minutes later we had fresh scones and they were amazing!  He couldn't believe how easy they were to make and how moist and sweet they were.  Scones have a bit of a bad rap.  I am sure you don't crave them often, but make them once and you will make them time and time again!  I think you will see more and more scones popping up on this blog… and in the world!
 I made mine mini… mostly so that I could eat multiple and not feel too bad. 🙂
Bake for a few minutes!
Vanilla bean glaze…..
 Coat those bad boys with icing!
 Enjoy with coffee or another scone.
 Perfecto!
Print
Mini Whole Wheat Almond & Vanilla Bean Scones
---
1/2 cup milk
1 egg
1 teaspoon almond extract
1/2 vanilla bean
1 cup whole wheat flour
1 cup all-purpose flour
1/4 cup granulated sugar
1 tablespoon + 1/2 teaspoon baking powder
1/4 teaspoon salt
6 tablespoons cold butter
1 cup powdered sugar
2 tablespoons milk
1/2 vanilla bean
---
Instructions
Preheat the oven to 400 degrees F.
In a small bowl, whisk together the milk, egg, almond extract and the seeds of 1/2 a vanilla bean. Set aside.
In a large bowl, combine the dry ingredients (flour through salt). Cut in the butter with a pastry cutter, or if you don't have one, your fingers. The dough will resemble coarse crumbs.
Slowly add 3/4 of the egg mixture to the dry mixture and stir gently to combine. Continue adding egg mixture, a tablespoon at a time, just until the dough holds together. If you add too much liquid, the result will be more like muffins than scones. I used all but a tablespoon or two of the liquid.
Turn the dough out onto a lightly floured surface. Roll out until about 1″ thick. Cut out small circles and place them on a parchment paper lined baking sheet. Bake for 12-15 minutes or until nicely browned. Let cool on a cooling rack.
Meanwhile, prepare the glaze by mixing powdered sugar, milk & the seeds in the other half of the vanilla bean together. Add more milk or sugar to make it thinner or thicker. Drizzle the glaze on scones and enjoy!
We are participant in the Amazon Services LLC Associates Program, an affiliate advertising program designed to provide a means for us to earn fees by linking to Amazon.com and affiliated sites.