Wedding Details!
Pure bliss!!  On March 28th I got to marry the man of my dreams and it was incredible!!! We had 10 months to plan and DIY and the day honestly could not have gone better.  Before I jump back into recipes I thought I would show you a quick peak at our venue and decorations that we made!!
The main DIYs we did were marquee letters and wood boxes for our centerpieces.  For the marquee letters I just got cardboard paper mache letters from Joann's and cut off the front of them with an exacto knife.  Then took out the filling, cut holes for the lights, spray painted them silver and added some lights!  It is simple in theory but just a bit time consuming!  They turned out great though!!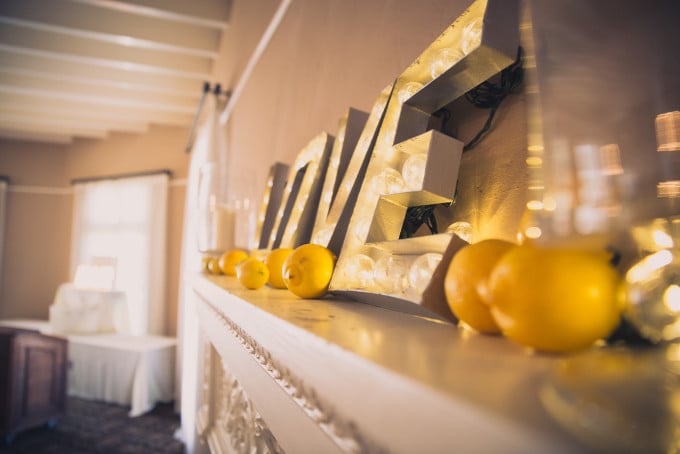 And for the bar of course….
The hardest part was trying to tape the wiring back so it wouldn't show, but the part that did show didn't bother me!
For the wood boxes, my amazing husband made them and they turned out perfectly!!  He used thicker wood for the sides and a thin particle board for the bottom.  Then we found a stain we liked and voila!
Oh and can we talk about LEMONS?!  So yellow was in my theme and I knew I wanted lemons to fluff up the decor for a bargain, but man they looked great!! Matt and I went to Trader Joe's on Friday morning before the wedding and bought about 15 pounds of lemons.  we brought them to the venue and asked our day of coordinator to sprinkle them around!  They looked great and added just the pop we needed!!
For our seating chart we used old windows.  True story – we might have taken them from the side of a building.  Okay it's not as bad as it sounds!!  We spotted them leaning against the side of a building by our house and they had been there for as long as we could remember. They were exactly what I had been looking for and we were on a budget so I called the building owner and asked!  He said he had no idea and no one in the building claimed them when he asked, so we got them!
Aaaaaaaaand LEMONS!
We got married at the Ebell Club in Long Beach and it is  beautiful!!
Here are some more pictures of the best day ever….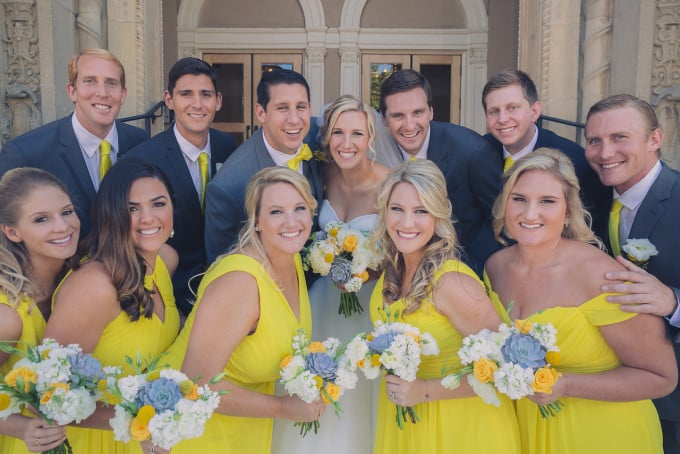 My beautiful sistas!
Loved our getting ready jammies!
Love how these bright yellow dresses turned out!
Yellow Confetti!!!
Aren't my parents the cutest!?
Dancing with Matt's grandma was a definite highlight!!
Boy did we DANCE!
Our cake with Lemon of course and was SO GOOD!!! Seriously can't wait for our 1 year anniversary to devour the top.
More dancing……
And we were out of there!!
By the end of the night I was obvi in my yellow flats…
BEST DAY EVER!!!!!!!!
If you just can't get enough… feel free to look at the full album!
http://www.forrestlocke.com/Weddings/Kelsey-and-Matt/Wedding-Day/
We are participant in the Amazon Services LLC Associates Program, an affiliate advertising program designed to provide a means for us to earn fees by linking to Amazon.com and affiliated sites.