Moody Cocktail Lounge Living Room
Our Moody Cocktail Lounge Living Room is completed!! You can see in the before photo below that this room had no plan when we moved in.  It is at the front of the house when you first walk in and we just put our old couch in there with other random furniture and kids toys.  It was an eye sore and we knew we wanted to do something fun and formal feeling.  We have been to some amazing moody and cool bars in our life and we love the vibe of a dark and old school feeling room.  I hired a designer on Havenly again and we got started! The key was actually getting the room painted + wainscoting up.  Matt did such a great job with it and I assisted with painting and holding things when he nailed it all.  Between the wall work and getting electrical done (there were no lights in the room before), the first steps took months.  Then we also had to take our time buying everything because it added up! But now it is down and I am beyond obsessed with it!
Before:
After:
So with Havenly you first get some idea boards, then a concept, then a full design!  Here is how ours progressed:
Idea board:
Concept:
Final Design (that we still tweaked a bit!):
And how it really turned out!!
Let's get to what you are really here for, the links!
Furniture: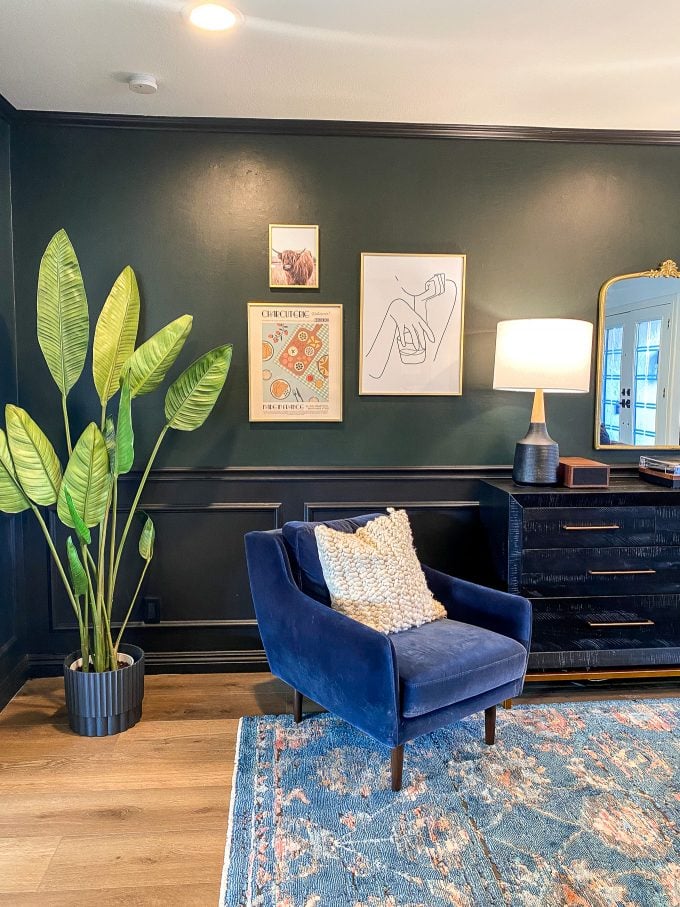 Art:
Champagne in Disco Ball Art (I got a custom one made to the right size I needed)
Other:
Paint
Jasper by Sherwin Williams
Black Magic by Sherwin Williams
We are participant in the Amazon Services LLC Associates Program, an affiliate advertising program designed to provide a means for us to earn fees by linking to Amazon.com and affiliated sites.