California Ranchero Eggs
Let's talk about breakfast.  I love the weekends for many reasons but one of them is breakfast.  I can finally take my time and make a delish egg dish that is both tasty and healthy!  I got the Smitten Kitchen Cookbook for Christmas and I could not wait to dive into it.  I attempted the recipe with a few minor changes.  Instead of canned tomatoes I used fresh, instead of dropping whole eggs in the dish I scrambled them, instead of sour cream I used greek yogurt, and I added avocado!  Let's just say it was still delicious!  First I cut up some tomatoes, onion, garlic and jalepeno.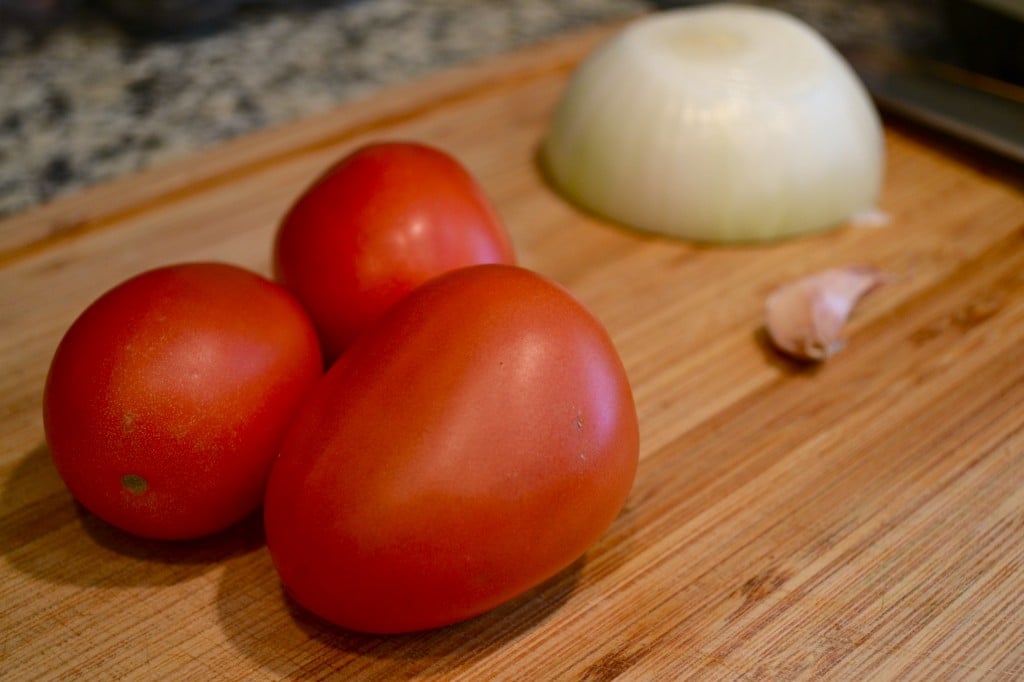 Then put them in a blender…
Whip it up until blended, then pour it into a pan with some back beans.  When I make this again (because I will!) I will probably try using canned tomatoes, because I think the tomatoes I used could have been a bit more ripe.  But alas, they were still delish.
Then bring that to a simmer for about 10 minutes until it has reduced.  Then on the side I mixed up some eggs and poured them into this sauce.  This is the scary part.  I thought for sure I had ruined it and was partially terrified, but just keep calm, put the lid on and walk away for about 10 minutes.  When you come back it will look like this.
It still looks a bit scary, but you can see that the egg white it cooking.  So then you can sprinkle it will cheese and put in the oven for a few minutes.  Oh did I mention to preheat your oven to 450 degrees?  You should do that first.
Put that in the oven for a few minutes, until it looks cooked through and the cheese starts to brown just slightly.  Like this!
Then top with a mix of greek yogurt, lime juice and salt, avocado and corn chips.  YUM.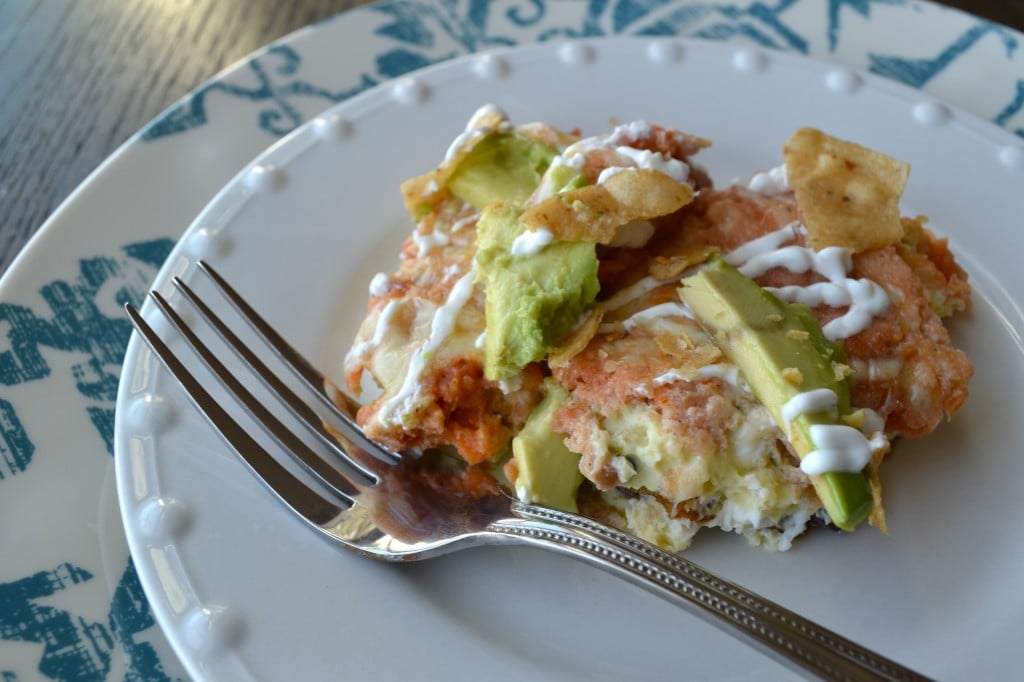 Please make this.  It is crazy good!
Print
California Ranchero Eggs
---
6 eggs
splash of milk
1/2 cup shredded jack cheese
1/2 cup broken up corn chips
1/2 an avocado
Ranchero Sauce:
1/2 jalapeno
1 1/2 cups chopped tomatoes (canned or fresh)
1/2 white onion, roughy chopped
1/2 large or 1 small garlic clove, peeled
salt and pepper to taste
3/4 cup cooked black beans
Lime Crema:
1/2 cup greek yogurt
juice of half a lime
pinch of salt
---
Instructions
Preheat oven to 450 degrees. Add jalapeno, tomatoes, onion, garlic, a few pinches of salt and pepper into a blender and blend until smooth. Pour into an ovenproof skillet, add black beans and bring to a simmer. Cook for 10 minutes or until it has reduced slightly.
In a separate bowl, scramble 6 eggs and a splash of milk. Once sauce has thickened, remove from heat and slowly pour in egg mixture, distributing them evenly. Return to heat, cover pan and simmer eggs in sauce for about 10 – 12 minutes. Sprinkle the surface with cheese and place in the oven until the cheese is bubbly and the eggs look cooked through.
To make lime crema, mix together greek yogurt, lime juice and a pinch of salt.
Garnish your egg dish with either dollops or drizzles of crema, broken pieces of corn chips, and slices of avocado.
Enjoy!
We are participant in the Amazon Services LLC Associates Program, an affiliate advertising program designed to provide a means for us to earn fees by linking to Amazon.com and affiliated sites.